Rafael Nadal: Exaggerated Press Conference Collapse Awful Publicity for Tennis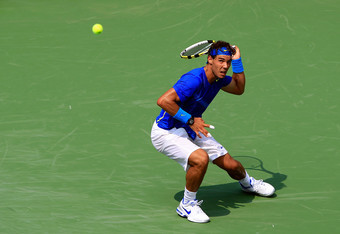 If you haven't seen Rafael Nadal's ridiculous press conference in which he cramps up and slumps to the floor, you can view it here. Watch that before reading on.
Tennis is not a popular sport in the United States and having stuff like this going on during our biggest tournament of year in the largest city in the country is not good whatsoever to foster interest in the game.
Football, baseball, basketball and hockey dominate the American sporting landscape because our country loves contact sports and we also like non-stop action. Tennis provides none of the former and very little of the latter.
It is still a great sport to watch when it is being played a high level and it could have a chance to be more appreciated in the States if we could see more top-notch play and less of the stars acting like babies.
Soccer was once one of the more unpopular sports in the US but it has recently exploded as Americans become more exposed to top-flight play via Premier League broadcasts on ESPN and obviously the World Cup.
When one of the most famous tennis stars in the game right now acts like a giant baby and succumbs to cramps in a post-match press conference, well it reflects quite poorly on him and the sport he is supposedly the best at.
Do you think you would ever Tom Brady crumple over in pain at his post-game conference, or LeBron James fall down in pain in his interview after the game? Obviously not and these guys maintain an image that the American public sees as a positive. They play through pain and do their best to hide it.
What Nadal did proved everyone that calls tennis a 'sissy' sport correct. He should apologize to all his fans and supporters for making it hard to defend the sport they love.
Most recent updates:
This article is
What is the duplicate article?
Why is this article offensive?
Where is this article plagiarized from?
Why is this article poorly edited?