Arizona Cardinals vs. Green Bay: Live Blog of the Replay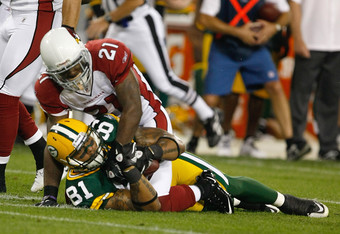 Scott Boehm/Getty Images
So I couldn't see the game last night (Friday).
That's why there's the NFL network.
So I already know what the game outcome is, but I figured I could break down the game on a different level now that I know what will happen.
Isn't that what preseason is about?
Stay tuned!!
It's mostly backups at this point, so I will probably just watch the game...not too many of my thoughts are original at this point. All in all, I'm pleased with the progress for the Cards. I can't wait for the preseason home opener next week!
That was a catch that Williams had to make though, and he did.
This may open the door for the Cardinals to get a veteran. Or they could go with Alfonso Smith, who knows the system and played well last night.
Wow of all the freak plays...man I'm going to miss Williams.
Another ball that Stephen Williams could have had...already dreading this next play...
Demarco Sampson has been rumored to impress in camp...his play on special teams also has to help his spot on the team with Whisenhunt. He'd like to have another Sean Morey.
That was a good throw there though by Skelton. Still, Bartel has looked better overall. I wonder if he's the backup to start the year?
Another catch that Stephen Williams could have hauled in. Not a great throw by Skelton though, who looks a little shaky tonight.
Great grab by Doucet. He looks good so far. If he can just stay healthy right?
Not much Arizona could do there. That screen play was a great call. I thought Acho did a good job of coming back to get Green by the way.
On a side note, at least Kolb didn't throw three picks, like Vick. I'm not as worried about Vick as I am Kolb, but that would've been a disaster for Kolb...and Cardinals fans.
Man penalties are just killing the Cardinals....
That's the Dan Williams we want to see!
Both Skelton and Kolb threw near interceptions. Again, that's why it's the preseason...
Williams is fighting for not just a a roster spot by the way but more playing time.
Not a great throw, but Stephen Williams has to come down with that.
I've always been a proponent of getting LSH outside on his rushing attempts. He looked good there.
Patrick Peterson tweeted about that TD from Rodgers to Jennings. But let's put it bluntly...Nnamdi Asomugha wasn't knocking that pass down.
That's on Abdullah. I know Jermichael is hard to cover, but he shouldn't be outrun by Finley.
Had to step away for a few minutes...I have to marvel at how grew the Packers offense is. It's like a machine. All in all I feel like the Cardinals did a solid job.
Good job by Wells shaking off the original contact.
Wow. Housler next year? Exciting thought there. Not the best throw from Kolb, but the fact he made that catch was encouraging.
You have to wonder if Williams's injury will allow more touches for the Hyphen. Exciting thought no?
Lots of time for Kolb to throw. Good job by the O-Line. Larry was open though. That comes with time though- that's why there's the preseason.
Cardinals running a lot of shotgun in the game. I wonder if Kolb feels comfortable out of the shotgun? So far so good in my opinion.
This article is
What is the duplicate article?
Why is this article offensive?
Where is this article plagiarized from?
Why is this article poorly edited?

Arizona Cardinals: Like this team?