Baltimore Ravens vs. Kansas City Chiefs: Reaction to 2nd Preseason Game
August 20, 2011
For Week 2 of the NFL preseason, the Baltimore Ravens took on the Kansas City Chiefs.
Both teams were contenders last year when the Ravens brutally ended the Chiefs' surprising feel-good 2010 season with a 30-7 drubbing on Wild Card Weekend.
The playoffs are in sight for both teams this year, but like most NFL clubs, they have work to do before the season starts.
Last week, both teams lost their preseason openers. The Chiefs, however, had more reason for concern as they were shutout 25-0 by the Tampa Bay Buccaneers.
This week, both teams seemed anxious to give their starters more time since they stayed in the game for the entire first half and into the second one.
A low-scoring, close game was blown away by an impressive fourth quarter performance by the Ravens.
Baltimore scored three fourth-quarter touchdowns, giving the game a misleading 31-13 final score.
In reality the game was much closer, with the Chiefs leading for much of it.
The game also featured the return of several former Ravens.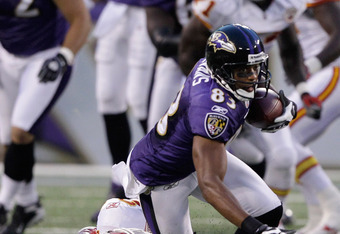 Jared Gaither, Kelly Gregg and Leron McClain all became Chiefs shortly after the lockout ended. Gaither did not play, but the others looked solid tonight as McClain blocked well for the Chiefs running backs and Gregg finished with three tackles.
During this stage of the preseason, getting better on a week-to-week basis is critical. The Ravens certainly accomplished that tonight.
So, there are quite a few players that deserve credit for their performances in this game.
What I Liked
I was particularly pleased with the improved play of the Ravens offense tonight.
Last week, they were unable to score any touchdowns. This week, they scored four touchdowns while improving their third-down efficiency, going 9-for-17.
One of the outstanding offensive players tonight was recently acquired wide receiver Lee Evans.
Evans had three catches for 68 yards, including a beautiful 43-yard completion in the second half.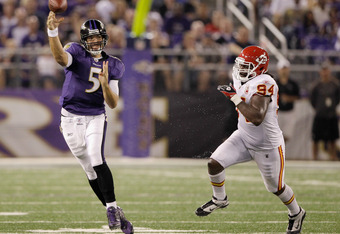 His presence gives hope that maybe he can be developed into the Ravens first deep threat with Joe Flacco at quarterback.
The offensive line wasn't perfect, but thankfully they improved from last week.
Jah Reid showed improvement at right tackle this week. The offense also cut down on sacks, only allowing two after allowing six last week. Their blocking helped to open up the running game as Ray Rice and Anthony Allen both had good games.
Still, there is work that needs to be done, especially regarding false starts, an area in which Michael Oher continues to struggle as he got one more tonight. 
Pernell McPhee has been beastly so far this preseason. He was constantly in the Chiefs backfield, bringing pressure on their quarterbacks.
Although McPhee probably won't start, it looks like his preseason could lead to more playing time when the real season starts. 
What I Didn't Like
Some of the tackling by the defense was abysmal. This was particularly true at the end of the first half when backup quarterback Tyler Palko easily marched down the field for a touchdown drive.
Coach Harbaugh wasn't happy about this and will definitely make sure the defensive second-stringers work on tackling.
Flacco had a bit of a rough night, finishing 12-24. Some of this was due to the work-in-progress offensive line, which caused him to spend a lot of time scrambling.
Nonetheless, Flacco can't play like this for the Ravens to have a chance once the season starts.
Hopefully he can have one good performance next week against Washington. 
What This Win Means
The Ravens are now 1-1 in the preseason. More importantly, they are halfway through the preseason with no serious injuries sustained yet. They have also shown marked improvement from Week 1.
Next Thursday, the Ravens will remain at home for a game against the Washington Redskins. Since this is the third preseason game, the starters should get a lot of playing time.
With another long look at the team, we should have a good idea of what to expect when the season starts in three weeks.