NBA: Shaq Says Rajon Rondo's Struggles Can Be Blamed on President Obama
August 19, 2011
Nobody actually thought that Shaquille O'Neal would ride off into the sunset after he retired earlier this summer, right?
In a Shaq original excerpt, he suggests that a meeting between the Boston Celtics and President Obama may have crushed the young point guard's confidence.
In this quote from CSNNE.com, which I first saw on the Huffington Post, Shaq explains the encounter with the Commander In Chief.
"In early March some of the guys went to the museum of Fine Arts for a fund-raiser and got to hang with President Barack Obama. Everyone was a little bit in awe. The President turns to Ray, points at Rondo, and says, "Hey, Ray, why don't you teach this kid how to shoot?" Everyone starts laughing.
KG told me he saw the look on Rondo's face and the kid was devastated, embarrassed. Dissed by the President, even though I'm sure Obama didn't mean any harm. Rondo smiled and went along with all of it, but KG told me he could see it in his eyes. It bothered Rondo. It killed him."
Wow.
Anyway, let's not get ahead of ourselves and say that it's Obama's fault that the Celtics didn't win the NBA championship, because that is very far from the truth.
At this point in his career, Rajon Rondo is a well established and respected point guard around the league. You would think that he would be confident enough to hear someone tell him that he can't shoot and not let it rattle him. But this is the President of the United States saying it, not just some little blogger like myself.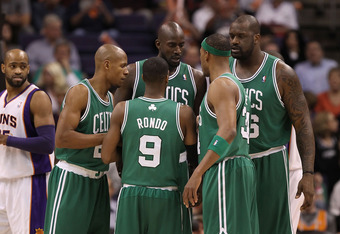 We can all understand how this would be embarrassing.
Is it to blame for Rondo's struggles shooting the ball? No. I don't think so.
Might it be in the back of Rajon's mind when he rises up to shoot? It's possible. And according to The Big AARP, it certainly mattered.
Rondo needs to rise to the occasion and step up his game.
He is an NBA champion. An all-star. An elite passer. An elite defender. Rondo needs to rise to the next level and develop a consistent mid-range game the way Derrick Rose did. If and when he does, he will be almost impossible to stop.
Maybe Ray Allen will take Obama's advice and teach Rajon to shoot. Or maybe Rondo will take this situation and use it as motivation.
Let's end this lockout so we can find out.
Follow me on Twitter @JrMarkyMark