Arsenal FC: Why Youngsters Will Have to Step Up vs. Liverpool and Man United
August 20, 2011
New season, but same old Arsenal: injured.
Kieran Gibbs, Armand Traore, Abou Diaby, Jack Wilshere, Johan Djourou and Tomas Rosicky all won't be available against Liverpool, and both Alex Song and Gervinho are suspended.
Against Manchester United, Wilshere and Rosicky should be back, and Gibbs has a small chance, but otherwise the squad will be slim again.
With Arsenal's squad looking smaller in numbers than it has in recent memory, it is going to be time for youngsters to step up and make their claim in the first team while the aforementioned first-teamers are out of commission. There are a few that could definitely step up and make a case for featuring for Arsene Wenger's team much more in the future.
Aaron Ramsey is a youngster who is already going to be pushed this season and probably will break the 40 match mark if he stays fit. He will play in both midfield positions, attacking and defensive, and will be forced to have a breakout season for the Gunners.
He will likely be joined by another Arsenal youth in midfield on Saturday.
Emmanuel Frimpong was supposed to break into the first team last year, but injuries limited his action and made him miss the whole first half of the season and then some. Frimpong has appeared off the bench in both of Arsenal's first two matches against Newcastle and Udinese, and most likely will start against Liverpool and Manchester United. For a player with very limited experience coming into the season, that is a big task, but after loaning Denilson out, Arsene Wenger probably won't have any other choice.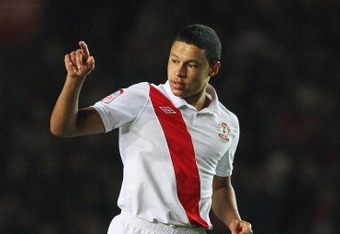 Arsenal fans have heard a lot about Ryo Miyaichi, and they might get a chance to see him against Liverpool.
Nicknamed "Ryodinho," Miyaichi is the future of Japanese football and presents a lot of potential to be a great player for the Gunners. With the ability to beat anyone on the dribble and mass amounts of pace, Miyaichi is a game-changer in the making, and the Arsenal faithful will have to hope that he is just that right now.
With Tomas Rosicky out, Miyaichi may force Andrei Arshavin into the middle, or a young Englishman, new to the club, may get his debut sooner than expected.
Alex Oxlade-Chamberlain (also known as "OC," not to be confused with Jack O'Callahan from the 1980 USA hockey team or Orange County) signed for 12 million pounds from Southampton earlier in August after having a great season as a 17-year-old for the Saints. OC turned 18 on the 15th of August and might just have to jump into the starting eleven against Liverpool.
The creative attacking player can play both out wide and in the middle, and may have to play out wide in his debut, as he might get thrashed in center of the pitch in the Premier League on his debut. Wenger could be nice to him and put him out wide, but, depending on how confident OC is, he might just be slotted right into the thick of things.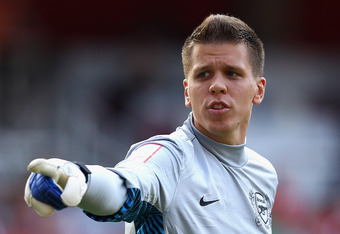 Carl Jenkinson is a player who Arsenal fans have seen a bit of already and has looked a raw talent. Having signed from Charlton Athletic in the summer, Jenkinson will probably slot in at left back against Liverpool and might have to do the same in the midweek against Udinese, and maybe even against Manchester United next weekend. His own goal against Stuttgart is the highlight, unfortunately, thus far for Jenkinson as an Arsenal player, but with his athletic ability and talent, a good performance in any of the next three games would definitely replace that.
Wojciech Szczesny may be already established in Wenger's first eleven, but these three games may be something very new for him. With Johan Djourou and Kieran Gibbs out, Szczesny may see a few more shots come flying at him than usual. Szczesny has shown the ability to both stop shots and control his saves very early in his career. Only 21, Szczesny will be tested a lot against Liverpool, Udinese and Manchester United, and it will be up to him to make sure he is as solid as he can be.
Attracting good young players to Arsenal, and making them into good professionals, has been something Arsene Wenger has always been able to do. In trying times like these at the club, the current crop of young players will be asked to do a lot of growing up in a very short period of time. If guys like Frimpong, Miyaichi, Jenkinson, Oxlade-Chamberlain and Szczesny perform well in the next week or so, the future may get a little brighter in the eyes of Arsenal fans, who have had to endure a very difficult and frustrating summer.
Here's to hoping things get better for Gooners heading into the fall and winter.