Bears vs. Giants: TV Schedule, Radio, Live Streaming, Game Time and More
August 19, 2011
The second Monday Night Football extravaganza of the 2011 preseason will feature a matchup between the Chicago Bears and New York Giants, both of whom have playoff aspirations this season.
The Bears are coming off a season that saw them go all the way to the NFC Championship Game, where they had the rotten luck of running into the Green Bay Packers. Their 2011 campaign got off to an unspectacular start against the Buffalo Bills, but at least they came away with a "W."
The Giants, on the other hand, just missed out on the playoffs last season. They won 10 games, but the Philadelphia Eagles edged them out for the NFC East crown. This year, they have their work cut out for them, especially given the number of hits their roster has taken this offseason.
Come Monday, it will all be out on the field.
Let's take a closer look at what we can expect to see.
Where: New Meadowlands Stadium
When: Monday, 8 p.m. ET
Watch: ESPN; online at NFL.com (have to purchase the preseason package for $19.99); live look-ins on NFL Network; replay on NFL Network on Wednesday at 1 p.m. ET.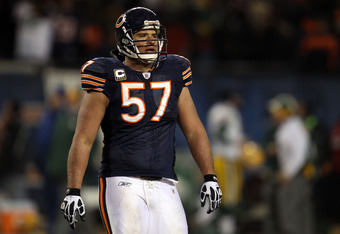 Listen: ESPN Radio, WBBM 780 in Chicago, WFAN 660 in New York

Bears' Key Addition

The Bears came into the offseason with a need for a big wide receiver and they filled that need by signing former Detroit Lions and Dallas Cowboys receiver Roy Williams.
He's the big target that Jay Cutler needs, but Williams will be looking for something of a career rebirth in Chicago. He simply hasn't been much of a factor in the last couple of years, and he needs to change that in order for the Bears offense to live up to its full potential.

Giants' Key Addition

The Giants have spent the bulk of their offseason watching players leave the organization, so I'm going to go with rookie cornerback Prince Amukamara for lack of a better option. But thanks to a broken foot, Amukamara isn't even going to be available for the first few games of the regular season.
That's just how things are going for the Giants these days.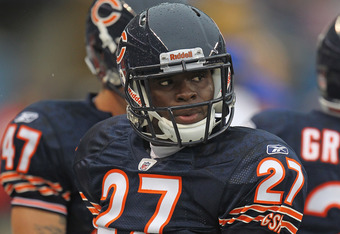 Bears' Biggest Loss
I'm going to go with Olin Kreutz here. The longtime Bears center signed with the New Orleans Saints on a one-year deal earlier this month, leaving the Bears with a hole to fill at center. More importantly though, Kreutz's departure leaves something of a void in the Bears locker room, as he was one of the team's more steadfast leaders during his career in Chicago.
Giants' Biggest Loss
Heck, name one? Losing tight end Kevin Boss to the Oakland Raiders was a big blow, and so was losing wide receiver Steve Smith to the Philadelphia Eagles. Amukamara's injury was obviously a huge blow, and on Friday we learned that Pro Bowl defensive end Osi Umenyiora is going to be out for a couple of weeks with knee surgery.
Put simply, the Giants have had a rough go of things since the lifting of the lockout.
What They're Saying
While much of the talk concerning the Bears right now involves their contract negotiations with running back Matt Forte and their aborted pursuit of San Francisco 49ers safety Taylor Mays, general manager Jerry Angelo told the Daily Herald that the organization is also busy considering the installation of an artificial surface at Soldier Field. The idea is to make the Bears' home field both safer and faster.
In New York, it's all Osi Umenyiora all the time. Paul Schwartz of SportingNews.com says that the two-time Pro Bowler could actually be out for as long as six weeks, as opposed to the official stance that Umenyiora will only be out for three-to-four weeks. That's not going to help Umenyiora's desire for a new contract, and it's going to give second-year defensive end Jason Pierre-Paul a chance to show what he can do. 
Bears' Player to Watch
How about Major Wright? The Bears are going to rely on him to get the job done at free safety this year, and he could very well be a breakout candidate in what will be his second season. The Bears know he's a big hitter, but they need him to be more adept at pass coverage. To that end, it will be interesting to see how well he reads Eli Manning on Monday night.

Giants' Player to Watch
Speaking of Eli Manning, all eyes are going to be on him after his recent comments about being in the same class as Tom Brady. In order to get people off his back, Manning is going to need to have a good game. At the very least, he needs to look better than he did against the Carolina Panthers in New York's preseason opener. He completed just four of nine passes for 36 yards.

Matchup to Watch
At the risk of sounding obvious, I'd keep an eye on how the New York offensive line fares against Chicago's defensive line. The Bears have a very dangerous defensive line, led of course by Julius Peppers; the Giants O-line is essentially a work in progress that has a number of players adapting to new roles. Going up against the Bears will be a pretty good test of their progress.
Bears' Position Battle
The Bears also have offensive line issues. Specifically, which player will step up to replace Kreutz is still very much up in the air. Roberto Garza is listed as the top center on the team's depth chart, but Chris Spencer saw some time at center this week in practice.
It sounds like the center position is a work-in-progress, and it could be a while before Lovie Smith and Mike Martz make a decision.

Giants' Position Battle
It has to be tight end. With Boss gone and Ben Patrick retired, the position is pretty much wide open. Travis Beckum is the best option to replace Boss by default, but Schwartz reported earlier this week (SportingNews.com) that Beckum has been slow to develop. He could easily be supplanted in the coming weeks.
Key Storyline
Given what's going on with Osi Umenyiora, don't be surprised if much of the in-game commentary is focused around him. In an offseason marred with difficulties, Umenyiora has been particularly difficult. First he was squabbling with the front office over money, and now he's going to be out with a surprise knee surgery.
On the field, the focus will be primarily on Eli Manning and Jay Cutler, but keep an eye on Chicago's defense too. It was an elite unit last year, and it should be once again in 2011. Just sit back, relax and watch them do their thing.
Prediction
Bears, 21-13.
For more coverage on your favorite team's first preseason game, visit the Bleacher Report NFL page.