What If Michael Vick Had Been a Cincinnati Bengal?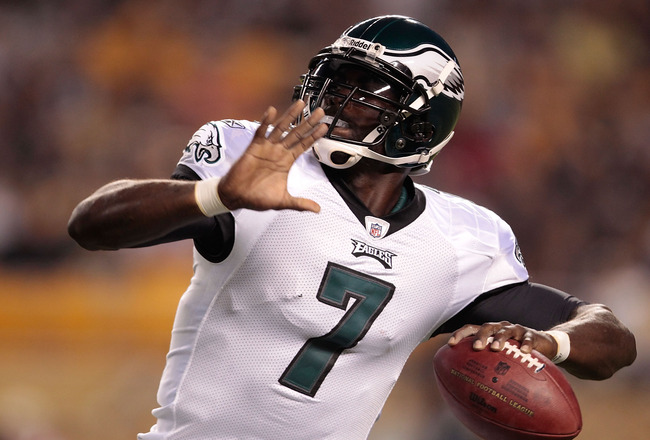 PITTSBURGH - AUGUST 18: Michael Vick #7 of the Philadelphia Eagles throws a pass against the Pittsburgh Steelers during the preseason game on August 18, 2011 at Heinz Field in Pittsburgh, Pennsylvania. (Photo by Jared Wickerham/Getty Images)

Carson Palmer makes being the Cincinnati Bengals' QB look like the most degrading job, even behind picking up trash on the side of the highway.
At least then there is an opportunity to get out. Cincy owner Mike Brown has got to be the most stubborn man on this side of the planet. He makes me yearn for an Al Davis press conference. Even after Palmer announced his willingness to retire if not traded and taken out of his pinstriped prison uniform, Brown refuses to "reward" Palmer with a trade out of Cincinnati.
Michael Vick would have been subjected to the exact same behavior had he signed with the Bengals. Hindsight is always 20/20, and surely Vick is standing by in his Philly warmups praising a higher being that NFL officials, family and friends swayed his decision to land with the Eagles.
Not only would he have had to deal with a city that was a little less forgiving than the city of Brotherly Love, but he would have had to deal with a franchise on the way to the gutter no matter what changes would have been made.
Terrell Owens and Chad Ochocinco on the same roster could not produce more than four wins in the regular season. Sure, combined they had a total of more than 1600 receiving yards, but that translated to zilch when wins were tallied up and playoff spots were designated. The Bengals were still sitting at the bottom with a hopeless Carolina Panthers team and no way out anytime soon.
BALTIMORE, MD - JANUARY 2: Carson Palmer #9 of the Cincinnati Bengals passes against the Baltimore Ravens at M&T Bank Stadium on January 2, 2011 in Baltimore, Maryland. The Ravens lead the Bengals 6-0 at the half. (Photo by Larry French/Getty Images)
The quarterback has to bear the brunt of many responsibilities in the franchise and Vick would have had to concentrate on repairing his personal image, his on-field image and carrying the weight of an entire organization. Palmer is continuously mistreated in Cincinnati and Mike Brown seems less than willing to allow a change.
Most recently Palmer is dealing with a bit of brotherly controversy. After battling back and forth with the Bengals to release him, he now feels as if his brother is being subjected to their nonsensical madness as well. According to Profootballtalk.com, Jordan Palmer, who can be cut at any time, is being toyed with by the Bengals, per his brother. Carson expects his brother to be cut, but it seems to be far too late for him to sign anywhere else.
Carson is right. If his brother were cut in the next couple of weeks, it would be too late for any other teams to even consider taking him on. Could this be an underhanded lash out at Carson for threatening the franchise with this retirement? Or is his brother just not good enough for Cincy to take a chance on? In either event, it all seems too tied in to be pure coincidence.
Jordan may be no Tom Brady, but he displayed an air of leadership by organizing offseason workouts while the lockout was in effect.
CLEVELAND - OCTOBER 04: Jordan Palmer #5 of the Cincinnati Bengals looks on against the Cleveland Browns during their game at Cleveland Browns Stadium on October 4, 2009 in Cleveland, Ohio. (Photo by Jim McIsaac/Getty Images)

"I'm going to prepare like I'm the starter until somebody tells me I'm not," Jordan said in April, before the Bengals picked Andy Dalton in round two.
That is the attitude of someone treated like an option and not a player looking to be cut just because of a tumultuous relationship the org is having with his sibling. Like I said before, it could be coincidence. But, probably not.
Could anyone else see Mike Brown being that spiteful?
Sidebar: The Cincinnati Bengals are the second lowest rated team in Madden '12.
Article featured on LeagueJunkie.com
Follow Klaibourne on Twitter: @nyhlaablack
This article is
What is the duplicate article?
Why is this article offensive?
Where is this article plagiarized from?
Why is this article poorly edited?

Cincinnati Bengals: Like this team?