Tiger Woods, Fred Couples and the Presidents Cup Keep Us Talking
April 11, 2017
Tiger Woods is nothing if not a lightning rod.
Keegan Bradley just made history at the PGA Championship, not just as a first-timer winning a major, but by carrying a big stick (long putter) to do it.
The PGA's Wyndham Championship in Greensboro is the final leg of the race to the Fed Ex Cup, and all manner of guys are scrambling to get into the playoffs.
But it is the Fred Couples will-he-or-won't-he, Tiger Woods can-he-or-will-he saga that keeps the golf world turning.
U.S. Presidents Cup team captain Couples has wavered a bit on his Woods-or-bust stance for the U.S. Presidents Cup team.
After previously seeming to say he would select Tiger no matter what, Couples told The Golf Channel's Tim Rosaforte Thursday, "For me to pick him (Woods), he has to play a little golf."
Couples told Rosaforte that he would go see Woods personally to ask him to play more tournaments if that would get Woods to agree to Couples' terms.
There are so many angles to this story, which is what makes it so fun.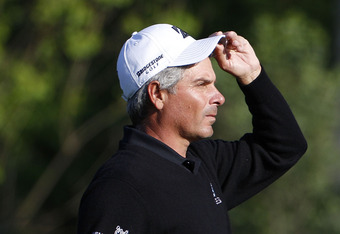 From Freddie's perspective, it is obvious that Tiger's performance at the PGA spooked him.
It's completely reasonable for Couples to have been saying he wanted Tiger no matter what before Woods' performance at the PGA. Even with the rust and injury, few thought Woods would flame out so spectacularly at the final major of the season.
And the names that were higher than Woods on the points list had no special claims to a spot on the team.
Sure, Tiger is 28th on the list, but he's gotten to 28th while hardly playing. Before Tiger's missed cut at the PGA, it was pretty easy to understand why Couples would choose a healthy Tiger over, say, Bo Van Pelt at No. 12.
There are more points to be accumulated before Couples selects his captain's picks on September 26.
But right now, the two names that stand out before Tiger that are outside the Top 10 are PGA champ Keegan Bradley (18th) and Rickie Fowler (11th).
You've also got Jim Furyk at 10th and Bill Haas at ninth. There are other names, certainly, that can factor in, but likely one of these four players will have to go for Tiger to be included.
Previous to Tiger's performance at the PGA, it is not hard to see where Couples would have been comfortable choosing Woods. Bradley had not fully emerged on the scene and nobody super strong had surfaced as a possible No. 12.
But that all changed with Woods' MC at the PGA. 
Now, essentially, Couples is telling Tiger he wants him on the team, but he wants Woods to try out. Prove he's playing at a level that can help the team.
That puts the ball in Tiger's court.
In the end, this all comes down to Tiger's motivation to play in the Presidents Cup. Woods gives the impression that the Presidents Cup is not high on his list of golfing priorities.
Clearly, everything he does at this point in his career, golf-wise, is done in service to his pursuit of Jack Nicklaus' major championship record. The Presidents Cup doesn't serve much in that pursuit.
Woods looks like he had a plan for how he wanted to come back from injury, involving several months of practice and swing-tinkering for the remainder of this year, followed by the Australian Open and possibly the Presidents Cup, and then a normal schedule next year leading into Masters 2012.
Woods had a plan. Couples wants Tiger to change that plan.
That leaves us with several questions to be answered in the upcoming weeks.
Would Tiger possibly change his well-laid plans to play in an event that he has showed little respect for in the past?
Truthfully, is the Presidents Cup important enough for a player coming off of injury to risk playing more than he wants to just to get on the team (a question few are considering)?
Can Couples convince his friend that it's worth it?
Who would have ever thought the Presidents Cup selection process would be so juicy?
And what does current No. 12 Bo Van Pelt think of all this?