Chicago Cubs: Trading Aramis Ramirez to Chicago White Sox Helps Both Teams
August 23, 2011
Chicago Cubs third baseman Aramis Ramirez has a no-trade clause and exercised it, saying he didn't want to uproot his family. Wouldn't a trade to the crosstown rival Chicago White Sox benefit both teams?
While the Cubs have been hopelessly out of contention since May, the Sox are still in the mix in the less-than-stellar AL Central Division.
And it just so happens that third base is the weak spot in their lineup if you don't want to include free agent bust Adam Dunn and overpaid center fielder Alex Rios.
How big a boost would it be to add one of the hottest hitters in baseball into the Sox lineup? His numbers since June 1 are 22 homers and 62 runs batted in, tops in the NL in that time period, and he's second in slugging at .608.
He could be the piece that puts them over the top.
It's amazing that nobody ever thought of the White Sox when Ramirez kept on insisting before the trade deadline that he didn't want to leave Chicago. To many Chicagoans, anything south of Madison Street is considered another world, but he could still keep his family nearby and travel to the "Cell" instead of Wrigley Field.
While the Cubs may not want to help the Sox succeed when they have failed so miserably this year, they also have to look to the future.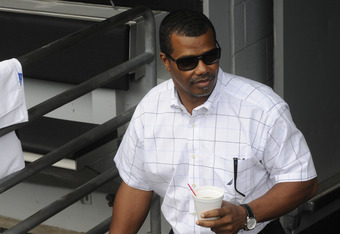 White Sox GM Kenny Williams is always about winning now. His future is today. For that reason, prospects are suspects to him, and he has no problem dealing them if he can make his team better.
It would have been ideal to make this move before the trade deadline. You could have probably procured a better prospect, but the Sox are close enough that Ramirez's big bat can still get them into the postseason.
He would fit right in replacing Brent Morel at third. While he's a better fielder than Ramirez, he doesn't have the thunder that a Ramirez adds to the Sox lineup. He makes them very scary, especially if a few of the "walking dead" wake up.
Putting him together with Paul Konerko and Carlos Quentin makes them a lot more competitive with the Detroit Tigers. It shows that Williams' "All In" slogan before the season wasn't just rhetoric.
Picking up a player like him can have an effect in the locker room that gives the other players a lift with 36 games left in the season.
It's all about getting in the playoffs, because then you have a chance to win. There is great value in that, and there should be good value coming back to the Cubs in return.
Players currently on the team like a Chris Sale are likely untouchable, as is Dayan Viciedo for a short rental, but how about someone like Jared Mitchell, who tore a tendon in his left ankle during spring training in 2010?
He missed the entire season last year and seems to have regressed, but he has a lot of speed and tremendous athletic ability. He still has a hole in his swing, striking out far too much, but he could be a future leadoff hitter for the Cubs if he can get his game together.
The Sox supposedly don't have the money to add any players before the waiver deadline, according to a recent interview by Williams, but the Cubs can pay the tab since they would have to pay him anyway if they kept him.
He shouldn't fit in the future plans for them because they need to rebuild and start getting rid of guys like him.
Taking a chance on a former No. 1 draft pick would be worth the risk, because there really isn't one.
The Sox have constantly benefited from getting other teams' failed prospects, resurrecting Quentin, John Danks, Gavin Floyd and Matt Thornton, amongst others.
It's a win-win for both teams. The Sox get the boost they need to possibly make the playoffs, while the Cubs might get a valuable component for the future.
If only someone on the Cubs is smart enough to figure out that the Sox play in Chicago.