Arsenal vs. Liverpool: Premier League Matchup Preview
August 19, 2011
Arsenal play their first home Premier League game of the new season against Liverpool tomorrow, and it's going to be a very tough assignment for them.
The list of players Arsenal have unavailable through injury or suspension is bad enough, but added to that they have sold too many players without replacing them.
Arsene Wenger is going to have some real problems putting together a competitive midfield against Liverpool, and Arsenal's chances could depend on his ability to do so.
When last season ended, he said there would be changes in the Arsenal squad, and the club would be busy in the transfer market. He was absolutely right as Arsenal have sold Cesc Fabregas, Gael Clichy, Emmanuel Eboue and Jay Emmanuel Thomas and brought in Gervinho, Ryo Miyaichi, Alex Oxlade-Chamberlain and Joel Campbell.
On top of the players being sold Arsenal have also loaned Denilson and Carlos Vela to other clubs for the season, and Samir Nasri, Nicklas Bendtner and Manuel Almunia look destined to be sold too.
I'm no mathematician, but even I can see that the numbers don't add up, and Arsenal are in dire need of at least four players to give their squad enough strength to compete in the Premier League.
Of the four players signed, only Gervinho can be considered ready to play in the Premier League, and the other three are teenage prospects and no more in my opinion. The question on the lips of so many Arsenal fans is how their club have arrived at this stage with less than two weeks remaining in the transfer window.
Wenger has maintained all along that he will only bring in players of "super quality" that will improve his team. He says Arsenal have that quality already, and he wants to bring in players who will improve the team.
The team Arsenal field tomorrow will be a long way short of the quality needed to compete at the very top in the Premier League and the Champions League.
I know there are problems with injuries and suspensions, but problems like those occur in every team throughout every season. Arsenal's current squad does not have the depth to deal with those problems, and only Wenger can resolve the problem.
He has less than two weeks to bring in the players needed, or he may find the minority of fans who want him out growing very quickly.
The drawn out transfer of Cesc to Barcelona didn't help matters, and neither does the possible exit of Nasri to Manchester City. However, Arsenal had money available to spend at the start of the summer, and they have added to that with the sales so far.
If he is willing to pay approximately €15 million for Chamberlain, why will he not pay similar figures for defenders who the squad so desperately need.
The midfield has been stripped of it's playmaker, and without a suitable replacement for Cesc the team will be a pale shadow of what it once was. Robin van Persie is an excellent striker, but he is also very injury prone, and Marouane Chamakh looks like he will be his only deputy.
The performances of Chamakh since last January fill me with dread at the thought of a RVP injury. 
I know there are still two weeks to go before the transfer window closes, but the football season has actually started and Arsenal have some very tough games before the month ends.
So far the defence has held tight with two clean sheets against Newcastle United and Udinese, but tougher tests lie ahead in the next week. After tomorrow's game at home to Liverpool, there are trips to Udinese and Manchester United before the dreaded international break returns.
Hopefully Arsenal will emerge from the other side of the international break with all of their players fit again and some new additions settling into the squad.
If the players are brought in and Arsenal fail to deliver the goods then, at least they will have tried. But if no players are added and Arsenal fail, I cannot see where Wenger has to go.
If he does not add the necessary quality, it looks like he is writing the season off as yet another trophy less one, and it's a situation that cannot be allowed to develop.
As for the game against Liverpool, it's not too difficult to predict Arsenal's starting XI with so few players to choose from.
Alex Song and Gervinho are suspended for three domestic games each after their stupidity against Newcastle last week. Jack Wilshere, Kieran Gibbs and Abu Diaby are all injured, and Johan Djourou, Tomas Rosicky and Armand Traore are all doubtful too.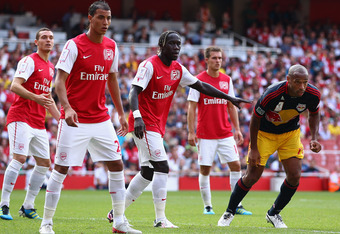 It could see Sebastien Squillaci recalled to the first team, and that's a sight which scares me. I don't think he is good enough to play at this level any more, and Arsenal look defensively very suspect when he plays.
If he doesn't play it will probably mean that Carl Jenkinson starts as one of the fullbacks and makes his Premier League debut.
Jenkinson looks to be a very good prospect to me, but he was playing non-league football last season. That's hardly the "super quality" that has been promised by the manager, but I hope all goes well for him if he plays. I think he should be deployed at right-back if selected, and Bacary Sagna should switch to the left.
The central defensive pairing of Thomas Vermaelen and Laurent Koscielny is progressing well together, and hopefully they can continue that partnership. With Wojciech Szczesny in goal, the defence will be relatively strong compared to some of the options elsewhere on the field.
Andy Carroll caused Arsenal some problems with his height when he played at the Emirates for Newcastle last season, and I expect him to do so again.
In midfield the options are limited and it looks like Emmanuel Frimpong will have to start. He has virtually no experience at this level after he missed all of last season injured, but I can't see any other player being able to play the defensive role unless Djourou is considered for it.
Aaron Ramsey will have to take on the creative duties for the day, but I still think he has a way to go before he reaches the form he displayed prior to his leg break almost 18 months ago. 
The third midfielder will depend on the fitness of Rosicky, and if he's not fit, I think Henri Lansbury has to be the man for the job. There are very few other options available to the manager, and if Lansbury is to be a member of the first-team squad, he has to be able to play when needed.
There is a good argument for Arsenal playing four in midfield, but I cannot see Wenger changing his tactics.
Thankfully RVP will return from his Champions League suspension to lead the attack, and Arsenal have a real goal threat with him in the team.
On either side of him, I expect to see Theo Walcott and Andrey Arshavin, and both of those players are capable of finding the back of the net too. I was critical of Walcott after Tuesday's game against Udinese, but I still think he is a good finisher even if he is limited elsewhere.
There has been some suggestion that Arsenal will rest some players ahead of the return leg against Udinese in the Champions League next Wednesday night.
I cannot imagine that the team could take any of the better players being omitted considering all of those missing already. Both Song and Gervinho should be well rested because of their suspensions, and that is more than enough in my opinion.
If Arsenal are holding off on buying new players until they have secured qualification for the group stages of the Champions League it's a dangerous game to play.
I know qualification means roughly €20 million added to the clubs TV revenue, as well as at least three big pay days in home group games. However, the later the purchases are left, the less likely the chances of them being completed.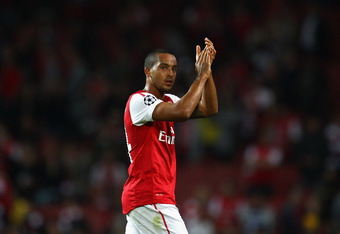 Arsenal's confidence is so brittle at the moment that a collapse away to Udinese is far from unbelievable, and what players of true quality would want to join then.
If the club have the players needed lined up then they must buy them immediately, or suffer the consequences on and off the pitch. 
Liverpool have spent a fair deal of money this summer bringing in players who are good, but not exceptional. Despite all of Arsenal's current problems, I still think they have a good chance of getting something out of this game, and if they can keep tight at the back, I think they will.
Call me a blind optimist, despite what I've written, but I think Arsenal will emerge with a 2-1 victory, and RVP will get his name on the score sheet.
This has been an incredibly hard summer for all Arsenal fans, and it looks like it will continue right up until the final moments of the transfer window.
UPDATE:
The latest squad news is that Gibbs, Djourou, Rosicky and Armand Traore are all definitely out which means there will be a makeshift left- back.
Ryo and Samir Nasri are both in the squad though, and Ryo might get a chance at some stage. I would be shocked to see Nasri included in the team, as he didn't play on Tuesday night.
He is surely on the verge of a move away from Arsenal, and the reaction of the fans to him could be quite nasty. Even if he is on the bench, I think he might get an adverse reaction, and I cannot see how playing him could improve team morale.
The sooner he is sold and new players come in, the better for all concerned.
Here's the highlights from last season's 1-1 draw at home to Liverpool.