Patriots vs. Buccaneers: Live Reaction to Game's Biggest Stories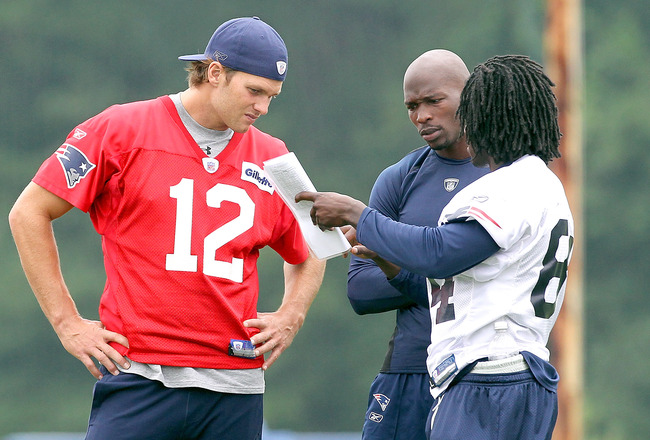 Jim Rogash/Getty Images
New England Patriots quarterback Tom Brady will get the start tonight in Week 2 of the NFL Preseason, matching up against budding superstar quarterback Josh Freeman of the Tampa Bay Buccaneers.
After a Week 1 torching of the Jacksonville Jaguars at the hands of the Patriots' second and third string players, the starters are expected to take the field tonight at Raymond James Stadium. That means Brady, that means newly acquired wideout Chad Ochocinco, and yes, that means Wes Welker.
Like the Pats, the Bucs crushed a severely unprepared opponent in Week 1, and are excited for a game that will more likely have a regular season-feel. Coaches Bill Belichick and Raheem Morris refuse to allow their teams to come unfit for battle. The starters will be playing hard and heavy tonight, especially the young Bucs who are trying to prove that last season's success was no fluke.
A few things to note:
The New England starters are only expected to go for one quarter or so
Albert Haynesworth, one of the Pats' biggest offseason additions is NOT expected to suit up
Keep an eye on Pats safety Brandon Meriweather, he is in jeopardy of losing his starting job
The action begins at 7:30 PM, and I will be here all night with game analysis and scoring updates. Make sure to refresh the page to see new posts, as it does NOT refresh automatically.
Feel free to share your thoughts in the comments section, and I will try to accommodate any questions/discussions throughout the evening.
Thanks for reading, and again, don't be afraid to leave me a comment!
The New England Patriots took two seemingly minor injury hits in Thursday night's preseason matchup versus the Tampa Bay Buccaneers, and one potentially major one. I say seemingly, because you've probably never heard of Dane Fletcher or Bret Lockett. And major? That would be referring to fan-favorite Danny Woodhead. Despite no word from the Pats, Woody probably had a minor concussion or something when he got hammered on a special teams play in the fourth quarter.
Not good for the little engine that could.
As for the other two, Fletcher and Lockett?
Trust me when I say, if either are out for an extended period of time it could really, really hurt the Patriots.
Fletcher I'm less worried about, as he apparently only has a thumb injury (ESPN):
Patriots linebacker Dane Fletcher came out of Thursday night's game against the Buccaneers with a thumb injury and will not return, the team announced.
Lockett, however, left the field on a cart. That is never a good sign for anyone. If Lockett is out, the Pats' safety position will become even thinner than it already is. Again, not good.
Let's hope these guys have quick recoveries, especially Woodhead!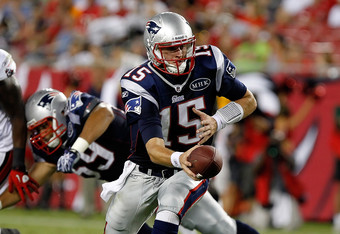 After watching what was possibly the least exciting half of football I will ever watch, here are my second half thoughts on the most important players in the New England Patriots' 31-14 victory over the Tampa Bay Buccaneers:
Ryan Mallett—The rocket-armed quarterback out of Arkansas University didn't do as well his second time out. Last week, Mallett carved up the Jacksonville Jaguars and was a hot topic in Boston. After this performance, maybe we could all take a second to remember, he is still a rookie! He threw an awful pick-six, but also looked solid in getting the Pats into field goal range on two third-and-very-longs.
Brian Hoyer—After looking nearly unstoppable last week, Hoyer didn't do much of anything against the Bucs this time around. He barely played however, so don't take much offense to his putrid "one of four passing for just six yards" statistic. Hoyer proved last week that he is better than this. Everyone has their bad weeks, let's just hope Hoyer regroups in time for next game.
Stevan Ridley—The instantly beloved rookie running back looked superb in the second half. That is, until he fumbled. BIG no-no. Head coach Bill Belichick hates turnovers more than he hates Eric Mangini, so Ridley didn't do himself any favors by coughing the ball. Once again, aside from the fumble Ridley dazzled, but he must make that a one-time thing. If he starts fumbling, he'll find himself locked in Belichick's notorious "dog-house." Just ask Doug Gabriel or Bethel Johnson what it's like in there.
Buddy Farnham—I grew to love Farnham very quickly last week. He reminds me of a mixture of Wes Welker and Danny Woodhead, minus all the talent. Still, I love his toughness and competitiveness, and I hope he sticks around on the practice squad. Buddy was one of very few who actually played well in the second half this week.
Matthew Slater—Once again, Slater flashed some potential as a wide receiver. Thought of only as a special teamer, Slater could be considered in the future as a No. 4 wideout, especially after his spectacular leaping catch last week.
Niko Koutouvides— The Pats only recently picked up the 30 year old journeyman, but Niko looked pretty comfortable out there on Thursday. The former Buccaneer looked solid against his old team, making a couple of nice moves to attack the backfield. Could be insurance if Dane Fletcher's thumb injury lingers.
This week wasn't as inspiring as last week for the second and third team's on New England's roster, but DAMN did the first team look good.
My 16-0 prediction isn't looking as far-fetched anymore, is it?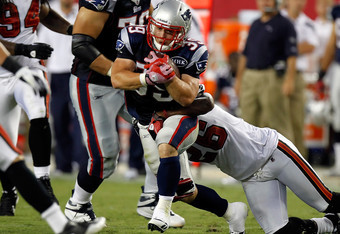 The New England Patriots lead the Tampa Bay Buccaneers 28-0 going into halftime of tonight's preseason game.
Here are some thoughts on a few players who have stood out.
Tom Brady—The man with the golden arm (and good looks) hasn't missed a beat. He looked unstoppable in the first quarter, until slowing down in the second. Still, Brady shut up the select (crazy) few who were calling for Ryan Mallett.
Jerod Mayo—The 2008 NFL Rookie of the Year looked like the player we all thought he could be. Super aggressive, all-out blitzes, air-tight coverage. After leading the NFL in tackles last year, Mayo looks like he has developed the peripheral aspects of his game. By the way, he definitely played a little bit of outside linebacker. Interesting.
Andre Carter—One of the Patriots' least heralded free agent signings this offseason, made his presence felt in a big way. His pressure single handedly caused at least one sack, three throw-aways, and a whole lot of nerves from the Bucs' QB, Josh Freeman. Carter looks like he could be the impact pass-rusher fans expected to see when they watched Albert Haynesworth (who remains sidelined without explanation).
Nate Solder—Looked great for most of the half, until his atrocious pass-protection led to a Tom Brady sack late in the second quarter. For a rookie, one mistake isn't too shabby.
Chad Ochocinco—Despite catching only two balls for 14 yards, Ocho added a nice versatility to the Pats offense. His size was a factor in the red zone, as one of those catches was a touchdown. I think we'll be seeing a little more than just two catches further down the road.
Danny Woodhead—Everyone's favorite running back was dynamite with limited touches. He had five carries for 63 yards, including a gorgeous 29 yarder on the Pats' first drive. The little guy looks ready to roll.
One last thing...the defense has looked unbelievable. Imagine how good it will look once Haynesworth, Shaun Ellis, and Leigh Bodden return. Wow.
"CAN'T WAIT"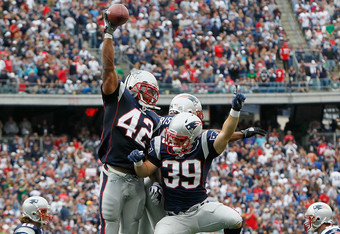 New England Patriots quarterback Tom Brady is still in the game, even with the Patriots leading 28-0 midway through the second quarter.
But unlike the first two touchdown drives, which magnified Tom Brady's brilliance as a passer and play-caller, the second two touchdown drives were highlighted by the running backs and offensive line.
BenJarvus Green-Ellis and Danny Woodhead spearheaded a Patriots rushing attack that followed the clear path created by hulking linemen Nate Solder and Logan Mankins. Solder, a rookie left tackle, had a few mistakes in the pass-protecting game, but has looked superb throwing his gigantic body around in the running game. Mankins, a left guard, is a 3-time Pro-Bowler and one of the main reasons the Pats usually run left at the goal line.
Both of BJGE's touchdowns came running to the left side, and almost all of Woodhead's nice inside draw plays came on calls to the left side of the line.
Coach Bill Belichick is known for putting his players in a position to succeed.
With the running backs, it's easy. Just run left.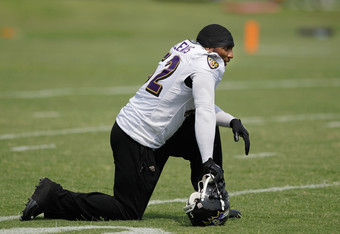 I know it's still early, really early, but wow.
The New England Patriots defense right now is about as good as I've ever seen. I'm not talking about the best Pats defense I've ever seen, I'm talking about literally the best defense I have ever seen, the 2000 Baltimore Ravens.
The pass-rush, anchored by Andre Carter and Gerrard Warren, has completely overwhelmed the young Tampa Bay Buccaneers offensive line. Jerod Mayo has been ferocious, taking down quarterback Josh Freeman twice while also defending two passes.
Cornerbacks Devin McCourty and Kyle Arrington have been locking down the Bucs' talented receiving corps, sticking to them like glue. We have barely even seen the safeties, because Tampa can barely get the ball out of the backfield.
I mean, it almost looks like Tampa Bay's offensive line is trying to get Freeman injured.
Regardless, the attacking-style of this defense brings a smile to Patriots-nation. We have long yearned for group of linemen who can relentlessly get after the quarterback.
This year, it looks like we've found our group.
Tom Brady and Jerod Mayo are absolutely dominating this game.
The New England Patriots defense once again held the Tampa Bay Buccaneers to a three-and-out, showcasing their all new pass-rush. Andre Carter, another veteran addition, has been wreaking havoc off the edge, while Mayo has totally controlled the middle of the field.
Playing both the middle and outside linebacking positions, Mayo has looked positively stellar tonight. Great sign for Pats fans.
As for superstar quarterback Tom Brady? Well, he's not doing too bad either.
Utilizing the tight ends, Brady moved 32 yards down field on drive No. 2. He went for six yards to young TE Will Yeatman, and then 10 and 16 yards to second-year TE Aaron Hernandez (who already has himself a TD catch).
Brady finished off the easy looking drive with a seamless connection to, you guessed it, Chad Ochocinco!
The animated wide receiver got wide open in the back of the endzone, and Brady found him off the play-action.
This is happening faster than even I could have imagined. Pats look like they are in mid-season form right now. The amount of pressure the defense is putting on is a great sign, and the versatility on offense is magnificent to watch.
There are so many options for the 2010 NFL MVP, and he is taking advantage.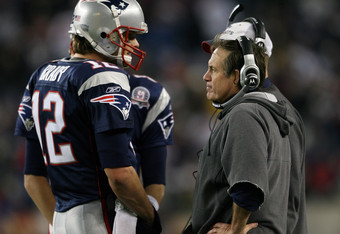 New England Patriots head coach Bill Belichick might actually be pleased after this game.
It's only been four minutes, but already the Pats are looking great on both sides of the ball. The defense came out and held Josh Freeman and the Tampa Bay Buccaneers to a three-and-out. Jerod Mayo led the effort with heavy pressure on first-down, and terrific coverage on third-down.
After a nice punt return by roster-hopeful Jeremy Ross, Tom Brady and the Patriots offense took over.
Brady started with a quick look to catch-machine Wes Welker for 10 yards. Two plays later, the X-Factor struck. Danny Woodhead, the little RB that could, made a beautiful cutback move from right to left, gaining 29 yards on the play.
Two more plays later? Touchdown.
Brady threw a perfect pass to a wide-open Aaron Hernandez who hauled in the catch for the score.
What a way to open the season!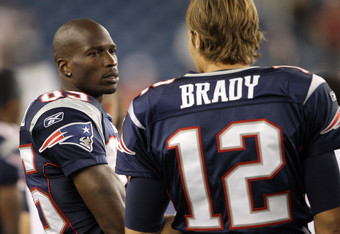 Tom Brady's connection to Chad Ochocinco will be on full display tonight in the New England Patriots' battle with the Tampa Bay Buccaneers.
Both are slated to start, and both were on the field for pregame warmups.
As a Patriots fan, I couldn't be more excited to watch how this QB-WR tandem develops. Brady is possibly the most accurate quarterback in the NFL, and Ocho has great hands and is considered an elite route-runner. Sounds like a recipe for success if you ask me.
Brady and Ocho should be in the game for about one quarter tonight. I assume Brady will look for Ocho early and often, trying to construct that all-important connection that coaches always talk about. Brady is already well-acquainted with Wes Welker and Deion Branch, so finding Ocho should be a top priority tonight.
This season is going to be a fun one for New England fans, and the addition of Ochocinco is one of the main reasons why. He should have a monster year playing with stat-inflating quarterback, Tom Brady.

New England Patriots: Like this team?