Miami Football: Why the NCAA Shouldn't Punish the U for Shapiro's Spending
August 18, 2011
Mike Ehrmann/Getty Images
There haven't been any punishments handed to the University of Miami and its football program, but it appears that the results of any NCAA investigation will not bode well for the Hurricanes.
With all the talk of illegal benefits and whatnot recently involving college athletes, the situation brewing in Coral Gables, Florida looks like it will be the new poster-child for NCAA violations.
The NCAA has gone as far as, in basketball, declaring players ineligible because of past professional experiences, and getting paid to play. Enes Kanter came to America looking to play for John Calipari at Kentucky, but was denied because he made too much money when he was playing professionally.
That is a load of crap.
I understand the rules and everything, but why should Kanter be unable to play because he had a job before college? Think about it: That's what it was for Kanter. What is a professional athlete's job? Playing a sport.
That's like a college basketball player having a job before college. They are getting paid for a service. I really don't see why it matters what he did before he got to college. Granted, Kanter wasn't actually coming for an education (more than likely), but it shouldn't matter what he did before college.
If they worked for the money they made, why should they be unable to play college basketball? It has no effect on his recruitment, and no effect on his play.
With the allegations over the past ten years or so at the U involving Nevin Shapiro, the end result looks like it will be nothing but bad for the Canes and their football program.
For me, there's only a problem here if they find anything that Shapiro did when it comes to the recruitment of players to the University.
Otherwise, why does it matter what the players got from Shapiro? If Shapiro wanted to spend his well-earned money on clothes, parties or whatever for the Canes players, what's wrong with that?
If Shapiro was offering normal students those benefits, and they accepted, there would be no problem. But because they are athletes, there is something wrong with that. Let's say Shapiro takes out some of the least athletic students at Miami to his club or on his yacht, and buys them drinks and whatever else. Seriously, there is no problem.
The NCAA is getting away from treating student-athletes as students.
Whose business is it what Shapiro does with his money? If he wants to help these college kids out, who aren't making any money or have any source of income, who is to say he can't? That's like saying, "No, you can't help them. They have to struggle for themselves."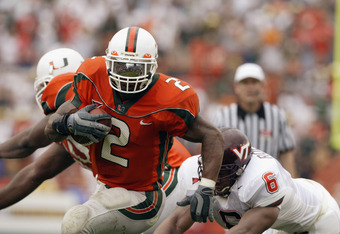 Jed Jacobsohn/Getty Images
Granted, what Shapiro gave to the Miami players was excessive and luxurious, what's the problem?
Let Shapiro spend his money on whatever he wants.
I seriously do not see a problem with what is going on here, and people are talking about the University of Miami's football program becoming extinct? That is absolutely ridiculous.
I hope nothing comes of the inevitable NCAA investigations of these allegations made by Shapiro, who appears to have come out with this because he is just desperate for attention in prison, but I seriously doubt that will be the case.
Shapiro is nothing more than a filthy rich fan, and there isn't anything wrong with that. Apparently, it is wrong for him to (in his mind) make sure his team's players are living right. Once again, what "living right" is for a college football player in Shapiro's mind is very different from what most think, but still, why can't he spend his money how he wants?
I see no problem in Shapiro spending his money how he wants, albeit in a way that the NCAA views as illegal. But in his mind and in the mind of all the Hurricanes players and faithful, why shouldn't he be able to show his favorite athletes a good time in the best way possible in his mind?
Miami shouldn't receive any punishments unless Shapiro did host recruits on trips, which it appears was the case. But that should be the extent of it. Instead, what is going to happen, probably, is the Miami Hurricanes will receive one of the more severe penalties any college program has in recent memory.