WWE News: Former TNA Tag Team Already Has Heat in WWE Locker Room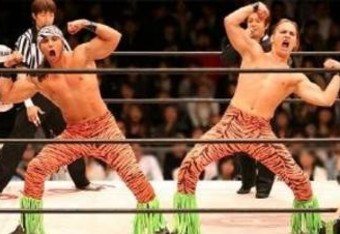 WWE News: What the Young Bucks Did to Piss Off Booker T
There is one rule in professional wrestling that every aspiring wrestler should know: Show respect to those who came before you.
Apparently, the Young Bucks—formerly "Generation Me" in TNA—don't like to abide by it.
From sescoops.com:
"Earlier this week, we reported that the Young Bucks tag team (formerly Generation Me in TNA) received a WWE tryout prior to Monday's RAW from San Diego, California. WWE announcer Booker T spoke about the Bucks' tryout on Twitter – and made reference to a recent Rob Van Dam interview where RVD called out the Bucks for being cold to him backstage in TNA and not even shaking his hand.
Booker said that at Monday's tapings, the Young Bucks did not introduce themselves to him when they walked by him backstage. Booker T said later in the day, one of the Young Backs was leaning on his jacket yet still never introduced himself to Booker.
The Young Bucks are a talented team with a ton of potential, but they will never get too far in the business by offending the legends in the locker rooms."
Ah, when are the Young Bucks going to learn?
Showing up to the WWE locker room and not introducing yourself to the talents backstage is like going to your girlfriend's parents' house and eating all their food without even acknowledging their presence at the dinner table.
Respect and proper etiquette obviously doesn't apply strictly to the wrestling world. It's common sense really.
The Young Bucks quite possibly have blown a huge opportunity with their behavior here, as the WWE is reportedly in the process of beefing up the tag team division, and the Young Bucks are one of the best young tag teams out there.
It remains to be seen what impact this will have on their future with the WWE, but it's never good to have heat in a company that you've never actually worked for.
I'd love to see the Young Bucks rejuvenate the WWE's incredibly stagnant tag division. But, at this point, I wouldn't bet on that happening.
Most recent updates:
This article is
What is the duplicate article?
Why is this article offensive?
Where is this article plagiarized from?
Why is this article poorly edited?