Pittsburgh Steelers: Should Team Take a Chance on Drafting Terrelle Pryor?
August 18, 2011
Chris Graythen/Getty Images
Prior to starting his college career at Ohio State, Terrelle Pryor was one of the top recruits for the NCAA. He narrowed his decision down to either Ohio State or Penn State, and eventually chose to leave Western Pennsylvania for Ohio.
(Maybe Ohio State paid better. Sorry, I couldn't resist!)
After being suspended for the first five games of 2011 for trading Ohio State memorabilia, Pryor chose to stay in college and accept the suspension. He could have left Ohio State at that time and entered the NFL draft, but chose to accept the consequences of his actions.
Pryor was then suspended for the remainder of the 2011 NCAA season for accepting money from boosters. It was a revelation that would cost long-term head coach Jim Tresset his job.
With the NFL lockout in negotiations, Pryor had no choice but to sit by and let the cards fall where they may.
On Thursday, NFL commissioner Roger Goodell made the decision that Terrelle Pryor would be eligible for the NFL supplemental draft, on the condition that he would be suspended for the first five games of the 2011 NFL season.
Pryor will be able to go to team meetings, film sessions and workout with the team. He will not be permitted to practice with the rest of the team.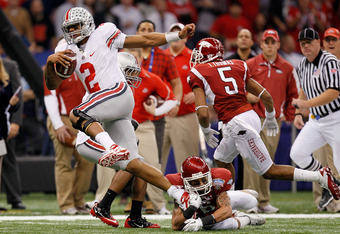 Kevin C. Cox/Getty Images
Now that Pryor is eligible for the supplemental draft, he is going to be the most interesting news story over the course of the next four days. His workout will be held in Pittsburgh.
But, will the Steelers brass be in attendance?
There is no question that Pryor has the type of skill set that is not found every day in the NFL. Though Pryor was very successful as a Buckeye, there are a lot of questions as to his being able to translate into the NFL game.
Take out the training camp (as short as it may have been) and the stipulation of Pryor not being able to practice until after Week 5, and it is unlikely for anyone to expect even a few snaps per game for Pryor by the end of the season.
Any team that takes Pryor is going to have to do so with the knowledge that he is a player that is going to be an active part of the team in 2012 more than 2011. That means anyone that selects Pryor will have to not only pay him for basically nothing this year, but also keep him on the active roster—trying to put him on the practice squad will guarantee that another team will sign him away.
Should the Pittsburgh Steelers take a chance on drafting a kid that grew up a Steelers fan and could one day become something special?
Would it be a waste of a draft pick and roster spot?
The Steelers don't have a need for a starting quarterback.
Ben Roethlisberger has that job on lock down. Now that all his personal problems seem to be in the past, the Steelers shouldn't need a starter for at least another seven-to-eight years.
His primary backup is Byron Leftwich, who is not talented enough to be a regular starter. He showed that in Jacksonville, Atlanta and Tampa Bay. Yes, he does a good job as a backup, but it would not be good if he had to take every snap.
There is Charlie Batch, whose best days are WAY behind him. He is good as a coach on the sidelines, but against top competition (i.e., the Ravens game last year) he simply does not have the talent to lead the Steelers beyond the regular season.
Dennis Dixon was given the chance to start the 2010 season during Roethlisberger's suspension, and was as exciting to watch as Kordell Stewart. Yes, he could take off and run, but in the pocket he simply was not ready.
Pryor would be able to sit as the third quarterback for the Steelers for the 2011 NFL season, and would have all of the 2012 offseason to show that the Steelers made the right choice. He would be able to learn from Roethlisberger and at no point would the Steelers feel rushed to put Pryor on the field.
The Steelers drafted Dennis Dixon to hopefully be the long-term backup to Roethlisberger, and it is becoming obvious that he is probably not going to be with the Steelers after this season. He would probably have been gone in any other offseason where he would have had the chance to learn another team's system. It is almost guaranteed that he is going to be gone when he becomes a free agent after this season.
As I have said before, I believe that the success Pryor has in the NFL is going to depend entirely on which team selects him in this draft.
If he goes to a team that insists on putting him on the field in 2011, his career is going to be as good as ruined.
If he can go to a team where he can sit for a year or two, he could develop into a tremendous player.
If the decision was yours, Steelers Nation, would you spend a future draft pick on Pryor? If so, what round would you be willing to give up for his services?