Oakland A's: 10 Reasons 2012 Will Be Better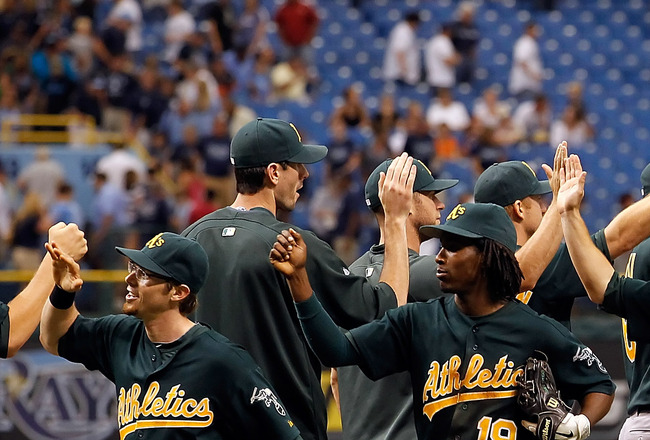 J. Meric/Getty Images
It looks as though the Oakland A's are going to miss the playoffs again for the fifth consecutive season. When the season began there were high hopes in Oakland. The starting pitching staff was considered to be one of the best in the game and a few acquisitions on offense was supposed to improve an anemic offense.
Fast forward to August and the A's are in third place in the American League West at 55-69 and 16.5 games out of first place.
Injuries to key members of the pitching staff and the acquisitions on offense not quite working out has landed the A's in the spot they are currently in.
So, here we go again!
It's time to start the "wait until next year" talk.
There has been a managerial change in Oakland, a call-up from Sacramento that has provided a spark and some other surprises that should give A's fans reasons to look forward to 2012.
Here are a few more.
Jemile Weeks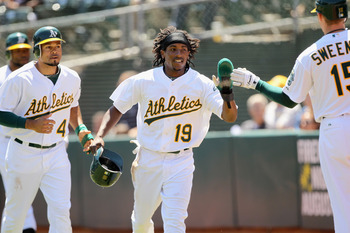 Ezra Shaw/Getty Images
Jemile Weeks was called up after an injury to longtime A's second baseman Mark Ellis landed him on the disabled list.
Weeks has taken full advantage of his opportunities. He has settled in as the everyday second baseman and leadoff man.
In 60 games Weeks is hitting .299 with 14 doubles, 8 triples and 13 stolen bases.
Ellis was the A's longest tenured player and it was tough for players and fans to see him go.
But, Weeks is the future and by the looks of him so far, the future could be very bright.
Return of Key Pitchers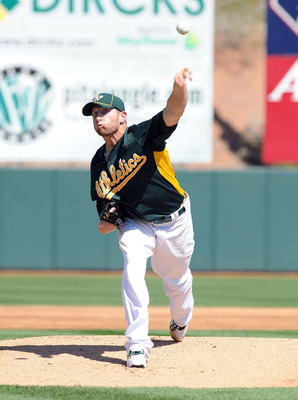 Norm Hall/Getty Images
Dallas Braden and Brett Anderson played key roles in the A's "Big Four" being considered one of the best staffs in all of baseball when the 2011 season began.
Surgery sidelined both for the season, cutting the the big four down to the big two with Gio Gonzalez and Trevor Cahill remaining.
There are no guarantees that these two guys will return to their previous form. But if they do the A's could be back in business in 2012.
Another Year for Bob Melvin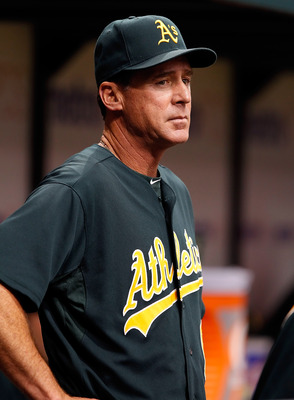 J. Meric/Getty Images
Bob Melvin replaced Bob Geren as the new manager in the middle of the 2011 season.
Melvin is a former National League manager of the year. He definitely has the know-how to lead this team and once he gets things squared away in 2012, and makes it his team, things could turn around in Oakland.
Melvin has already tinkered with the lineup and it has paid off as far as production is concerned.
Moving Jemile Weeks to the leadoff spot helped and Josh Willingham and Hideki Matsui have come to life as of late.
The A's are scoring more runs under the new manager and with the pitching staff back in order, Melvin and the A's could make great strides in 2012.
The A's Are Starting to Hit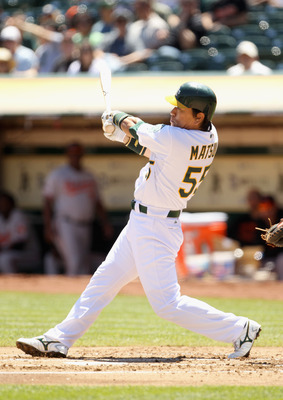 Ezra Shaw/Getty Images
Hideki Matsui and Josh Willingham are starting to bring what they promised in 2011: a big bat.
Especially Matsui. Since the All-Star break he is hitting .385 with a 439 OBS.
Who knows, maybe these guys won't be back next year. Let's assume they will be back. If so then their recent surge could be good news for A's fans.
Brandon Allen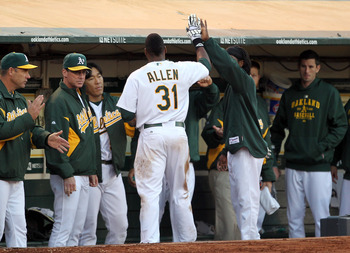 Ezra Shaw/Getty Images
Brandon Allen should get his fair share of at bats as the season winds down, and this could be very good for the A's.
Allen was acquired in the Brad Ziegler trade from the Arizona Diamondbacks.
Allen is nice young talent, and big too; he stands at 6'2", 235 lbs.
In 15 at bats he has eight hits with two triples and a double. His .533 average definitely won't hold up, but he is off to a good start and that is always a good thing.
The fast start will give the kid the confidence he needs to carry over his success into next season.
The Will to Fight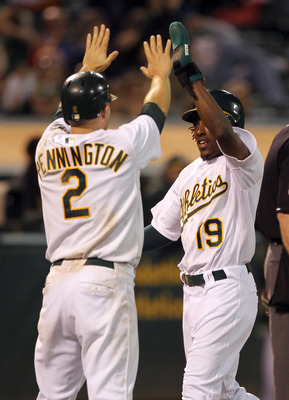 Ezra Shaw/Getty Images
The fact that the A's are still playing hard despite their record is a testament to Bob Melvin and his ability to get this team ready to play night after night.
It may seem silly to say that a team that is 14 games under .500 still has the will to fight. But if you watch them on a regular basis you can tell that there is no quit in this team.
Prospects Could Contribute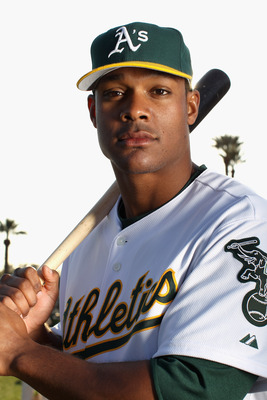 Ezra Shaw/Getty Images
The Oakland A's have a ton of good looking prospects that could see significant time on the big club in 2012.
As mentioned, Brandon Allen is already an A and there should be more to follow.
Michael Taylor could make the 25 man roster next year and possibly start in left field.
In my opinion, Allen and Taylor have the best shot at being on the team next season. Although let's not overlook guys like Adrian Cardenas and Jai Miller.
Conor Jackson and Ryan Sweeney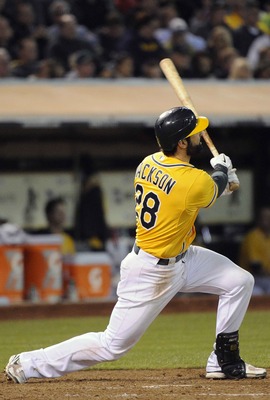 Thearon W. Henderson/Getty Images
After reading various articles and comments about the A's it seems that a lot of fans are not exactly sold on these two guys.
As you finish my slideshow you will see that I talk about an A's redo, with the club basically following the same blueprint as 2011.
If that's the case then these two players fit in perfectly.
Jackson can play first if need be and Sweeney is a good outfielder who can hit close to .300.
If Jackson and Sweeney were to become everyday players their numbers would rise, making them that much more valuable.
Moving Josh Willingham to DH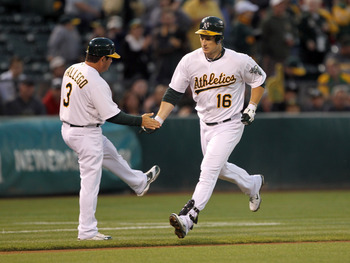 Ezra Shaw/Getty Images
Moving Josh Willingham to the DH spot is a tricky proposition at this point, due to the fact that we don't know exactly what players the A's will keep or get rid of next season.
Lets assume Willingham stays and Coco Crisp does not. If this happens then the outfield spots will have some wiggle room with with guys like Michael Taylor lurking in the shadows.
Willingham is a bit of a circus in the outfield and this makes him a liability, so the DH spot makes the most sense for him at this point.
2011 Redo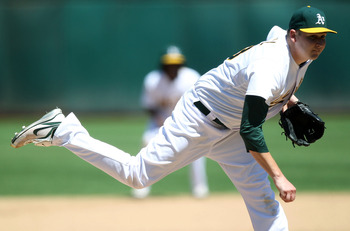 Jed Jacobsohn/Getty Images
Basically what this means is keep the same foundation as last year, with the exception of bringing up Taylor and keeping Allen on the big club.
Injuries and a manager change have had the A's in flux all season, so I say start over next year with the 2011 plan intact.
You tell me, fans; should the A's raid Sacramento and basically rebuild or stay with what they have, with a few exceptions?
Keep Reading

Oakland Athletics: Like this team?