NHL: Why the Washington Capitals Should Trade Alexander Semin
August 18, 2011
Bruce Bennett/Getty Images
The Washington Capitals have not only become one of the most powerful teams in all of the NHL, but have amassed an amazing set of players. They have consistently finished in the top two in their conference. The only missing part of this perfect equation?
They have never made it passed the second round of the playoffs.
As a Caps fan, this championship drought has always boggled my mind. How can a team that does so well in the regular season, do so poorly during the postseason? Year after year I have been let down to a pathetic loss to a worse team, the most recent being a sweep by the Tampa Bay Lightning (a team that the Capitals beat more than they lost to during the regular season.
The answer to all my questions were answered today when I read a shocking interview with Capitals player, Matt Bradley, who recently signed with the Florida Panthers as an unrestricted free agent. 
During the interview, Bradley revealed the truths about the ill-fated Capitals losses. He described a lack of discipline among many of his teammates.
"I mean, there's reasons why. We had some guys who didn't show up in the playoffs, and I'll leave them unnamed. I think our locker room was maybe a little bit too nonchalant, and guys weren't disciplined the way they should have been. Those two things, are big things," said Bradley.
The fact that players didn't show up for the playoffs made me uneasy that there really was a problem at the Capitals. Discipline is one of the first things that should be taught when players enter professional sports. If there is no discipline, there is no team.
During another interview with Ottawa's TEAM 1200 radio, Bradley was asked what kind of discipline problems there were at the Capitals. He responded by saying:
"It wasn't like guys were going out the night before a game. It was not being ready to practice or missing practice with questionable injuries. Not being focused."
As an athlete at a fairly high level, a good night sleep before competition is not only a requirement, but a necessity. As these players are somewhat famous, and will be recognized all around Washington, odds are they won't get more than three hours of sleep that night (which is only about a third of what athletes need).
Faking injuries is not new to Washington fans (Gilbert Arenas missed most of the season with an injury that turned out to be faked towards the end of his recovery period), yet it is still deeply looked down upon.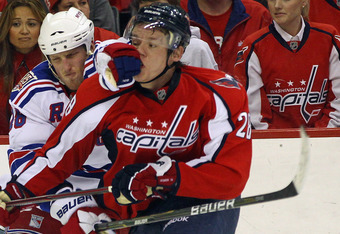 Bruce Bennett/Getty Images
While Bradley kept the players unnamed, he did decide there was a player that must have behaved and played so poorly that he needed to be named.
"I don't mind saying Alexander Semin's name, because he's one guy who has so much talent, he could easily be the best player in the league, and just for whatever reason, just doesn't care," Bradley said. "You need him to be your best player, or one of your best players, and when he doesn't show up, you almost get the sense that he wants to be back in Russia."
As Bradley said, Semin could easily be one of the best players in the entire league. When a player acts like he doesn't care, it is one of the first signs that you should remove him from the team.
While Semin might still seem like one of the league's top prospects to many other teams and coaches, his career with the Washington Capitals should be terminated as soon as possible.
If the Capitals can trade Semin, they might be able to acquire a player that can actually aid the team, instead of playing at 50 percent and eating at the team's salary budget.
Semin's poor performance has not only been noticed by players and coaches around the NHL, but he did not receive an invitation from the Russian National team to join them, unlike teammate Alexander Ovechkin, who Bradley described as a player who goes "all in". 
Unless Semin shows immediate improvement during games and practices, I suggest Bruce Boudreau not only take Semin out of the starting rotation, but remove him from the team and trade him. Maybe then discipline will be brought back to this lackluster Washington Capitals team.