Michael Vick Originally Didn't Want to Play for the Philadelphia Eagles
August 18, 2011
Jim McIsaac/Getty Images
In a recent interview with GQ magazine, Philadelphia quarterback Michael Vick admitted that he didn't want to come to Philadelphia as the third-string quarterback for the Eagles.
"I think I can say this now, because it's not going to hurt anybody's feelings, and it's the truth," Vick tells me a few weeks after the commencement ceremony. "I didn't want to come to Philadelphia. Being the third-team quarterback is nothing to smile about. Cincinnati and Buffalo were better options." Those two teams wanted him and would've allowed him to start, but after meeting with commissioner Roger Goodell and other reps from the NFL, Vick was convinced—and granted league approval—to sign with Philly. "And I commend and thank them, because they put me in the right situation."
Read More.
The above excerpt from GQ (click the link to read the whole thing) is alarming to say the least.  Vick says he was leaning towards the Buffalo Bills and Cincinnati Bengals because those two franchises would have allowed him to start.
However, as Vick told GQ, after meeting with Goodell and other league officials he was convinced the Philadelphia was the proper place for him to go.
Ignore the fact that Vick has now become the starter in Philly because if what Vick alludes to is true than the NFL tampered with a free agent.
One could argue that Andy Reid was the best mentor for Vick, and honestly that's really subjective because you don't now how Marvin Lewis or Dick Jauron would have worked with Vick.
What I do know is that the league with their tampering with Vick going to the Eagles drastically changed the fortunes of two franchise, especially Buffalo.
Had Vick gone to Buffalo then the Bills would have their franchise quarterback to build around.  Their offense would have been more dynamic and where they might not have had a huge impact in the AFC East in Vick's first year there, I'm sure by now the Bills could have put together a team that would be in the discussion with the Jets and Patriots.
However, Rodger Goodell didn't feel that Buffalo was the right place Vick, and honestly my question is why?
Because not only are the Bills still searching for that elusive franchise quarterback, Dick Jauron lost his job in Buffalo because he couldn't turn the team around, especially the offense.  Had he had Vick he might still be the head coach of the Bills.
Marvin Lewis is on the hot seat in Cincy, if he had Vick right now I doubt that he would be because the Bengals would have been much better than they were last season.
But no, the commissioner who enjoys reading his name in the paper couldn't keep out of one of the most high-profiled free agent signings in league history.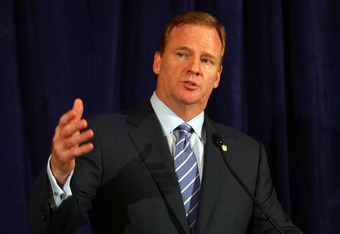 Mike Stobe/Getty Images
I hate to go all Oliver Stone on the NFL, but what other free agents might have the league tampered with?
Nnamdi Asomugha was a lock to go to either Dallas or the New York Jets, but out of no where the Eagles sign him for less money.
OK, that one might be a stretch, but here is something I think is far more plausible and a lot scarier.
Both Buffalo and Cincinnati are small markets.  Right now the NFL is desperate to move a team to Los Angeles, the second-largest market in the United States, a market that has had two separate franchises and lost them both to other cities.
Could the NFL swaying Vick's decision have been more what's good for the NFL and not what was good for Michael Vick.
The Bills currently have one of the longest playoff droughts in the league, I believe second only to Detroit, and even though they have a great fan base, interest in the team is starting to wain.  If attendance slips enough and that market no longer becomes viable, what is going to happen to the team when Ralph Wilson dies?
If Wilson does not leave the team to someone then the league will get to decide who buys the franchise, much like what happened with the Washington Redskins when Jack Kent Cook died in 1998.
Again, this could be just me being paranoid, but I don't buy for a second that Goodell was looking out for Vick's well being when he and league officials helped Vick choose Philly as a destination.
If this lockout has proved anything to me it's that the NFL cares far more about the NFL than any individual player.
Regardless of what I think on the matter the NFL has a lot to answer for as to why they interjected themselves into a free agent's choice of teams.