Philadelphia Eagles Position Battles to Watch in 2nd Preseason Game
August 18, 2011
Jim McIsaac/Getty Images
Heading into tonight's preseason game against the Pittsburgh Steelers, there are a couple of position battles that Philadelphia Eagles fans should really pay attention to Thursday evening.
First, there is a tight race for the starting center spot, as often-injured Jamaal Jackson is trying to hold off rookie sixth-round pick Jason Kelce.  Kelce had a great camp and has been really impressive for the Eagles.  So tonight, I will be paying a lot of attention to the center position as those two will both give it their all to make an impact.
The only other real position battle on the offensive line is at right tackle.  Winston Justice's injury has opened the door for King Dunlap to get significant playing time.  Dunlap filled in admirably for an injured Justice last year. 
However, the Eagles signed free agent Ryan Harris this offseason who could very well end up starting at that spot.  Harris is also battling injuries and is not going to play vs. Pittsburgh, so this game will really be a great opportunity for King Dunlap to show what he can do.
The wide receiver position is intriguing.  The Eagles signed free agent Johnnie Lee Higgins, plus they have Sinorce Moss in camp and Chad Hall.  Jackson, Maclin, Avant and Cooper are almost all locks to make the team, so that leaves three guys battling out for one or two spots. 
Would the Eagles keep six wide receivers or only five?  I have to think they are only going to keep five wide receivers, and if that is the case, can Chad Hall make this team?  A good game tonight would help Hall's chances.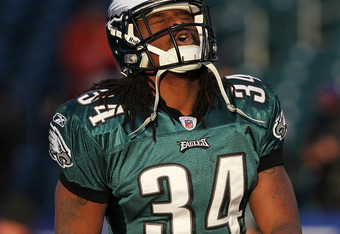 Nick Laham/Getty Images
Another interesting position to watch is the tight end spot.  We know that Brent Celek is the starter, but beyond that, the Eagles have three other tight ends vying for roster spots.  Will they keep two tight ends or three? 
I would think they are going to keep three tight ends, but that still means that either Clay Harbour or Cornelius Ingram is going to be the odd man out.  With Donald Lee coming over from Green Bay, he is likely to be the No. 2 tight end, so that leaves Ingram and Harbour battling for the last spot at tight end.
The final preseason position battle is the third-string running back.  Last year, it was Eldra Buckley, but as of right now, he looks like he is trailing rookie Dion Lewis on the depth chart.  It seems unlikely that both guys make the team, so whoever has a better game tonight could have the inside track on the final roster spot at running back.
Switching over to the defensive side of the ball, the Eagles will continue to get an extended look at their young players and linebackers. The biggest battle for a starting job is likely to come at free safety as Kurt Coleman is trying to hold off rookie Jaiquawn Jarrett. 
Jarrett was impressive in his first preseason game and continued solid play could land Jarrett a starting spot.  Also, it is very possible the Eagles only keep three safeties total, with Nate Allen, Coleman, and Jarrett being those three.  So Jarrad Page, Marlin Jackson and Colt Anderson all have to make plays and show something if they want to make this team.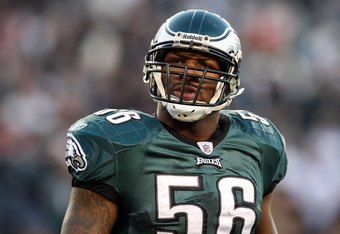 Jim McIsaac/Getty Images
On the defensive line, Derek Landri had a really strong game against Baltimore and he will have to continue to play at a high level to have any chance of making this team.  The Eagles tend to keep lots of offensive and defensive lineman, but there is stiff competition at the position. 
Free agent Anthony Hargrave is also in the running to make this team, so Landri will really have to impress to earn a roster spot.
The Eagles may only keep five linebackers  simply because no one has really stepped up to distinguish themselves.  They also could keep six linebackers and there are a lot of guys in contention for roster spots.   Can any of the young guys make an impact?
How many of the Eagles' 11 draft picks make this team?  Some of them will not, but I have to think seven or eight will.  I would not count out Stanley Havili at fullback.  He is battling Owen Schmitt at fullback and he is definitely behind but a couple strong games could change that.
So that concludes the position battle outlook for tonight's game.  Have fun watching it and go Eagles!
I am definitely intrigued to see how things play out in Pittsburgh tonight and which players will step up and improve their chances of making this team.