Green Bay Packers: Their Most Memorable NFL Preseason Games of the Past 8 Years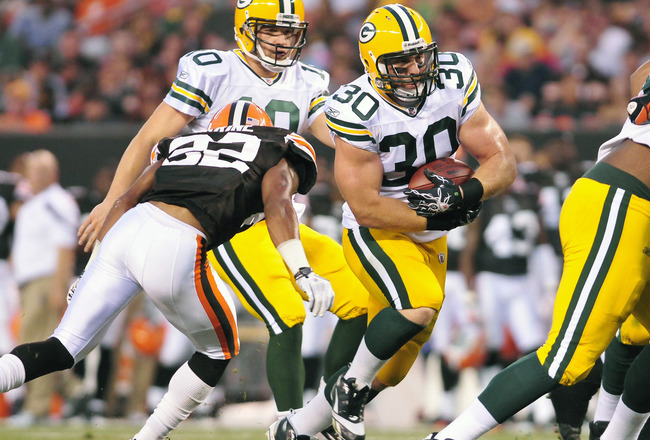 Jason Miller/Getty Images
The NFL preseason may not be as fun to watch as the regular season in the NFL, but it still provides a number of memorable games, whether it incorporates a strong performance by the starters or the backups. The Packers have enjoyed success in the preseason, no matter how meaningless the games can be.
This article looks at some of the more memorable games of the Packers' preseason in the past eight years, whether they were memorable for a strong performance by a certain player, or a strong performance by a team as a whole.
2010: Packers vs. Colts, 59-24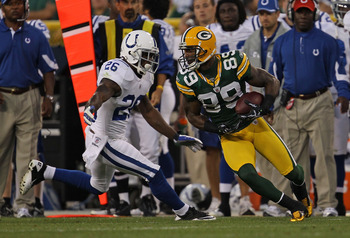 Jonathan Daniel/Getty Images
In a game that was televised on ESPN, the Packers put on a great offensive performance in a 59-24 rout of Indianapolis in 2010, as Aaron Rodgers threw for three touchdowns, and the night was capped off by a punt return for a touchdown by undrafted rookie Jason Chery.
Fifty-nine points was the highest score for the Packers since they defeated the Cedar Rapids Crush 73-0 in 1938.
2009: Packers vs. Cardinals, 44-37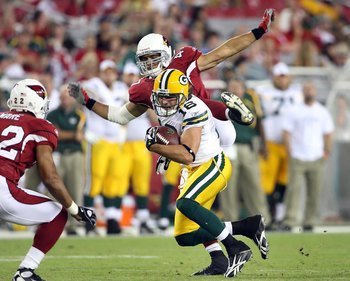 Christian Petersen/Getty Images
The 2009 preseason as a whole couldn't have gone much better for Aaron Rodgers, who threw nearly a perfect passer rating in all four games. His game against Arizona was his best, where, like he did against Indy, he threw three touchdowns.
The game would have been a rout if the Cardinals hadn't rallied, even taking a 38-37 lead in the fourth quarter, but Ruvell Martin saved the game by returning a kick for a touchdown to win the game 44-37.
2008: Packers vs. Broncos, 27-24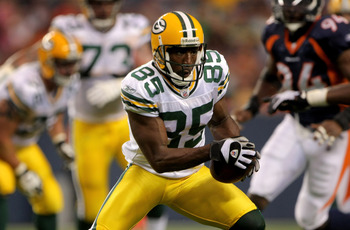 Doug Pensinger/Getty Images
While the 2009 preseason couldn't have gotten better for Aaron Rodgers, it couldn't have gotten worse for him in 2008. Rodgers was entering his first starting year in Green Bay after the Packers decided to move on from Favre.
Rodgers went into 2008 having to prove himself to the fans, who were split on Rodgers. While some supported him, others blamed him for the loss of Favre, and felt that he simply would never be able to live up to the legend.
Starting 0-2 in the preseason didn't help matters, as Rodgers and the Packers struggled in the preseason, up until playing Denver in Week 3 of the preseason. Rodgers shined, throwing for a touchdown and rushing for another, and helped lead the Packers to their first preseason win, 27-24.
2007: Packers vs. Seahawks, 48-13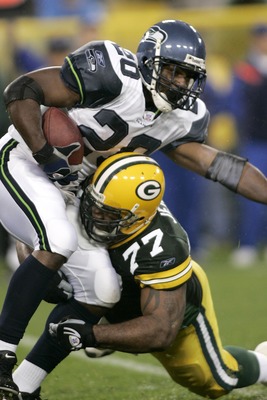 Scott Boehm/Getty Images
The 2007 Packers were coming off a sub-par 8-8 record, and were seen as a team that was rebuilding. One of the youngest teams in the league, there weren't a lot of expectations for the Packers, but they ended up stepping up and achieving a 13-3 record and an appearance in the NFC Championship game.
After a shaky game against the Steelers the week before, the Packers proved they had a potent offense for the first time against the Seahawks as they routed them 48-13. Although he was still a backup, Rodgers performed quite well, throwing for two touchdown passes, while starting quarterback Brett Favre threw for a touchdown, as well.
Before the 2010 game against the Colts, this game had the most scoring for the Packers since the famous 73-0 Cedar Rapids Crush game.
2006: Packers vs. Falcons, 38-10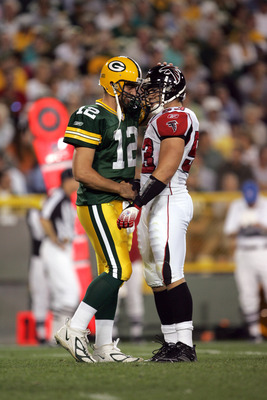 Jonathan Daniel/Getty Images
Aaron Rodgers may have still been a backup, and Greg Jennings was just a rookie, but both of them hooked up for a touchdown pass for the first time in this preseason game, where the Packers routed the Falcons 38-10.
Rodgers had a good game as he threw for two touchdowns, one of them to his future favorite receiver in Jennings. The game was capped off by a 44-yard interception return by Jason Horton.
2004: Packers vs. Saints, 19-14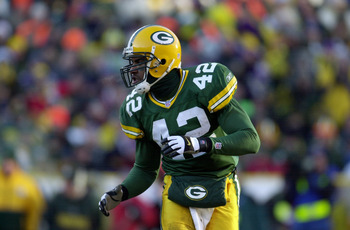 Jonathan Daniel/Getty Images
It wasn't a game with a lot of offense, as the Packers settled for field goals four times, but a big play by Darren Sharper is what broke the game, as Sharper returned an interception 90 yards for a touchdown.
Overall, both offense and defense were solid, but Sharper's big play was clearly the story.
2003: Packers vs. Browns, 38-31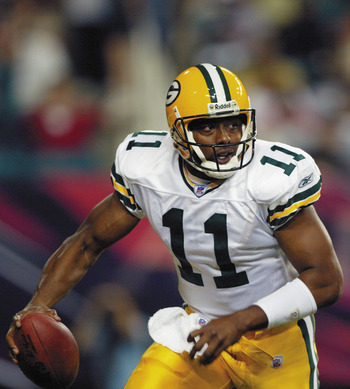 Jamie Squire/Getty Images
A lot of scoring was in this one, and it was coming from all sorts of people—from Brett Favre and Ahman Green to Nick Luchey and Akili Smith. While the legend Favre threw for a touchdown pass, the not-so-legend Akili Smith also contributed for the Packers with a touchdown pass.
Three different running backs also scored here: Ahman Green, Herb Goodman and Nick Luchey.
2003: Packers vs. Falcons, 27-21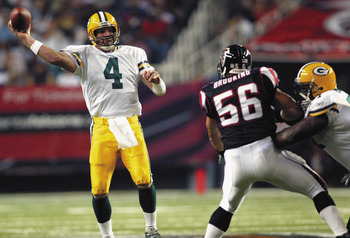 Jamie Squire/Getty Images
The Packers started out this game on the wrong foot, trailing 21-3, but it was the backups that made the story here, rallying to a 27-21 win with 3 scores in the third quarter. The game had two touchdown runs, but the Packers didn't take the lead until a fumble returned for a touchdown by Bobby Jackson.
Keep Reading

Green Bay Packers: Like this team?