San Francisco 49ers: On the Road to Futility
August 18, 2011
Greg Trott/Getty Images
A franchise with such a glorious past should not be this inept at rebuilding themselves. The 49ers have not had a winning season since 2002. Okay, so that is stating the obvious.
Their terribleness, if you will, runs much deeper than that.
They have managed to make respectable NFL minds and players appear to have the football wherewithal of Snooki.
Few teams have been able to secure the trifecta in maintaining their loser status.
The Arizona Cardinals drafted high for years and have managed to establish a core of great players that enable them to be effective.
The Miami Dolphins employed several high-quality football minds who have built a competitive team on the field, minus a quarterback.
The New Orleans Saints, after decades of being abysmal, were able to find a great head coach and shortly after that identified and signed a quarterback.
So it can be done.
The Niners have somehow managed to be bad at everything they touch. Stadiums, coaches, scouting, even their parking situation is horrific. Since 2003 the 49ers have drafted a total of four Pro Bowl players and one of those four is a punter. No disrespect to Ray Guy.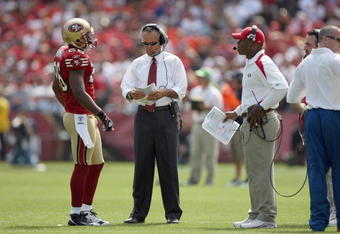 Jed Jacobsohn/Getty Images
The four players include Patrick Willis (2007, '08, '09, '10), Vernon Davis (2009), Frank Gore (2006, 2009) and Andy Lee (2007, 2009). Of those four, only Patrick Willis would be considered a top five player at his position.
This would explain why the Niners have struggled to improve from year to year. If their best players have been inconsistent, how can the team be consistent?  
The Niners' ineptitude at drafting players is magnified by their failure to find a head coach.
Dennis Erickson never had a chance and Mike Nolan should have never had a chance. Mike Singletary was not ready to be a head coach and has now been replaced with a cat who thought Alex Smith was better for this team than Matt Hasselbeck, Vince Young, Dennis Dixon or Billy Volek to name a few.
Now this same new decision maker has brought in a quarterback in Daunte Culpepper who has not won a game since 2007. Nice.
Jim Harbaugh played quarterback in the NFL for 14 years and made the 1995 Pro Bowl. So it was believed that he, more than any of his predecessors, would have a clear understanding of what it takes to play the position. He would understand the intangibles and tangibles necessary to succeed, at least moderately, in the league.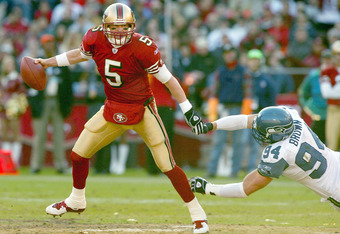 Jed Jacobsohn/Getty Images
This is what made his decision to ride with Alex Smith all the more "interesting." We can all agree that Smith has some talent, but he will never reach that potential in San Fran.
Simply put, too much has transpired for him to bounce back. Too many times the first-overall selection has heard how bad he is. Bringing a new voice in for Smith, surrounded by the same environment he has grown accustomed to failing in, will not yield different results.
If you ever doubted that Smith is a poor decision maker, his choosing to re-sign with the 49ers should have squashed any doubt you may have had.  
To say the Niners are headed for a disastrous season first disrespects the word "disastrous" and second implies they are not already there.
Every NFL team goes through seasons of despair; early on it looked as if the 49ers had managed to escape those years of transition. A lineup that included Jeff Garcia, Terrell Owens, Jeremy Newberry and Bryant Young showed a promising future for San Francisco. Injuries, contracts and a zest for ridiculousness ripped apart that lineup.
Now the future that looked so bright is upon us and things could not look worse.
What makes their deficiencies so mesmerizingly baffling is they have no plan. This became painfully obvious for their fans the moment they leaked Daunte Culpepper was coming in for a tryout. Did they think Alex Smith had morphed into Y.A. Tittle during the lockout?
Perhaps they deemed it unnecessary to upgrade the quarterback position this offseason. They did add Braylon Edwards and were mentioned in the Nnamdi Asomugha sweepstakes, but these were planned moves.
Asomugha is an upgrade for the cornerback position, but he is over 30, which begs the question, are trying to win now or build a competitive football team to compete for the future.
There is some obvious confusion about which way they want to go. If they were successful in signing the former Raider, would it not have made more sense to keep Nate Clements, who they released on July 28th?
Asomugha did not sign with the Eagles until July 29th, which means they still would have had a gaping hole at the other cornerback position if he signed there. This is another display of the left hand not knowing what the right hand is doing.
It is one thing to build a competitive football team and it is another to build a Super Bowl contender. Based on San Francisco's moves, they do not appear too keen on doing either.
The pursuit of Asomugha and the one-year deals given to Braylon Edwards and Alex Smith lend to the notion they are building for the future. Which, based on their recent history, should scare the dickens out of 49er fans.
The signing of former Buffalo Bill safety Donte Whitner was a good move, but so was signing Justin Smith in 2008. Smith was a serviceable player in Cincinnati, but has not provided the game-changing plays San Fran had hoped for, despite making two Pro Bowls since arriving.
Smith is another example of the solid, but not spectacular, players this team is built around—players who are capable of playing at a higher level, but for some reason are not reaching that level.
The poster child for these players is Michael "I do not do training camp" Crabtree.
In three years Crabby has managed to dodge three training camps. His recent injury calls into question how this coaching staff will handle the enigma that is Michael Crabtree. The lockout prohibited coaches from contacting players, but they had to know what each player was doing during their free time—especially one as high profile as Crabtree.
Thus, they had to know he was not coming into camp prepared. How they handle Crabtree going forward will be very telling about this administration.
He should have been primed and prepared to perfect his craft, not to reenact his previous two inadequate seasons.
Harbaugh has to get the most out of Crabtree and put some kind of stamp on this team, effective immediately.
What took place in their first preseason game was pathetic and has confirmed everyone's initial perceptions, despite an offseason of denial. An organization that used to have a culture of winning is now only thought of as a loser. The current group has no idea of the level of excellence Jerry Rice and Ronnie Lott set.
Today the San Francisco 49ers have forgotten the recipe of success that changed professional football. They have forgotten the glory that they so frequently obtained as they bestowed pride in a community—a community that now that looks upon this current group of players and coaches as strangers who are dressed in familiar championship garb.