Pittsburgh and Philadelphia: Separated by 300 Miles and 6 Super Bowls
August 18, 2011
The Pittsburgh Steelers used to stink.
I know we have a perception of Pittsburgh doing things the right way all the time, thanks to talking heads like Merril Hoge blowing smoke up our butts. The reality, however, is they couldn't get out of their own way for more than three decades.
Pittsburgh first fielded a football team called the Pirates in 1933 and then changed its name to the Steelers in 1940. In 1943 Pittsburgh and Philadelphia combined their teams to become the Steagles due to each having too many players serving in the military during World War II. In 1944 Pittsburgh didn't even have a franchise.
Through it all Pittsburgh managed seven winning seasons and two playoff appearances in its first 37 years of existence.
About 300 miles due east, Philadelphia also put together a team in 1933 and failed to register a winning season until it teamed up with the Steelers. Following the season spent with its cross-state counterpart, the Eagles ripped off six consecutive winning seasons and won three championships between 1948 and 1960.
It appeared the Eagles were destined for greatness, while the Steelers were doomed to a tradition rich with losing.
The Steelers changed their ways and won six Super Bowls in eight appearances, with the first coming in 1974, while the Eagles failed to win any Lombardi Trophies in two trips.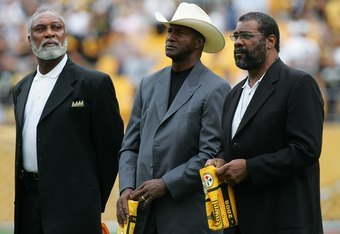 Ronald Martinez/Getty Images
So what happened?
How could one franchise go from a formidable force to a a titleless town, while the other went from a perennial cellar dweller to an all-time great?
Things began to go the Steelers' way when they hired Chuck Noll, won a coin toss and hung curtains made of steel.
Noll arrived in 1969, and even though he managed to win only one game, fans soon realized his ability to draft young, talented players and come up with a formula to win championships.
The lone win in 1969 tied the Steelers and Chicago Bears with the worst record in the league. Following a coin flip to break the tie, the Steelers were given the first pick of the 1970 draft.
Pittsburgh went with quarterback Terry Bradshaw out of Louisiana Tech.
When Bradshaw arrived in Pittsburgh, he found himself playing in a multi-purpose complex called Three Rivers Stadium, and three years later the Steelers finished with an 11-3 record.
The Eagles managed to finish with four wins in the '69 season and drafted tight end Steve Zabel from Oklahoma in the 1970 draft. Zabel also found himself in a multi-sport complex. This one though was called Veterans Stadium, and the wins did not pile up like they did at Three Rivers.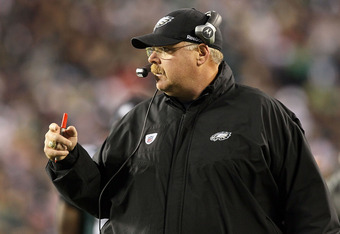 Jim McIsaac/Getty Images
In fact, Philadelphia didn't get back to the playoffs until 1978.
In the mid-70s Pittsburgh became a yearly Super Bowl contender thanks to its Steel Curtain defense, which boasted a front four of Joe Greene, L.C. Greenwood, Ernie Holmes and Dwight White.
Their linebackers were arguably even better with players like Jack Ham, Jack Lambert and Andy Russell making plays.
The secondary may not have been as great as the linebackers and line, but Mel Blount certainly made a name for himself as he won the Defensive Player of the Year in 1975.
It took Philadelphia about a decade, but it eventually found a recipe for one of the best defenses in NFL history when it drafted defensive end Reggie White with the fourth overall pick in the 1984 supplemental draft.
By the early 90s, the Eagles defense was known around the league as Gang Green and sent five players to the Pro Bowl, including White, Jerome Brown, Clyde Simmons, Seth Joyner and Eric Allen.
Sadly, the Eagles never won a Super Bowl with so much talent, and they managed to win only one playoff game.
Unlike Pittsburgh, Philadelphia did not have a savvy quarterback like Bradshaw, and its coach didn't know how to win like Noll.
Randall Cunningham was a highlight waiting to happen for all the right and wrong reasons. In one game Cunningham could avoid a sack from the likes of Bruce Smith and Pepper Johnson and then throw a touchdown to Fred Barnett or Jimmie Giles. And then the next game he'd lay a clunker against the Cowboys.
Bradshaw was never one to make the highlights except for when it came to holding up the Lombardi Trophy. He never did more than he was capable and relied on a running game anchored by Franco Harris and support from one of the most underrated receiving corps of all time, which included Lynn Swann and John Stallworth.
Each quarterback's success and failures are also tied into their head coach.
Buddy Ryan is one of the most loved coaches in Philadelphia sports history, but he never figured out how to win a playoff game in three postseason trips. It's kind of remarkable he could find a way to inspire a fanbase without winning, but he did it.
Noll, on the other hand, won 16 playoff games and four Super Bowls over a 23-year career.
And that brings us to another point: The Steelers had stability at head coach.
I understand Andy Reid is the longest-tenured coach in the NFL as he begins his 13th season with the Eagles.
But since 1969 the Pittsburgh Steelers have had three different head coaches as Noll passed the torch to Bill Cowher, who then handed it off to Mike Tomlin. Amazingly each won a Super Bowl with at least two trips to the final game.
In that same time frame, the Eagles have brought in 10 different head coaches with only two of them even making it to the Super Bowl.
Reid may closely resemble Cowher, as the two men have lost four times in their respective conference championships and once in the Super Bowl.
The obvious difference is Cowher has a ring to show for his efforts as a head coach, while Reid can only wear the ring he earned as an assistant in Green Bay.
The two franchises continue to run things differently today as Pittsburgh focuses on building its defense through linebackers first while the Eagles look to cornerbacks.
Tomlin will continue to run the ball behind Rashard Mendenhall and ask Ben Roethlisberger to make plays only when needed. 
Reid opts to let Mike Vick air it our about 60 percent of the time and neglect the running game.
After six Super Bowls and nearly 80 years of football, the Eagles may want to revisit their philosophies if they don't win a Super Bowl in the next several years.
But for all we know, the Eagles may be at the precipice of their own greatness, and it may be the Steelers who rethink how they do things.