Reggie Bush: What to Expect vs. Carolina from the New Dolphins Running Back
August 18, 2011
Scott Cunningham/Getty Images
This offseason, the Miami Dolphins acquired Reggie Bush from the New Orleans Saints. Reggie is currently listed as the No. 1 running back for the Dolphins. Fans, coaches and players are all looking forward to seeing what the former USC standout can do with his new team.
It has been announced that Reggie Bush will make his Dolphins debut this Friday against the Carolina Panthers. He's listed as the starting running back on the depth chart. Head coach Tony Sparano says that his starters will play the first quarter and possibly the full first half.
We will finally get a chance to see what the former second overall draft pick can make of this new situation.
In New Orleans, many people thought that Reggie was used the wrong way. He mostly got the ball on screen passes and pitches, and his main job was to be a decoy. Miami will give him the shot to be the workhorse running back and get the ball in all type of running situations. Reggie believes that he can succeed as that type of player.
This week, Reggie will start and get to show everyone what he can do.
Anybody who follows the Dolphins knows that quarterback play has been bad. Look for Carolina to key in on the run as they won't expect Chad Henne to be able to dominate in the passing game.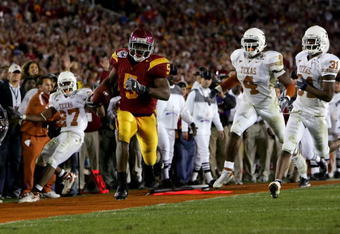 Lisa Blumenfeld/Getty Images
Bush will be thrown to the wolves, and with Pro Bowl left tackle Jake Long out, his job won't be any easier. The Dolphins still do have a good offensive line, though.
Carolina won't show too much as it's still the preseason, but I think they will stack the box in a handful of situations.
Look for Reggie to get the ball in all types of running plays and to be used catching passes out of the backfield. I think he will have a tough start, but he'll be able to break a decent run or two. He won't disappoint; he has his second chance and will give everyone a glimpse of what he will be able to do this season. I'm predicting he will get about five to 10 carries, on which he will average around four yards per carry. He'll also catch two passes and gain 10-15 yards on them.
His elusiveness will allow him to break some tackles, and this will be a successful day for the Heisman Trophy winner (he was stripped of the Heisman later because he accepted illegal benefits).
Dolphins fans are hoping that Reggie Bush will be the guy in 2011. Friday will be our first look at the 'Fins new superstar.