6 Indianapolis Colts Rookies to Watch in 2011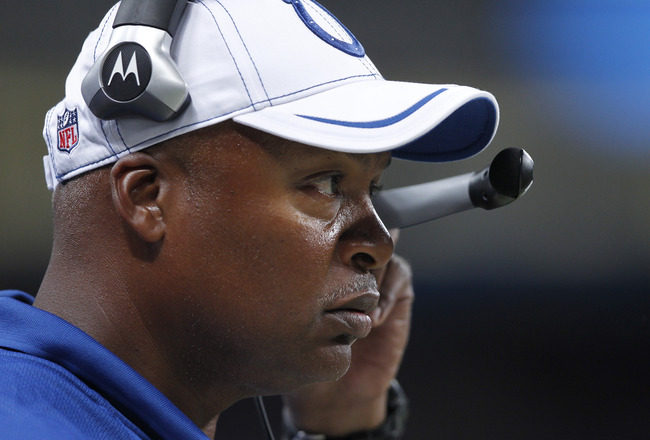 Jim Caldwell has the task of coaching up not only the Colts' 5 drafted rookies, but also the countless number of undrafted rookie free agents who always seem to find a home in Indy.
Joe Robbins/Getty Images
In 2003, Robert Mathis was just a fifth-round draft pick from a college no one had ever heard of before. Most people probably didn't even know he was on the team when the season started, after all, he wasn't even from a Division I school.
By the end of the year, Colts' fans knew the name Robert Mathis. Mathis compiled 28 tackles his rookie season, but most notably, 3.5 sacks and three forced fumbles. He was well on his way to becoming the Pro Bowler that Colts fans know and love today.
The Colts never draft "big name" college players. Chris and Bill Polian, with help from scouts and head coach Jim Caldwell, watch endless amounts of video on guys that will fit their system. So far, their philosophy has worked out pretty well.
Right now, most people probably don't recognize the names Ben Ijalana, Delone Carter or Drake Nevis. But you never know which of these Colts rookies could end up being the next perennial Pro Bowler.
Drake Nevis, DT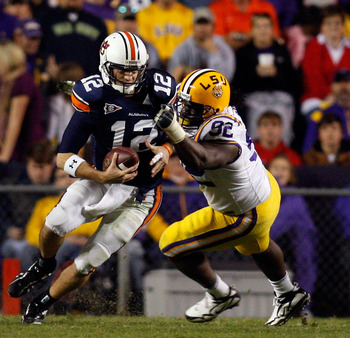 Chris Graythen/Getty Images
While the Colts have had great success with their defensive ends, the tackle position has always been a struggle for the team. They hope Drake Nevis changes that trend for them up front.
A three-year starter at LSU, Nevis fits the mold of a Colts D-lineman: He isn't huge. At 6'1", 294-pounds, Nevis relies more on his speed and agility to get off his block, as he did in this video against Florida during his senior year.
Nevis' explosion off the ball helped him force four fumbles, another desirable trait in a Colt lineman, during his career as a Tiger. He also recorded 10 sacks and 31.5 tackles for loss.
Nevis will not start to open the season, as veterans Antonio Johnson, Fili Moala and Eric Foster are all ahead of him on the depth chart. But the Colts like depth on the line, allowing them to rotate in fresh bodies to have a constant rush. Those three, in addition to free-agent acquisition Tommie Harris, can also help show the young Nevis what it means to be a DT in the NFL.
Nevis' primary job will be to shore up the 25th ranked run defense in the league last season. The team needs him to get penetration up front to force opposing runners into the swarming defense.
The third-round pick does not have a lot of pressure on him entering the season, but look for Nevis to make a handful of big plays up front for the Colts this season. Whether its a big strip-sack, or a run stop behind the line, Nevis will make his presence felt this season.
Ben Ijalana, OG/OT

Ijalana looks to find a spot in the Colts O-Line in 2011

When the Colts trade up to get you in the second-round, and no one in Indianapolis has heard of you, you have something to prove.
The Colts took Ben Ijalana with the 49th pick in April, trading their 53rd and 152nd pick to acquire the Villanova lineman. While he started all 53 career games at left tackle, the Colts have different plans for him. Polian was quoted in this colts.com article by saying "He's going to play, and play early. We really feel like he can play both (tackle and guard)."
Wherever he plays, Ijalana will have just two simple objectives: Protect Peyton Manning at all costs, and get a push against the run. No. 18 is the definition of a franchise player, the line can't afford to slip up and let someone get solid contact on him. Last year, the Colts only produced 92 yards-per-game from its ground attack, ranking them 29th in the league. That's a stat that has to be improved upon. If Ijalana wants to make fans really appreciate him, he'll open up gaps as a swinging guard on run plays.
Polian says he believes Ijalana is a first-round talent at 6'4", 317. Colts fans just hope he can provide some sort of stability to a line that has seen lots of change the past few years.
Anthony Castonzo, OT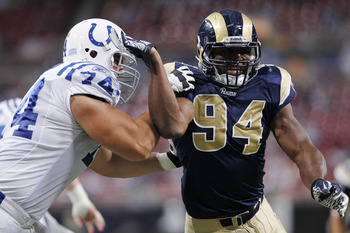 Joe Robbins/Getty Images
There's a lot of hopes riding on Anthony Castonzo.
Ever since the Tarik Glenn days, Colts fans have longed for reliable backside protection for Peyton Manning. Nothing makes a Colts fan cringe more than seeing a backside rush flying through that Manning is unaware of. The only thing scarier than that for a fan is seeing Curtis Painter play.
On paper Castonzo is perfect. A physical behemoth at 6'7", 305-pounds, Castonzo has the ideal body to play Peyton's body guard. He started 54 games at Boston College, so he's not injury prone (i.e. Tony Ugoh). His final two years, he only gave up a total of two sacks. His senior year, he produced 40 knockdown blocks.
But as most know, it takes more than a big body to play in the NFL. Especially on Manning's line. With constant checks and audibles at the line of scrimmage, it takes intelligence to understand this offense. Castonzo's still perfect. He was a finalist for the Rhodes Scholarship, one of the most prestigious academic awards in the country.
Being a first-round pick, Castonzo will have a lot of eyes on him from Week 1. Just because he had the perfect college career and appears to be a perfect fit for the Colts in every sense imaginable doesn't mean he will automatically work out perfectly. He still has to come out and live up to his hype. And keep guys off Peyton's back.
Chris Rucker, CB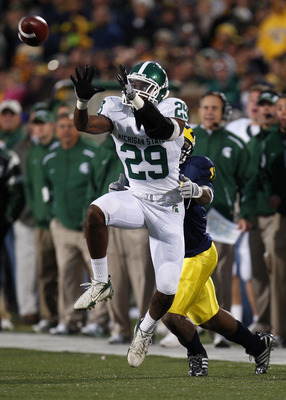 Gregory Shamus/Getty Images
It seems like every year, the Colts draft at least one cornerback. This year it was Chris Rucker.
With the departure of Kelvin Hayden, the Colts were in need of a new DB. Drafting Rucker in the sixth-round, the Colts got a big corner. Literally. Rucker's 6'1", 195-pound body makes him the biggest corner on the Colts' roster. He's about the same size as safety Melvin Bullitt, who only outweighs Rucker by six pounds.
A four-year starter at Michigan State, Rucker brings a physical style of play to the corner position. He racked up 191 tackles, 10.5 tackles for loss and two sacks, while forcing five fumbles during his Spartan career. Rucker also nabbed six interceptions.
Rucker will primarily have special teams role this season, but with the Colts' secondary knack for the injury bug, don't count out seeing Rucker make it into the game in nickel packages. Rucker may also be asked to come in to cover big receivers near the goal line in jump-ball situations due to his height.
If nothing else, Rucker will showcase his solid tackling ability on special teams, an area the Colts have consistently struggled at and will gladly take Rucker's tackling technique.
Delone Carter, RB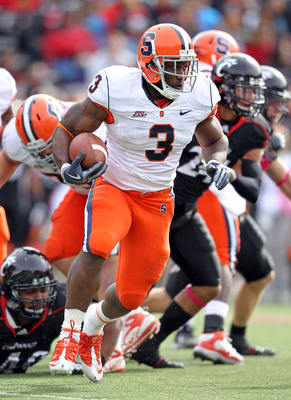 Andy Lyons/Getty Images
In 2010, it almost seemed like the Colts were just picking up running backs off the street in the middle of the season. The team (hopefully) won't have to worry about that this season with the addition of Syracuse's third leading rusher all-time, Delone Carter.
Yes, Carter will be behind Joe Addai, Donald Brown and maybe even Javarris James, but don't count out him seeing the field in some way. Maybe Addai goes down again. Maybe Brown loses favor with the coaches. You never know what's going to happen during the season.
If called upon to carry the rock, Carter is more than capable. He closed his career with a streak of 242 rushes without a fumble. He rushed for 1,233 yards and scampered his way to nine touchdowns during his senior campaign.
Carter could also see time as a special teams returner. While he currently isn't on the returner depth chart, Chad Spann certainly didn't help his cause by muffing two kickoffs in the opening preseason game against the Rams. And Devin Moore, the other returner, is listed as the fifth running back on the depth chart, so he's not likely to make it either. Carter could be asked to step in to return kicks, a role that could prove very important to this team.
Joe Lefeged, SS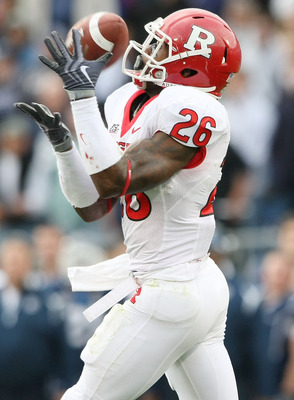 Elsa/Getty Images
Joe Lefeged has plenty in common with someone who has become a Colts icon, Gary Brackett.
Both play defense. Both went to Rutgers. Both signed as undrafted rookie free-agents with the Colts. If Lefeged turns out to be anything like Brackett, Colts fans will be ecstatic.
Behind Melvin Bullitt and Antoine Bethea, the Colts don't have any depth at safety. That's why they signed Lefeged. This lack-of-depth, in addition to his ability to play special teams, gives him an advantage at making the final roster.
Coming out of the combine, Lefeged took some hard knocks from critics like this. They say he's not a strong enough tackler. They say he can't find the ball carrier quick enough. They say he's not fast enough.
That's nothing the Colts haven't heard in the past.
The Colts only pick up players that they believe can contribute. Whether it's on special teams (Lefeged is listed as a punt returner on the depth chart also) or in the secondary, Lefeged will likely find a spot on this team. And he'll contribute.
It's just the Colts' way. Just ask Gary Brackett.
Keep Reading

Indianapolis Colts: Like this team?