Manchester City: Can the Most Expensive Team Ever Win the Premier League?
August 17, 2011
Clive Rose/Getty Images
We are in year number four of the Sheikh Mansour experiment at Manchester City and, after winning the FA Cup last season under Roberto Mancini, there is no doubt the club will be shooting for the stars now.
City finished in third position last year in the Premier League, thanks to a massive collapse from Arsenal at the end of the season, and never really looked like contenders for the title. Now, with the team having been together for a couple years, this appears to be the first year they are going to seriously challenge Chelsea and Manchester United for the top spot in the league.
But can they actually win it?
City present a unique type of team to English football, in that it plays like an Italian one, mainly because of its manager. City do not keep possession as much as Chelsea, Man United, or Arsenal do, but they are good on the counter-attack and have a solid back four.
There are times when they appear to be totally outmatched, especially against teams like the big boys, when they struggle to create any chances going forward.
The perfect example of this is their game at the Emirates Stadium last season against Arsenal. A City team pretty much at full strength went to London last year, sitting second in the table, and played like a team looking for a draw. Carlos Tevez was forced to try to create whatever he could going forward, and that meant pretty much nothing, as he was constantly hounded by multiple Arsenal defenders.
Against top teams, that isn't the way you win games, or leagues.
We have seen Liverpool, Arsenal, Tottenham, and Chelsea all dominate Manchester City in such a fashion. The only team missing in that is Manchester United, who City are always up for, being their biggest derby match.
City's back four is good enough to win the league, but the question lies in their attacking strategy. Can they win the league in England playing their counter-attacking style?
They have four strikers at the moment who could be the leading goal-scorer on a team capable of winning the league: Carlos Tevez, Sergio Aguero and Edin Dzeko (not counting Mario Balotelli because of huge character issues).
But they aren't the problem.
Yaya Toure is the link between the City midfield and attack, and he is usually pulled back to defend when their opposition is in their defensive third. City's wingers, whoever they may be, either David Silva, Adam Johnson or James Milner, are often pulled back as well.
Can a club win like this?
They should be able to defeat most of the weaker clubs, especially at home, but when they travel and are on the back foot time after time after time, can they get enough results to be atop the league at the end of the season?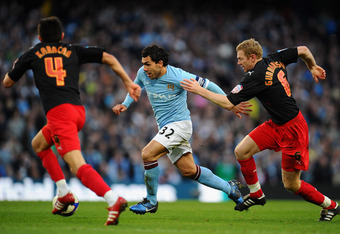 Clive Mason/Getty Images
They cannot.
They do not have the creativity throughout their team to play the way they do and still have success. With Nigel De Jong and Gareth Barry in midfield, there is little going forward there. With the way City defend, their wingers aren't able to be as creative as they can. There are very few times that their wide players can get the ball out wide and take on a defender one-on-one in their attacking third.
With them playing the way they do against English teams who have the mindset of going forward aggressively, it is difficult to go on the road and get proper results, especially against the big clubs.
City need more effective talent out wide to win the league if they're going to play the way they are, and Samir Nasri probably won't change much. The signing of Aguero appears to be a replacement for Tevez, and with their unwillingness to play a 4-4-2 and stick with their current formation, it appears that this will not be the year that Manchester City finally get their hands on the Premier League trophy.