Vancouver Canucks Top 8 Late Round Draft Picks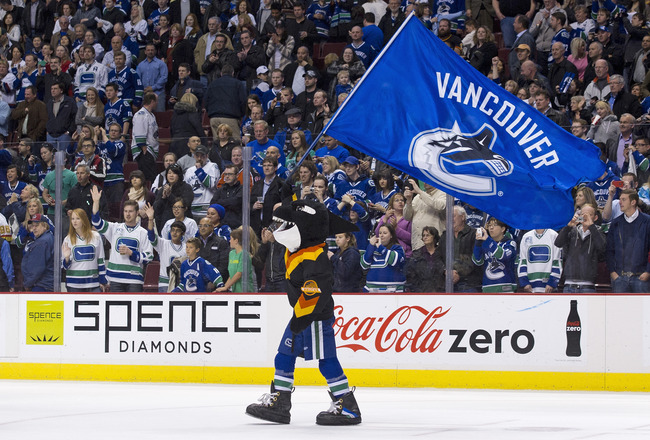 Rich Lam/Getty Images
Drafting Sidney Crosby or Taylor Hall as your first pick is a bit of a no brainer. Even taking Trevor Linden or Ryan Kesler in the first round isn't a hard decision to make. This isn't who you'll find in this list. You won't even find second rounder's like Mason Raymond or Alex Edler.
This is about the late round picks. TV broadcasts end after the first round because not many people watching will have ever heard about these guys, and they won't hear most of their names again. But every so often the scouts get it right and a team picks up a hidden gem late in the day, and it is those players that we're celebrating here.
8. Jannik Hansen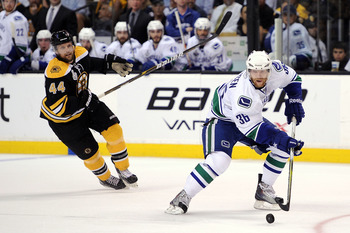 Harry How/Getty Images
Denmark's own Jannik Hansen was selected late in the ninth round of the 2004 draft by the Canucks. Despite some earlier injuries Hansen quickly made himself an indispensable winger, regularly found on the third line, but able to play on the second with ease. With the Canucks likely to be missing both Ryan Kesler and Mason Raymond at the start of next season this versatility could prove to be more important than ever.
While he doesn't put up the most impressive numbers on the roster, Hansen is a great defensive forward and impressively consistent. It's never surprising when he does score a goal, because he'll have earned it every time, making smart plays and sticking himself to the opposition's puck handlers.
The 25 year-old has quickly become a fan favourite in Vancouver, winning the "Unsung Hero" award in 2011, following a career season in goals (9) and assists (20).
7. Petri Skriko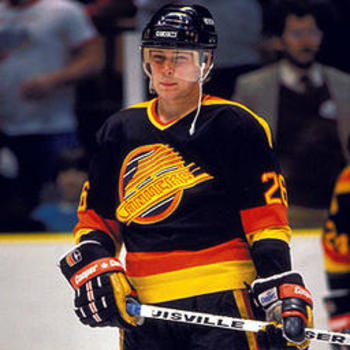 Credit: Vix.com
Petri "The Streak" Skriko had an odd history with the Canucks. On one hand, he was consistently a 30 plus goal scorer. He was the team's leading goal scorer in 1985-86 and 1988-89, the first Canuck ever to be named NHL Player of the Month, and still holds the franchise record for most hat tricks in a season, with four of them.
However, Skriko earned his nickname thanks to his long stretches between goals. In many ways, Skriko benefited from playing for a weak Canucks team. He was the only real left wing scorer before Greg Adams came along, which allowed him to play a lot of minutes, despite his streaky play. He probably wouldn't have been given nearly as much leeway on a more competitive team.
After being drafted in the eighth round of the 1981 draft, Skriko spent seven seasons (171-202-373) with the Canucks before shipping out to the Boston Bruins. He never managed to break 20 goals a season once he left Vancouver, but while in Vancouver he certainly made an impact. Not too bad for Vancouver's first ever Finnish player.
6. Patrik Sundstrom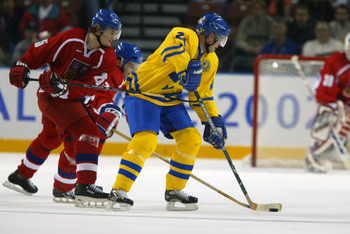 Mike Hewitt/Getty Images
Vancouver has a strong Swedish history when it comes to hockey that began well before Markus Naslund or the Sedin twins came into the picture. It started with Thomas Gradin back in 1978 and continued with Patrik Sundstrom soon after.
Sundstrom was the Canucks ninth round pick in 1980. He was an asset to the team not only for his production during the five years he was here, but also for the trade value he provided, bringing Kirk McLean and Greg Adams from the New Jersey Devils to Vancouver in 1987.
The 6'0" forward put up solid points when he was here, recording a career high 91 points in the 1983-84 season (38-53-91). This also marks a single season career high in goals for any Canuck centre (for the record, Henrik Sedin scored only 29 in his Art Ross winning year). Sundstrom also set franchise records for points (7) and assists (6) in a regular season game on February 29, 1984.
Internationally, Sundstrom won Sweden's Golden Puck award in 1982 and the Viking Award for Sweden's top NHLer in 1984 and 1989.
Fun Fact: Patrik also has a twin brother, Peter who played in the NHL, meaning Henrik and Daniel were not Vancouver's first Swedish twins, nor may they be the last if Pathrik and Ponthus Westerholm, who attended the Canuck's prospect camp this summer (Pathrik is drafted, Ponthus is not) make the jump to the NHL.
5. Igor Larionov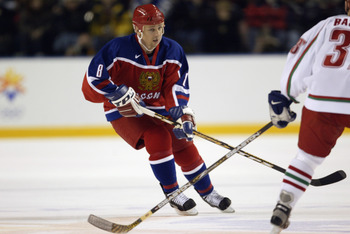 Brian Bahr/Getty Images
Hall of Famer Igor Larionov was selected by Vancouver in the 11th round of the 1985 draft. After years of publicly speaking out against the oppressive Soviet system, Larionov became one of the first players to leave the Soviet Union to play in the NHL.
When Larionov finally arrived in Vancouver four years after he was drafted, he took a few seasons to adjust to the NHL style, but by his third and final season with the Canucks he centered the top line with Greg Adams and Pavel Bure. In the 1991-92 season, Larionov scored a career high 21 goals before returning to Europe to spend a year in the Swiss League. This was so the Soviet government would no longer be able to draw a portion of his salary.
Larionov returned to North America as a San Jose Shark, where he spent three seasons before joining the Detroit Red Wings and winning three Stanley Cup Championships. Larionov is also a member of the Triple Gold Club, winning a Stanley Cup, Olympic Gold and a World Championship.
4. Kevin Bieksa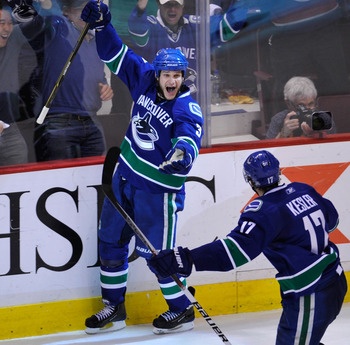 Rich Lam/Getty Images
Kevin Bieksa, or "Juice" as he's known around Vancity, was the Canucks fifth round draft pick in 2001. After finishing University, Bieksa spent some time in the AHL before joining the Canucks full time in 2006.
In his first full season with the Canucks, Bieksa brought not only his strong defensive play, but also put up 42 points, which earned him team awards for best defenseman and as the team's Unsung Hero.
Bieksa has been the subject of some controversy and trade rumours during his time in Vancouver, often criticised for making high-risk plays. However, he has consistently had the support of the coaching staff behind him (at least publicly) and he finished the 2010-11 season plus-32, a career high which put him second in the league behind Zdeno Chara.
The two-way defender also proved to be invaluable in the post season, recording 10 points, including the game winning goal in game five against the San Jose Sharks, to send Vancouver to the Stanley Cup Finals.
This summer, after publicly expressing a desire to stay in Vancouver, he signed a 5-year deal with the team. The 30 year-old Ontario native has everything you could ask for in a defender; he's willing and able to drop the gloves, but knows when to back down, he makes opponents pay for their mistakes, and he can be counted on to chip in a few goals. All this in addition to his sly smile and biting come backs which have made him a fan favourite in Vancouver.
3. Harold Snepsts
Harold Snepsts was the Canucks fourth round pick in 1974, but would go on to play over 1000 NHL games and was eventually granted a spot in Rogers Arena's newly christened Ring of Honour.
The hard hitting Harold Snepsts was and is a legend in Vancouver, despite the fact that in some ways he really had no business playing hockey. He was very nearly cut from almost every team he played for since the age of 12, he couldn't skate, and he learned that the best way to handle the puck was to make sure he never had it.
"He was tough, he had the size and he loved to practice but I still thought he was a long term project," said team mate Darcy Rota. "When I look back on my NHL and junior career and all the players I played with and against, I would have to say Harold fell into the category of the guy you thought was never going to make it."
Despite all of this, fans and team mates loved him. Cries of HARRR-OOOLD were common place in the Pacific Coliseum, even when he was on the visiting team. The only explanation for him lasting over 1000 games in the NHL was his good natured leadership. The only ones who weren't on the Snepsts admiration train were the players he fought. His hard hits kept the other team honest, and he would take enjoyment in pummelling any one who was brave enough to fight him, even if that meant a bout under the bleachers.
Snepsts was elected to the NHL All-Star team in 1977 and 1982, and was the teams' top defensive player in 1977-80 and 1982. Despite his questionable puck handling he even managed to record a career high 31 points in the 1978-79 season.
2. Stan Smyl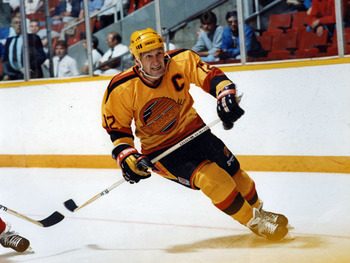 Credit: Canucks.com
Stan Smyl was selected by Vancouver in the third round of the 1978 draft and hasn't left the city since.
The 5'10 forward played like the little engine that could, setting franchise records in every statistical record. After playing for 12 seasons, wearing the 'C' for eight of them, he scored 262 goals and 411 assists. He won the teams' Most Exciting Player Award, team MVP and the team's leading scorer award throughout the 1980's. Smyl also became the first Canuck to have his jersey retired when number 12 was raised to the rafters in 1991.
Once Smyl retired, he stayed with his beloved franchise, becoming an assistant coach. He would later coach the Canuck's AHL farm team, the Syracuse Crunch before returning to the front office in Vancouver where he helps scout for and develop future Canucks.
In short, Smyl used his combination of scrappy play and a scoring touch to boost himself from a third round prospect to the third highest point earner in his draft class and a Vancouver legend.
1. Pavel Bure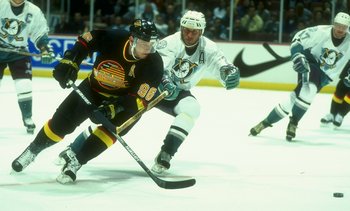 Glenn Cratty/Getty Images
Pavel Bure aka the "Russian Rocket" was one of the Canucks most electrifying players, but also one of the most controversial.
When the Canucks drafted then 18-year-old Bure in the sixth round of the 1989 draft, the choice faced some controversy: it wasn't immediately clear if Bure had played in enough games to qualify for the draft.
In addition, although the Soviet Union was begrudgingly letting hockey players leave for North America, the young Russian didn't dream of lacing up his skates in the NHL.
"I never dreamed about the NHL," Bure recalled. "Growing up I didn't hear too many things about it. North America was like a different planet. Kinda like something you read about but a place you never thought you'd go. It was my dream to be a part of the national team and win an Olympic medal because my father went to three Games and didn't win a gold. My biggest dream was for me and my brother to go to the Olympics and win a gold for the family."
Eventually however, the large contracts offered by the NHL proved too tempting to resist, and he joined the Canucks for the 1991-92 season. Despite missing the start of the season Bure won the Calder Memorial Trophy as the league's top rookie. In his sophomore year, he would record a career high 110 points (60-50-110).
Bure holds Canuck franchise records for most goals in a season, most playoff goals and the all-time record for most shorthanded goals. From 1992-1998, Bure was the team's leading scorer for four seasons, team MVP three times and voted the most exciting player for five seasons.
Keep Reading

Vancouver Canucks: Like this team?