2011 NFL Predictions: Why the Falcons Trading for Julio Jones Will Pay off
August 17, 2011
Chris Trotman/Getty Images
I remember all the Twitter reactions from around the league on draft night when the Atlanta Falcons traded up 21 spots to select wide receiver Julio Jones out of Alabama.
The initial reaction from almost everyone, even Falcons fans, was that Thomas Dimitroff had lost his mind. How could a team that gave up 48 points in a home playoff loss swap firsts with Cleveland as well as give up a second- and fourth-rounder, and then throw in a first and fourth in 2012? How could he give up all of that for an offensive player? Did Dimitroff not see how bad Aaron Rodgers made the defense look last January?
The price seemed kind of steep, I will admit. But I came around on it faster than most and here I will explain why.
First off, let's take a look at the picks. Swapping first-round picks, No. 6 for No. 27, was no big deal. The second and fourth hurt a little, but I can still be okay with it for a player of Jones' caliber.
But the biggest complaint I've heard from critics on this move is that you should never trade a future first. While this is hard to argue, I'm going to give it a try here.
It is clear that Atlanta is going for it this year. By making this kind of trade, it is obviously willing to mortgage a little bit of its future to try to get over the hump in 2011-12. More or less the same team that won 13 games in 2010 is returning and there is no reason to believe that it is on the decline.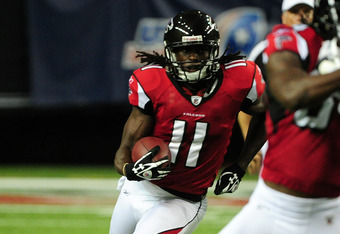 Scott Cunningham/Getty Images
So that first-round pick is ideally going to be a mid-to-late 20s selection. Sure, some great players can be found at that selection, but it is by no means a home run. And fourth-round picks become NFL starters less than 15 percent of the time. I'll take those odds for a talent like Julio Jones paired up with Roddy White any day.
Jones, a big part of the 2010 National Champion Alabama Crimson Tide, was a toss-up with Georgia's A.J. Green for who was the best wide receiver prospect in this draft. Green eventually went fourth overall to Cincinnati leaving many thinking Jones wouldn't get past Cleveland at sixth. Then Atlanta pulled the trigger on the deal that has caused this debate all offseason.
But one thing that the detractors of this deal have never done is deny the talent that Julio has. He has good hands and is lightning quick. Everyone who tuned into his NFL debut last Friday night saw this first-hand as he reeled in two catches for 43 yards and even took an end-around for another 12.
However, it wasn't so much the catches as his burst that was impressive. After the grabs, Julio showed some blazing speed that had those in attendance at the Georgia Dome quickly forgetting about what had been given up for him or the fact that he played for Alabama (whom University of Georgia fans despise). It's a good bet that you'll be seeing a lot of #11 Falcons jerseys filling out the Dome by season's end.
Unlike A.J. Green, Jones is going to be playing with an established quarterback who many regard as having all of the tools to be the next Tom Brady. He also has an All-Pro wide receiver lining up opposite him in Roddy White and a future first ballot Hall of Famer at tight end in Tony Gonzalez. Those two guys are going to stretch the field so much for Jones that many are already penciling him in as the offensive rookie of the year.
As for the people who think Atlanta should have focused on its defense in the offseason instead of giving up a slew of draft picks for an offensive player, most of them were silenced after the team signed Ray Edwards during free agency. Teamed with John Abraham and Jonathan Babineaux, Edwards should easily be better than any pass-rushing option Atlanta could have added in the draft.
There are still some concerns in the secondary for sure. Brent Grimes re-signing is huge and Dunta Robinson has to play better, especially with what he is being paid. Meanwhile, there are still whispers that the Falcons could make a run at acquiring Asante Samuel from the Eagles, but that's a tough sell with the money he is owed over the next two seasons.
Still, the defense is good enough to hold opponents to around 20 points per game. With all the weapons Matt Ryan will have on offense, I'm a firm believer that the offense can top that number in 2011-12.
In the end, it's a good situation for Jones who doesn't have to endure the years of rebuilding that a highly rated prospect of this ilk usually has to. He will be starting on day one for a Super Bowl contender and will be surrounded by veterans who can teach as well as motivate him.
I think he'll be ready for the challenge and will excel in this system.
I've had this debate on Twitter with several people who say that even if Jones becomes a Pro Bowler, he will never be worth what Atlanta gave up for him. I have to disagree. If Julio Jones makes this offense so dynamic that it gets Atlanta over the hump and into the Super Bowl, well that is worth a handful of draft picks to me.
Remember, winning cures all doubts.