Detroit Lions: Matthew Stafford, Calvin Johnson a Top QB-WR Combination in 2011
August 17, 2011
Gregory Shamus/Getty Images
If Matthew Stafford Can Remain Healthy, Calvin Johnson Only Becomes That Much More Dangerous
Prior to Matthew Stafford joining the Detroit Lions in the 2009 season, WR Calvin Johnson was already a dominating force in the NFL.
He had compiled 2,087 receiving yards and 16 TDs on 126 receptions, through his first two seasons.
The past two seasons, however, we have only seen Johnson improve.
Combined between 2009 and 2010, Calvin caught 144 passes for 2,104 yards, including 17 TDs.
The thing is, Stafford has only played in 13 NFL games, but it's no secret that his presence has made an affect.
Plus, it makes for better QB competition, as Shaun Hill, Daunte Culpepper and Drew Stanton have all started while Calvin remained out-wide.
Add in the fact that it's never easy building chemistry and timing with your QB to begin with, because it takes so much time. Yet Calvin Johnson has still performed at a very high level despite not having that luxury.
Well, 2011 begins anew, and there is no limit as to how good this combo of him and QB Matt Stafford can be.
In 2010, Stafford only played in three games, but did perform well.
He threw for 535 yards, six TDs and only one interception, which came out to a 91.3 QB rating.
His rookie year, he threw for 2,267 yards and 13 TDs, but did have 20 picks.
Then again, it was his rookie season, so no one could have expected him to shred any defenses.
Fast-forward to 2011 and we see a healthy Matt Stafford dominate in his preseason debut. He also threw a TD pass to none other than Calvin "Megatron" Johnson.
He also showed that he can spread that ball around, by completing six of seven passes for 71 yards and two TDs (no picks), with Nate Burleson getting the other TD.
For the fantasy owners out there, you know that regardless of who Calvin Johnson has as his QB, he's going to dominate anyone he faces, and will most likely earn another Pro Bowl selection.
In addition, the Lions have other solid receiving targets in Nate Burleson, rookie Titus Young from Boise State and TE Brandon Pettigrew.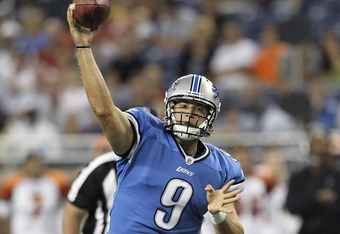 Leon Halip/Getty Images
Also, don't discount the versatile RB Jahvid Best, who is arguably better as a receiving back than being a Brahma Bull.
In any event, all this does is allow Stafford more toys to play with, but also derives defensive attention from Johnson.
Because let's face it, there's no corner or safety that can matchup with him one-on-one, other than Patrick Peterson and Adrian Wilson from Arizona.
Plus, the NFC North doesn't necessarily have the best, or is even known for pass defense (you could make a case for Green Bay, but that's about it).
So, more air time for the Stafford to Johnson combo, and with an improved defense, this should go without saying.
And, other than the legendary WR Steve Largent, think about all the other great WRs that had solid teammates, which in turn helped their career.
John Taylor with Jerry Rice, John Stallworth with Lynn Swann and Alvin Harper with Michael Irvin, just to name a few.
Be sure to check out John on Bleacher Report.
And, you can follow him on Twitter @ Sportswriter27.