50 Hottest Women Wearing Football Jerseys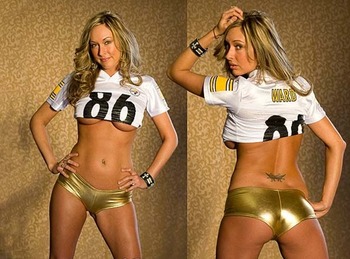 JonSimpson.com Photography
The NFL and college football seasons are on the horizon and it's time to delve deep into statistical analysis...wait a minute.
Why don't we just combine two things that rival beer and hot dogs: smoking hot women and football jerseys. And by rival, I mean the way the Browns "rival" the Steelers.
Let's just leave the analysis to another list.
50. New Orleans Saints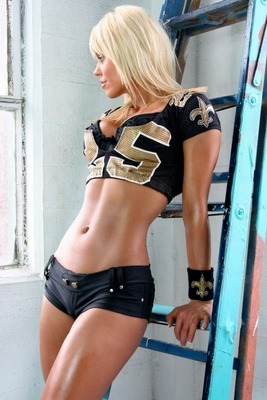 No, that's not a Paul Oliver jersey. I forget where I was going with this. Enjoy.
49. #9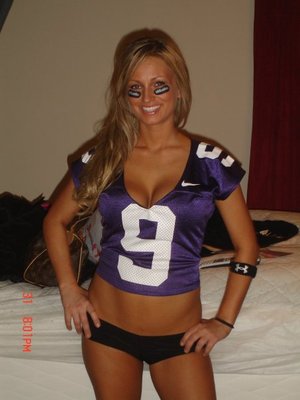 I have no idea whose jersey this is, nor do I think you care.
48. USC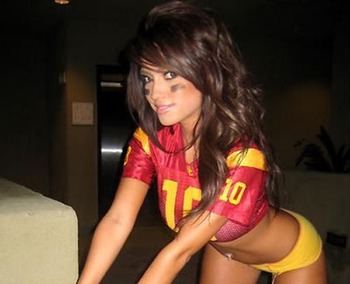 Rocked by scandals on and off the field, the Trojans apparently have some rather naughty fans.
47. Houston Texans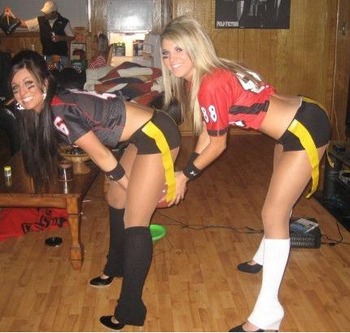 The leg warmers are a nice touch.
46. Fly Eagles Fly!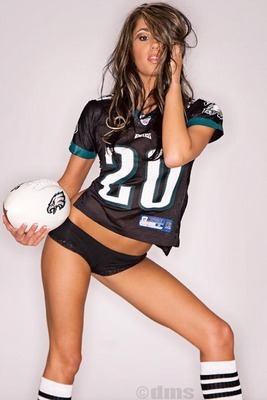 The Eagles added some serious depth this off-season. My prediction: a 12-4 record and and an NFC Championship.
But who can think of football at a time like this?
45. Philadelphia Eagles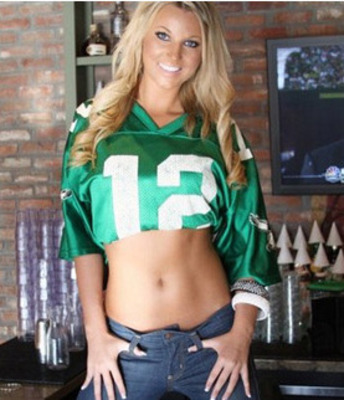 Remember Randall Cunningham?
I guarantee she doesn't.
44. San Diego Chagers
This former Playboy Bunny might be married to special teamer Hank Baskett, but she's a diehard Bolts fan.
43. Pittsburgh Steelers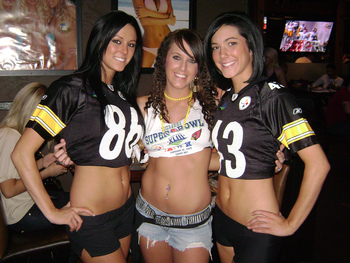 Noticeably absent: a Ben Roethlisberger jersey.
Oh well, this trio all have gym memberships.
42. G-Men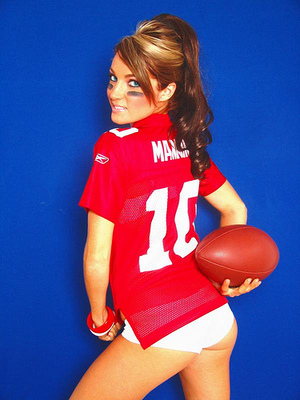 41. Green Bay Packers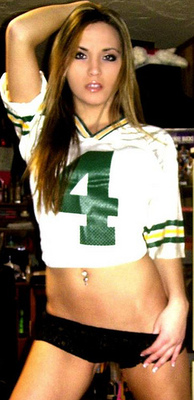 This jersey is clearly a knockoff...look at the size of that 4!
Oh, were you looking someplace else?
40. Tampa Bay Bucs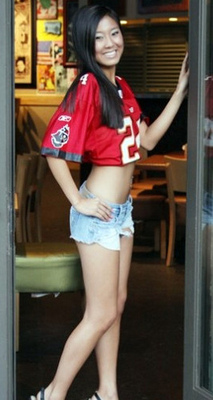 The Tampa area gets really hot and humid: dress appropriately.
39. Philadelphia Eagles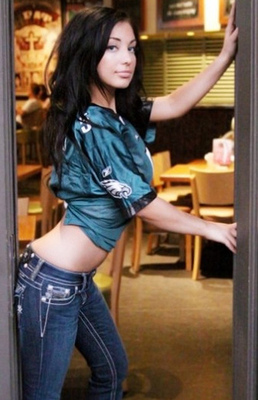 McNabb is no longer an Eagle, but who cares when you can rock a jersey looking like that.
Meanwhile, she does a hell of a job holding up that door frame.
38. The Only Ten I See Titans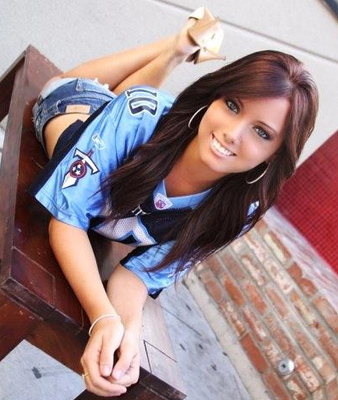 For some odd reason I'm a Titans fan now.
37. Six-Time Champ Steelers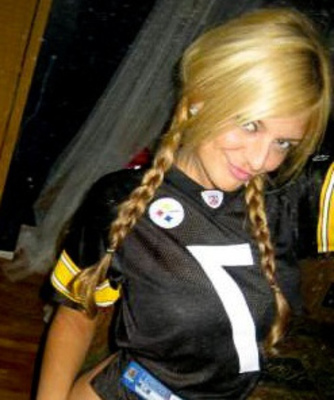 Something about two braids and a football jersey that makes my mind travel.
You think Troy Polamalu will repeat as the AP NFL Defensive Player of the Year?
36. Cincinnati Bengals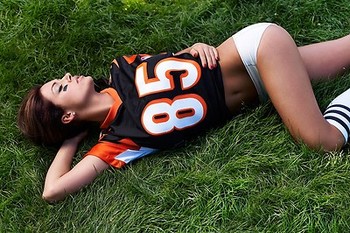 35. Red Jersey?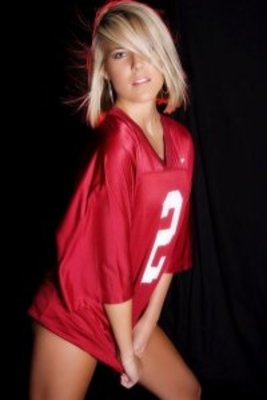 Tossed hair and a football jersey as a dress is a solid combination.
Excellent execution, you made the list.
34. Dallas Cowboys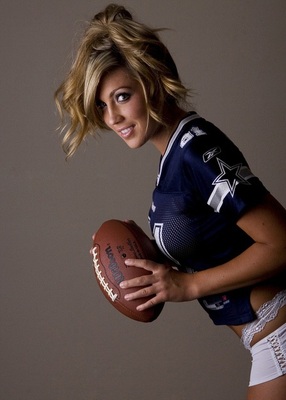 The new Cowboys Stadium seats 111,000.
If just one of them happens to look this good, I'm there.
33. St. Louis Rams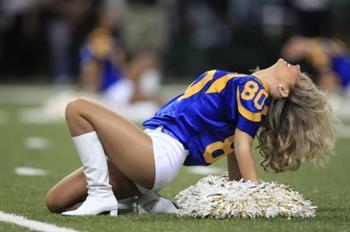 It's always nice when the cheerleaders put jerseys on their perfect frames.
It kinda makes me want to watch more of the Lingerie Football League and cancel my Sunday Ticket.
32. Cleveland Browns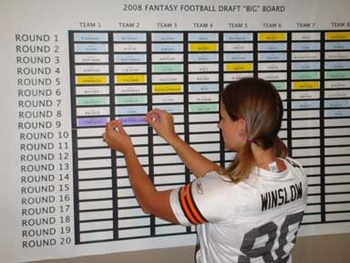 I don't need to see Mrs. Winslow's face to know that I like her style.
Any girl in a Fantasy League gets a thumbs up from this guy.
31. UNLV Runnin Rebels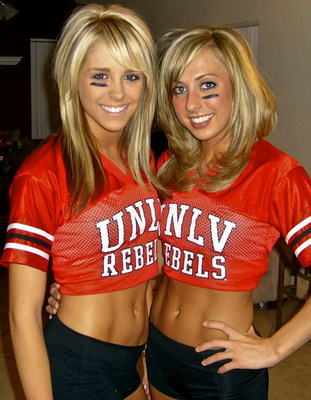 You gotta love the throwback Rebels jerseys.
You also gotta love a pair of girls who can root for an organization that hasn't had a winning season in recent memory.
30. San Diego Chargers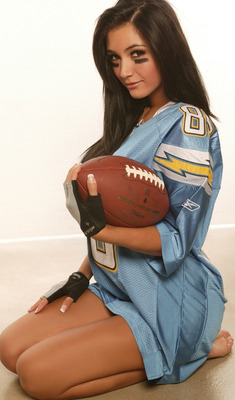 What size is that, a 52? Get that girl a 36!
29. Miami Dolphins
I believe this photo speaks for itself.
28. Go Ducks!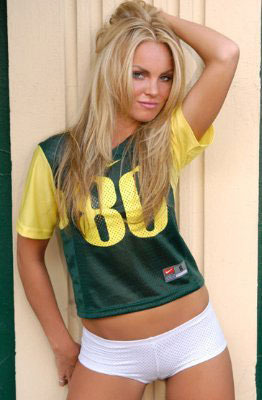 I don't remember her walking around on campus when I went to Eugene to visit my brother.
27. Muscle Up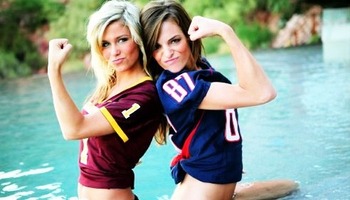 These two don't look so tough.
I'm sure we could take them both on at the same time.
26. The Phins Are Back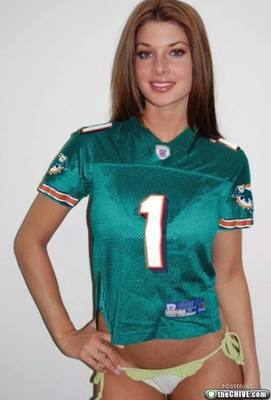 The Dolphins don't even have a #1 on their roster right now!
The bathing suit bottoms are a nice touch, though.
25. New York Giants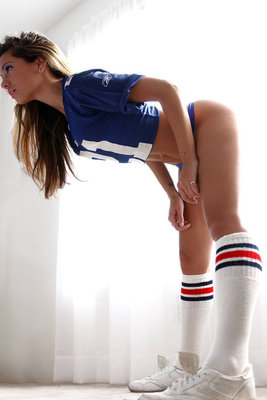 Working on your form in front of a sheer curtain is a great idea, ladies.
Take notes.
24. The Middle of Nowhere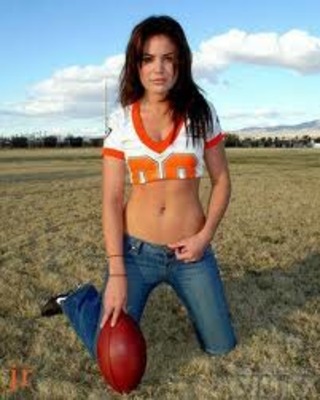 Who stole the bottom of her jersey?
If it was you, well done!
23. Another Cowboys Fan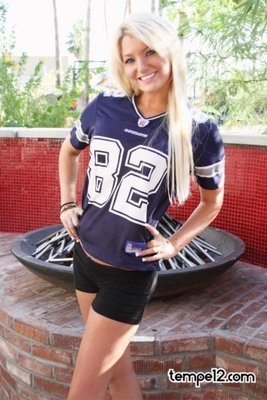 Jason Witten would be proud to see that so many women in the Dallas area supply a double entendre for his position and their backsides.
22. Another Ducks Fan?!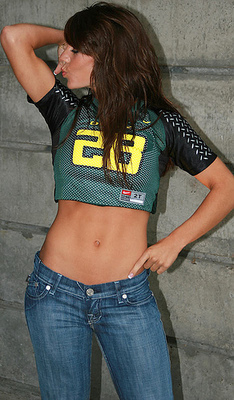 How did this babe get so tan when it is constantly raining in Eugene?
21. Razorbacks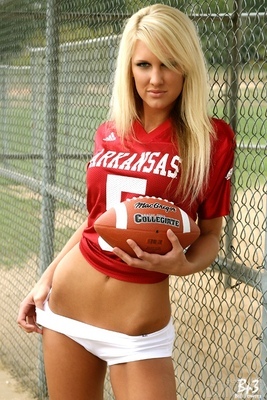 The cardinal and white sure looks good against blond hair and tan skin.
20. Love Those Florida Gators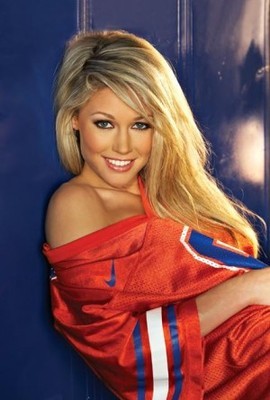 Three National Titles, eight conference titles, and some of college football's most attractive fans.
19. Rivals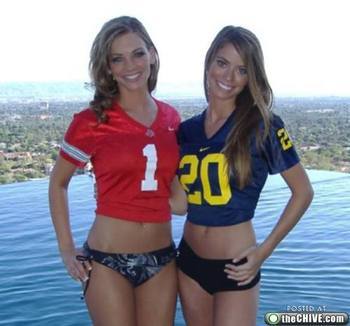 Shortly after this photo was taken, a no holds barred wrestling match took place.
Despite Michigan's overall winning record in the rivalry, OSU carried their momentum of seven consecutive wins in "The Game" as the chick on the left trounced the one on the right.
18. Generic Jerseys Are OK, Too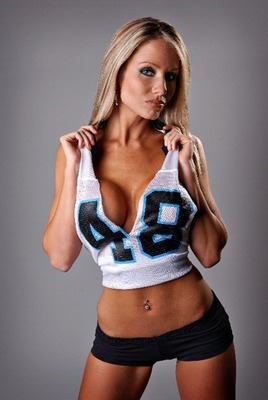 Not sure who she roots for but somebody decided to put a number on that shirt.
And for that, we thank you.
17. Minnesota Vikings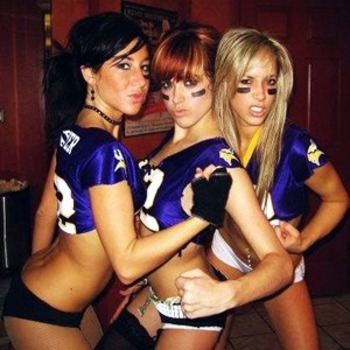 Don't reach for Adrian Peterson this year. Over the past two seasons, Purple Jesus has only averaged 86.5 yards per game and scored six fewer rushing touchdowns in 2010 than 2009.
16. Steel Curtain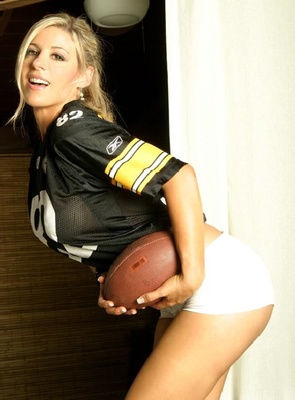 That's a natural football pose. I wonder if anyone is still reading this?
15. Fighting Illini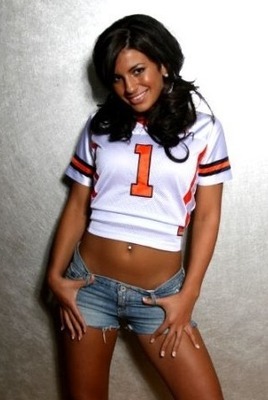 The Midwest is making an appearance in a major way.
Who knew the Fighting Illini captured five National Titles?
14. Go Irish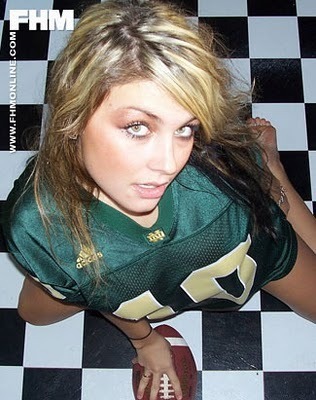 Interesting angle here. You can make your own subtitles to this slide.
13. Lightning Bolts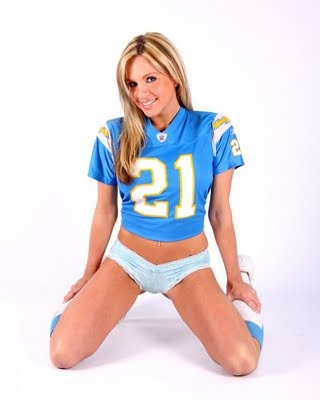 The Chargers seemingly make the playoffs every year but have never taken home a Lombardi Trophy.
Apparently there is plenty in San Diego to distract both their fans and players.
12. Indianapolis Colts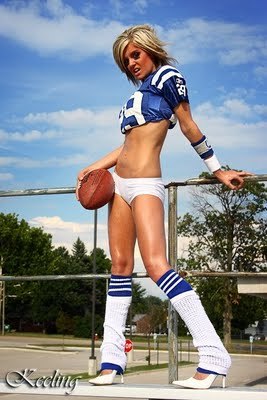 I know what you're thinking: the clouds in the background are a combination of cirrus and cumulus.
11. Dramatic Charger Fan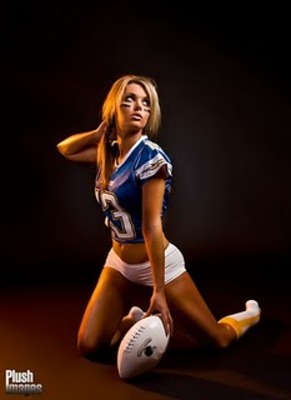 Here's your motivation: think about Super Bowl XXIX and Steve Young's six touchdown performance en route to a 49-26 drubbing.
10. Another Manning Fan?!
She doesn't want to show her face, but she is sharing her best asset.
9. Shirt Steeler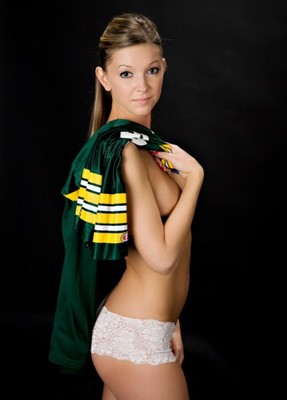 8. Washington Redskins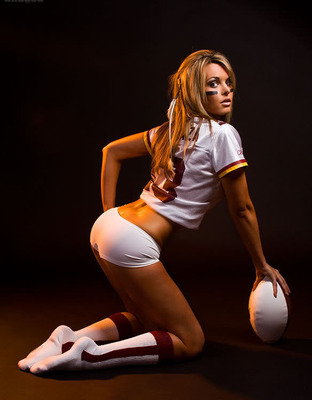 What fabulous lighting. This shot is pure art. My compliments to the photographer.
7. Flag on the Play!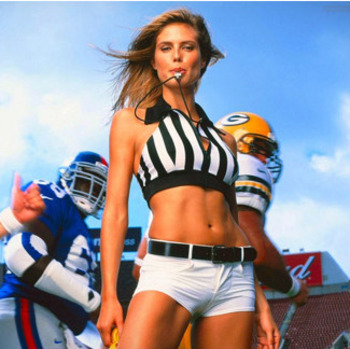 Heidi Klum still personifies perfection and on a more interesting note, she may have an oral fixation.
6. More Favre Love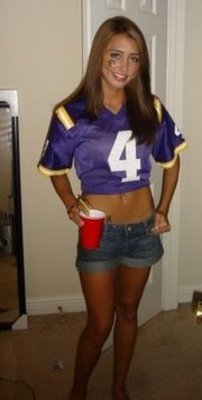 Is that an adult beverage in your hand? Also, run a vacuum and clean up around there.
5. Jen Johnson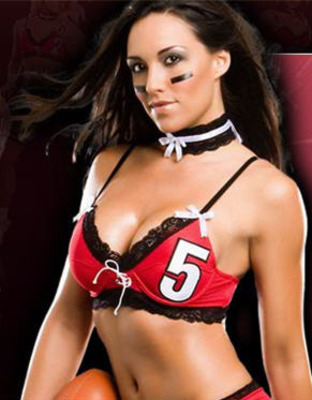 I had to slip a Lingerie Football League player in here.
Those are some stellar uniforms!
4. Jenn Sterger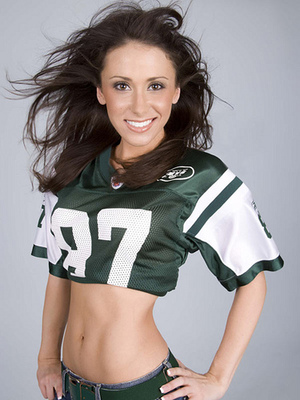 Wow, that's a windy indoor shoot.
You can see why Brett Favre wouldn't leave this one alone.
3. Jessica Simpson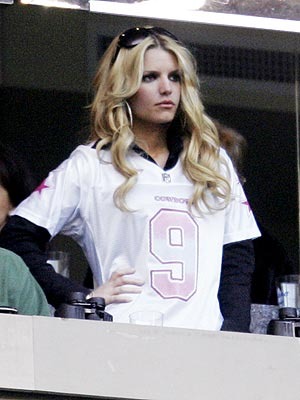 I don't know if Jessica is more disappointed in the Dallas Cowboys or her now ex-boyfriend Tony Romo.
Either way, Jessica still looked hot in this pink jersey.
2. University of South Florida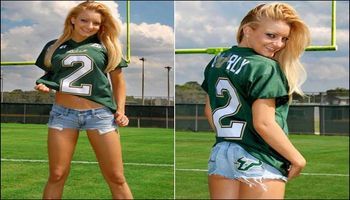 The University of South Florida was kind enough to show this beautiful blond from two different angles.
I prefer the shot on the left, but you can make up your own decision.
1. Kim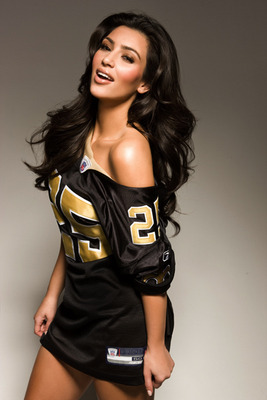 Well, we've come a long way but here she is, the Queen of the countdown: Kim Kardashian.
Though she and Reggie Bush split in 2009, her jersey-clad photos will live on forever!
Keep Reading