Nationals: How Soon Can Bryce Harper, Stephen Strasburg Save MLB Franchise?
August 17, 2011
Mike Ehrmann/Getty Images
Winning baseball is coming to the nation's capital, that much is guaranteed. When exactly the Washington Nationals start winning is more nebulous.
The Nationals are on the verge of being the Tampa Bay Rays of the National League. Like the Rays, the Nationals have put themselves in a position to compete with big market Philadelphia and New York through player development and shrewd trades.
Right now, all that is left for fans of the long struggling franchise to do is wait for the arrivals of Stephen Strasburg and Bryce Harper.
Strasburg already sparked a minor baseball revolution in his short time with the Nationals last season. Before he went down with an elbow injury, a Strasburg start created the type of buzz the Nationals franchise had never experienced.
Not in Montreal. Not in Washington.
That all changed when Strasburg went down. Washington residents went back to not caring about baseball all that much. Then, along came Harper to fire back up the hype machine. Called the LeBron James of baseball, there may have never been a more hyped baseball draft pick in the history of the game.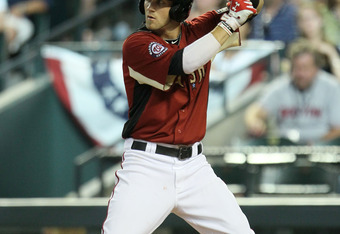 Jeff Gross/Getty Images
Now after being lucky enough to draft the two players who were labeled the potential best prospect ever in successive years, the Nationals are poised to break through and become a perennial contender.
Just when can fans in the D.C. area expect to their franchise to be saved by these two baseball prodigies is up for debate.
Strasburg appears well on his way back from Tommy John surgery far ahead of the expected recovery period. In his two minor league rehab starts, he has been dominant, showing excellent command, with his fastball touching the upper 90s. Strasburg has also revamped his delivery in hopes of sustaining his success further into games.
The Nationals are expected to bring Strasburg up for a few starts in September. Those starts will go a long way into predicting Strasburg's future impact in the majors. He has yet to show off most of his breaking pitches in his rehab starts, and how his elbow holds up when breaking off curveballs is an important issue.
The Nationals will be extremely cautious with Strasburg the rest of the season, and any sign of trouble will put him on the shelf. His impact will not be felt until next season.
Harper's development is much harder to predict. Hitters develop differently than pitchers do. Harper has been playing baseball year-round for ages. Wiith the development of elite tournament teams, he has been exposed to better pitching than high school prospects in the past.
Harper is still clearly very raw when it comes to playing the outfield, and after experiencing success at Single-A, he has found the going a little harder at the Double-A level. Watch him play one game, however, and it is obvious the kid has all the physical tools to be a major leaguer.
As it is harder for a hitter to develop, the Nationals are taking things slower with Harper. There will be no September call-up this year. That will have to wait until next year. Harper should start next season at Double-A again and move on to Triple-A shortly thereafter. An August or September call-up is almost a certainty as long as he continues to hit.
Harper will not have an impact at the major league level next year. The Nationals have had success with their September call-ups, with Ryan Zimmerman as a a recent example. After spending September in Washington, Zim was ready the next season to handle major league pitching.
The Nationals have played well enough earlier in the season for some premature Wild Card talk but have not been able to keep pace with the real contenders. This team, however, is at most two years removed from being a legitimate playoff contender, and Strasburg and Harper are not the only reasons why.
This is why the Nationals and their supporters must be careful about using the term "savior" when talking about Strasburg and Harper.
These two are under immense pressure due to the hype machine that has been running for Harper basically since he stepped onto a baseball field and for Strasburg since he shed his baby fat at San Diego State and decided he wanted to be a baseball player.
There have been numerous prospects labeled a franchise's savior over the years, and not all have been able to handle the pressure. Strasburg and Harper are lucky enough to have been drafted by a team, that while counting on them to have an impact, was already well on its way to becoming a winner.
In Jordan Zimmermann, they have another future ace. Drew Storen and Tyler Clippard anchor the bullpen. The infield is comprised almost entirely of home-grown players. Led by Ryan Zimmerman, Ian Desmond, Danny Espinosa and Michael Morse, this team have the potential to rival the early years of Jimmy Rollins, Chase Utley and Ryan Howard.
The only glaring weakness right now in Washington is in the outfield. Jayson Werth is really not as bad as he has been playing this season. The Nationals tried hard at the deadline for a centerfielder and could look to continue talking trade with the Twins for Denard Span over the winter. An outfield of Harper, Span and Werth would be competitive with the best in the league.
It is realistic to expect a five-win boost, at the very least, from the return of Strasburg alone. That much would make the Nationals a winning team next year. Harper will probably not have the same impact until 2013.
Two things are for certain, however. The Nationals picked the right time to be the worst team in baseball, a distinction that allowed them to nab Strasburg and Harper, and the Nationals will have Philadelphia Phillies fans worried about their perch atop the NL East by 2013, when Harper is ready to be an everyday player.