Tiki Barber vs Clinton Portis: Which Veteran RB Will Contribute More in 2011?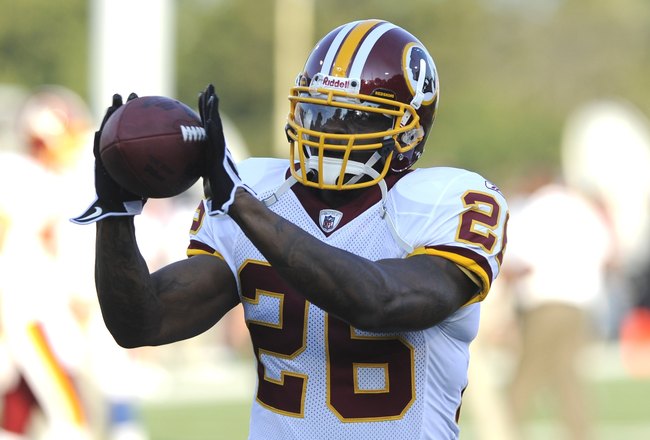 Al Messerschmidt/Getty Images
It seems highly unlikely at this point that either Clinton Portis or Tiki Barber gets signed.
However, don't be surprised when a running back goes down, that teams then come a callin' to one of these guys.
As professional athletes, they're still going to be in good shape.
And most likely, good enough to somewhat contribute down the road.
All that said, if both do happen to sign, who contributes more?
Well, the answer lies ahead.
For more analysis on Clinton Portis and Tiki Barber, click here.
Why Clinton Portis Won't Contribute More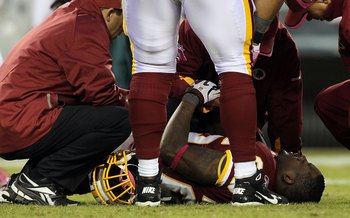 Jim McIsaac/Getty Images
Just as you see in the picture, health.
In 2009, Clinton Portis totaled only 494 yards on 124 carries, with one TD.
He also only caught nine passes for 57 yards, and one TD.
In 2010 he further decreased in production, gaining only 227 yards on 53 carries, with only two TDs before shutting it down for the season due to injury.
Receiving, he accounted for five receptions for 55 yards, and zero TDs.
If you look at the stats early in his career, you would know that those numbers are not Clinton Portis-esque, and that injuries have taken over him.
Not to mention, he will hit that age 30 running back milestone just before the regular season begins.
Why Tiki Barber Won't Contribute More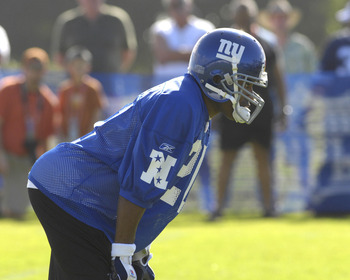 A. Messerschmidt/Getty Images
It could be, because he's Tiki Barber and no one likes him.
But I digress.
But, also because he's 36-years-old and has been out of the game since retiring after the 2006 season.
Sure, his workouts may haven been solid, but let's get real.
No one is signing him, and if they do, then they are extremely desperate.
Why Clinton Portis Will Contribute More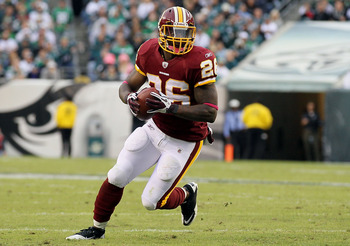 Jim McIsaac/Getty Images
Six of his first seven years in the NFL, Clinton Portis compiled an average of 1,446 yards per year.
The outlier of the beginning was 523 yards in only eight games during his third season in Washington.
He has since, however, dwindled down from injuries, and basically a lack of weaponry in the Redskins' offense.
There was him, and TE Chris Cooley, with Santana Moss being a solid threat, but even with McNabb, he was never with a dominant QB.
And despite his age and being injury prone as of recent, get him in the right system and he'll perform wonderfully.
Why Tiki Barber Will Contribute More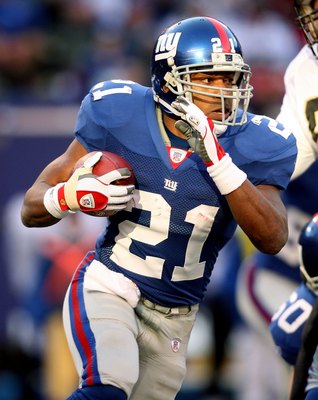 Nick Laham/Getty Images
One thing Tiki has going for him is his ability to catch the ball out of the backfield.
In addition to having a solid NFL rushing career, where he totaled more than 10,000 yards on the ground, Barber has decent success receiving.
Every season from 1999 until his retirement, he caught more than 50 passes, and gained no less than 530 yards.
2000 proved to be his best receiving season, as he caught 70 balls for 719 yards, and scored one TD.
If he does somehow get on a team this year, chances are he'll be a third-down back in medium distance situations.
Clinton Portis Will Contribute More
Jim McIsaac/Getty Images
For one, he's much younger as a RB, and actually played last season.
Whereas Barber, has not played since the 2006 season.
Sitting out for four years and trying to come back to football's highest level just isn't going to happen.
Portis is injury prone, but Barber at this point is likely just as fragile.
You're really going with the lesser of two evils in this case, or the "pick your poison" cliche.
But, if I were an NFL owner looking to add a RB and these were my only two options, Clinton Portis gets the nod.
Be sure to check out John on Bleacher Report.
And, you can follow him on Twitter @ Sportswriter27.
Keep Reading