New England Patriots: Safety Emerges as Question Mark in Foxboro
August 17, 2011
Elsa/Getty Images
No team is perfect. Whether on paper or on the field, no team can be strong at every position offensively and defensively.
This New England Patriots team comes close, though.
Quarterback, running back, wide receiver, tight end, offensive line. All checks. The defensive line has gone from a gaping hole to a deepened strength in the past month, and the linebacking corps, while not excellent, is reliable. Special teams, it appears, is sound.
There has to be a weak link somewhere. For the 2011 Patriots, safety seems to have drawn the short straw.
Safety is not a void on this team, but it is a question. The position is currently manned by Patrick Chung, Brandon Meriweather and James Sanders, with contributions from Sergio Brown and Bret Lockett. That's about it, thanks to the departures of Jarrad Page and Brandon McGowan.
The group has its leader in Chung, whose intensity and instincts give the defense a spark, and who is developing into a special player in the secondary.
Chung, however, is the only sure-fire player at the position. Sanders does nothing wrong and is a quality veteran presence on the team, but he has been unable to build himself into a regular starter. Meriweather, for all of his accolades, is reckless, subpar in coverage and a hot-and-cold playmaker, as likely to make a big play for the Patriots as he is to give up one.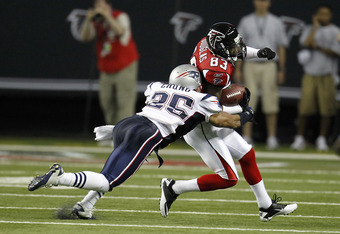 Mike Zarrilli/Getty Images
This assessment apparently isn't lost on coach Bill Belichick, who has been shaking up his safety pairings in practice and seeking solutions in free agents Dashon Goldson, Renaldo Hill and former All-Pro Darren Sharper.
Goldson signed with the San Francisco 49ers, and a tweet from ESPN Boston Patriots reporter Mike Reiss (via Adam Schefter) said that Hill and Sharper weren't likely to sign with New England.
Sharper's quick dismissal is unfortunate, as the six-time All-Pro selection would be a perfect complement to Chung in the secondary. He's an instinctive player and proven leader, with a knack for big plays without Meriweather's tendency to commit penalties or blow coverage.
With those options out, the Patriots are left with the thin four-or five-man rotation in back, though they may not be done shaking things up.
Ian Rapoport of the Boston Herald, on the "Felger and Mazz" show on 98.5 The Sports Hub, said New England is "actively" looking for safety help. More workouts, and even signings, could be on the horizon.
Maybe Page has difficulty sticking with the Eagles and returns to Foxboro. Maybe the solution is in house, and New England considers moving second-round pick and physical cornerback Ras-I Dowling over, with the corner situation set with Devin McCourty, Leigh Bodden and Kyle Arrington.
But those are hypotheticals. Currently, the Patriots are saddled with a wild card at the safety position. The group is far from awful, but far from deep as well. Add in problems with players already at the position, and the lack of depth becomes all the more concerning.
The Patriots defense seems set for a run at a Super Bowl berth. But it could come undone. If it does, safety could be where the problems start.