2011 US Open: How Far Can Wimbledon Sensation Jo-Wilfried Tsonga Go?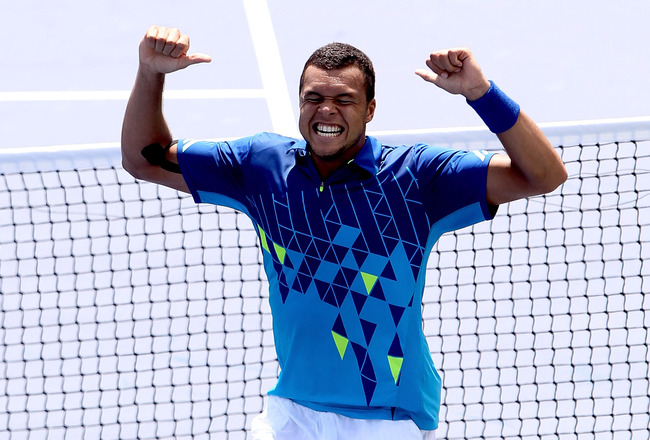 Matthew Stockman/Getty Images
He leaned forward to meticulously bounce the ball. Slowly, he looked up across the net at Roger Federer, who had won this very tournament six times. He leaned back, transferring his weight to his back leg.
As he tossed the ball, he put his feet together, loaded all his weight into his legs and jumped as his racket collided with the ball, sending it over the net with tremendous speed. As Federer returned it with a one-handed backhand, the Swiss Maestro was one of the first people to know the ball would sail long.
Jo-Wilfried Tsonga had won.
As he fell on his knees and held his head in his hands, everybody in Center Court of the All-England Club jumped up and applauded while Federer walked to the net.
In the match, Tsonga had shown talent, technique, mental fortitude and extreme perseverance to overcome a two-set deficit to defeat a former champion. Not many others would know what it feels like to prevail against Federer in such glamorous form.
However, after he had fallen to his knees, celebrated and felt emotion like few others have, Jo-Willy jogged to the net and hugged Federer, expressing what must have been a congratulatory remark.
After the hug and the hand shake with the umpire, the Frenchman proceeded to energetically twirl around the court in circles, with both his thumbs pointing towards his back—Tsonga's trademark victory dance.
How far will Jo-Wilfried Tsonga go in the US Open?
This match earned him a faceoff with red-hot
Novak Djokovic
, who had only lost one game the entire year. Though he lost that match, you can be sure that he will remember the encounter with Federer for the rest of his life as a memory he will cherish.
Besides the 2008 Australian Open, where he had reached the final (after beating Rafael Nadal), the 2011 Wimbledon was the grand slam in which Tsonga had achieved his best result: the semifinals.
It was a tournament in which every part of his game was working. His serve was huge, his forehand was better than ever before, his backhand was sensational and, most surprisingly, his volleys were much improved. A great quality Tsonga showed at the All-England Club was that he wanted to win more than almost everyone else.
Despite his run, his ranking has only been moved up to No. 10, which many people say is too low, given that he has completely outplayed Tomas Berdych and Gael Monfils (who are both ranked higher that him) in 2011.
With his powerful game, he has something power players don't: consistency. On the tour, there are several players who will pound the ball for three or four strokes but then die out in a longer rally. Tsonga, along with Juan Martin del Potro and even Nadal, is someone who will put you under pressure relentlessly.
Julian Finney/Getty Images
This quality of Tsonga's helps him to outlast other players, meaning he is capable of beating everyone on tour.
Despite having a bad head-to-head against Nadal, their only meeting in 2011 was won by Tsonga. He has a winning head-to-head against Djokovic and a decent one against Federer.
However, he is starting to assert his dominance over Federer, as he has won the last two meetings.
Now, for the upcoming US Open, Tsonga should have no problem with anyone outside of the top 10, but he certainly will be challenged playing against top four players. And Robin Soderling, David Ferrer, Mardy Fish, Gael Monfils and Tomas Berdych aren't exactly a piece of cake either.
Tsonga is fully capable of reaching the semifinals, but he has had streaks where he has simply performed inexplicably badly. He is a player prone to just falling apart for no apparent reason, which is partially why he is supposedly ranked lower than he should be.
Anyways, when Tsonga is on, he is on.
If he is able to stay solid throughout the US Open, which begins on the 22nd, he can even reach the semifinals—as long as he is not in the same draw as Djokovic. If he is with any other member of the top four, he has a decent chance. If he isn't in Djokovic's half of the draw, he has a small chance of getting to the final.
Though the odds are against the Frenchman to get to the semifinals, he can still repeat what he did at this year's Wimbledon.
But Tsonga will be striving for more.
This article is
What is the duplicate article?
Why is this article offensive?
Where is this article plagiarized from?
Why is this article poorly edited?