San Francisco Giants: Why Defending Champs Are Right Where They Want to Be
August 16, 2011
Scott Cunningham/Getty Images
The Giants were coming off another difficult loss, and this one really hurt.
It cost them even more ground in the standings, and the team they were chasing, an upstart club that had surprised the baseball world to this point in August, just wasn't losing.
The latest setback for the Giants dropped them to 3.5 games behind the NL West leaders.
Wait a minute, that can't be right, the Giants are now 2.5 games behind the Diamondbacks following Monday night's loss to the Braves in Atlanta.
True, because the description above isn't about Monday night. It's about a year ago.
On August 16, 2010, in a season during which San Francisco would not only catch the team they chased down the stretch for a playoff berth, but win the World Series for the first time in 56 years, the Giants were on the brink.
But that's just how they like it.
It just wouldn't make sense for a team whose motto is "Torture," and whose specialty is winning games by such a small margin, and in such a dramatic fashion, that if it were in another profession would likely be sued for intentional infliction of emotion distress, to coast to a division title, defending world champs or not.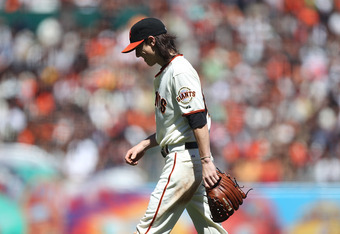 Jed Jacobsohn/Getty Images
These Giants are not in the business of steamrolling their way into the postseason. They're in the business of living on the edge.
Brian Wilson blew his fifth save of the season in Atlanta Monday night, yielding three runs in the ninth inning that left the Braves with a five-game lead over San Francisco in the wild card standings and the Giants further behind division-leading Arizona.
But that's what happens when you have a closer that thrives in pressure situations: they don't always go his way.
"But that's just it!" you scream. "You can't win like that! Just get the job done!"
I'll let you tell that to Brian Wilson directly.
The bottom line is that the defending World Series champions are not your prototypical baseball titans.
They do not open up nine game leads on a team that is 20 games over .500 (as the Philadelphia Phillies have managed to do in the NL East over the Braves).
The Giants are scrappers. They are fighters who not only have setbacks along their journey to success, but indeed require them.
Without them, they are no longer underdogs.
And they have to be underdogs. Favoritism is San Francisco's Kryptonite, and if the Giants were ever the odds-on team to beat in Vegas, don't expect a repeat world championship.
The self-proclaimed "Band of Misfits", the team that has been greater than the sum of its individual parts, whose marketing strategy of "magic inside" actually ended up befitting its season's story perfectly in 2010, cannot jog to the finish line ahead of the pack.
It needs a sprint, because that's what gives it what it needs to win another championship.
And a sprint is what the Giants are setting up for themselves now, both in the division standings and in the wild card race, as they play three more games against the Braves this week before heading to Houston.
So for all of you whose loyalties belong with the Giants, it's not time to panic.
Will this team, whose list of key injuries is so extensive that an entirely new roster could be built from it, win another title in 2011?
There's no way to tell. The title won in 2010 was a byproduct of talent, belief, camaraderie, and that intangible "magic".
Anything based on such a delicate balance of ingredients, part of which is just immeasurable, cannot be replicated easily.
But if there's anything we've learned about this group, it's that they should never be counted out until the math is irrefutable.
And neither the Diamondbacks nor the Braves can set their sights on any magic number yet.