Arsenal FC: Does Nicklas Bendtner Still Have a Future in Red and White?
August 16, 2011
Shaun Botterill/Getty Images
When Thierry Henry left Arsenal, he talked about the options Arsenal still had at striker, and mentioned Nicklas Bendtner.
Nobody had any idea what type of person Bendtner was then. Now, they do. That is one of the reasons Arsenal fans want him out of the club.
Nicklas Bendtner is one of the most confident—perhaps cocky is a better word—players in the world. He thinks that in three years, whether it be at Arsenal or another club, he will be one of the top 10 striker in the world.
What people fail to realize is that the talent is there, and one day Bendtner will probably be considered one of the world's best. The one thing that needs to happen is that he needs to be brought back down to earth a bit.
Denmark's best player at the moment, Bendtner has had moments at Arsenal where fans realize his talent and ability, but there have been more times where he has frustrated and not come through for the club.
Currently, his greatest moment is his goal against Tottenham in December of 2007, where he headed in a corner with his first touch of the game.
Otherwise, the story of Bendtner at Arsenal thus far can be defined as frustrating.
Bendtner is probably going to play a part in Arsenal's Champions League encounter with Udinese tonight and next week, and also could play against Liverpool at the weekend with winger Gervinho suspended. This could be the perfect chance for the Great Dane to show Arsene Wenger what could be a new-found commitment and style of play, but only if Bendtner is willing to change in such a way that could extend his stay at Arsenal.
Sometimes forced to play out of position, Nicklas Bendtner has been able to show off all of his great qualities. He has deceiving pace for his size, along with a touch that at times is as smooth as the best in the world. He's also shown that with his size, he can dominate in the air. Bendtner has shown his ability to score in a multitude of ways, and that he has a great future in football.
Now, with Cesc Fabregas and Emmanuel Eboue gone, and with Samir Nasri on his way out, there might just be room for the Great Dane to make his mark at Arsenal this season.
He has been written off since early May as a player who will not be with the club this season, but now, if Arsene Wenger does not want to spend a boatload of money on three new playmakers, why not buy one or two and give Nicklas Bendtner the chance he's always wanted?
Don't get me wrong, the club needs new talent and to buy a couple players. A center back needed to strengthen the back line, and a creative midfielder must be brought in to replace Fabregas. But a new winger might not be necessary.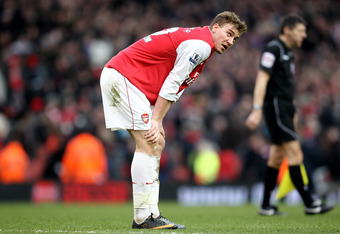 Paul Gilham/Getty Images
Bendtner provides a very interesting change of size and pace out on the wing, and has proven himself to be effective in that position, although he is not a natural winger. If you watch Arsenal's 6-1 mauling of Everton on the opening day of the 2009-10 season, you will see Bendter set up the first goal by dominating Leighton Baines in the air, and eventually getting the ball into the middle for Denilson to fire into the back of the net.
There aren't many fullbacks that can match up with Bendtner in the Premier League, if any at all. Clearly, I rate Bendtner very highly, and think that he has the perfect combination of size, skill, and pace to be successful at that position.
But, as Bendtner will point out to you, he is a striker, not a winger.
There is definitely hope for Bendtner at that position. He is better than Marouane Chamakh. Chamakh presents fantastic ability and courage in the air, but does not possess the skill and pace that Bendtner does. Really, it's not even close.
Bendtner will succeed as a striker in the Premier League if he adopts a work ethic similar to that of Chamakh's. If he works as hard as Chamakh does during a match, then he will be a fantastic player for any club in the world.
Shaun Botterill/Getty Images
With Fabregas leaving, there will be another playmaker brought into the club. If there isn't, then something is wrong in Wenger's head, because Tomas Rosicky would be the player he would play there every week (nobody wants that).
Robin van Persie thrived last year scoring goals, and is probably going to do the same this year. He did at times, though, play in the Fabregas position last year. He is the right type of player to play in that position. He has the ability to shoot from distance, and also would be able to link up with Bendtner, so he can still definitely score from that position. Also, he has had an impressive number of assists for a striker throughout his time at Arsenal.
Wenger should still bring in another playmaker to play every week in the league, but it makes a lot of sense for van Persie to be the back-up at that position, especially if Nicklas Bendtner is fit, as that is definitely a combination that could work.
All that sounds fine and good, but there are a lot of other factors in this equation...
Does Wenger want to put up with Nicklas Bendtner for another year? Also, does Nicklas Bendtner want to take a chance on staying with Arsenal for another year? He only started three games in the Premier League last year, after starting 14 the year before, and 17 two years ago.
There is no doubt that if Bendtner does not see the playing time he desires, he will want to leave the club in January, and will be quite vocal about doing so. That means if Bendtner is kept, there is a bit of a risk. It is unknown whether the Danish international's attitude is a problem among other players in the dressing room. If it is, will Arsenal want to deal with that any longer?
There is a lot of risk with keeping Nicklas Bendtner with the club, but he does offer a lot of reward as well, with his incredible talent and potential. Bendtner will turn 23 in January, and this is probably a big season in his career. He will think he should be playing every week by now at a big club in Europe. If he is patient, works diligently, and takes his chances this year, there is no reason that big club should not be Arsenal.