Baltimore Ravens: Offensive Line is the Weakest Link Heading into the Season
August 16, 2011
Jim McIsaac/Getty Images
Anyone who watched the Ravens' first preseason game could see that the Ravens were seriously struggling to protect their quarterbacks throughout the entire game. Pass protection was a big problem last season and heading into this season, appears to still be a big issue for the Ravens.
In all fairness, it was only the first pre-season game. It would be very foolish to get too high or low about individual performances. It's to be expected for players to be rusty after a long offseason where the lockout prevented and organized team activities.
Unfortunately, the Ravens are dealing with much more than simple rust along the offensive line. They are desperately thin along the whole line. Their best backup player is Bryan Mattison, who was on the practice squad last season. Several of their best players have been dealing with injuries. Matt Birk had knee surgery and will be out for several more weeks, and Yanda has also been having nagging issues that have been keeping him from practice.
The only starters that haven't been up in the air are left guard Ben Grubbs and left tackle Michael Oher. However, things have been far from perfect for Michael Oher, who struggled in the Ravens' preseason opener. It should be easy for Ravens fans to write off Oher's bad performance as simply being rusty, but most fans worry about Oher because of his poor performance at left tackle last season.
In his defense, Oher's poor performance last season wasn't entirely his fault. The Ravens were dealing with a patchwork offensive line that moved Marshal Yanda, one of the teams best interior lineman, to right guard. That move weakened the entire line and made Oher's job much more difficult.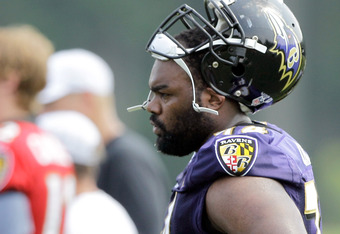 Rob Carr/Getty Images
That doesn't completely excuse Oher's performance because even when his individual performance was graded by Pro Football Focus, Oher was in the bottom eleven of all tackles for pass-blocking efficiency, which should be the forte of a good left tackle.
That's exactly why many fans had a watchful eye on Oher during the Ravens' first preseason game. They desperately want to see Oher succeed and take the next step because everyone knows how important his role is on an emerging Ravens' offense.
Unfortunately, Oher may have the deck stacked against him with regard to his development at left tackle. Ravens' fans have been spoiled with Jonathan Ogden, the team's first draft pick and a natural left tackle, and Jared Gaither. Both Ogden and Gaither are 6'9" and are naturally built to play left tackle with their long arms. Oher is only 6'4" tall and many believe that his height isn't ideal for left tackle.
When asked about Michael Oher's performance at left tackle last season, head coach John Harbaugh told The Baltimore Sun, "I don't think he has the ideal size to be a left tackle, but he has quick enough feet and a great punch to be one. He can definitely play that position in the future."
Oher's lack of size has made the transition to playing left in the NFL very difficult. For players like Ogden and Gaither who are naturally built for the position, the transition is much easier. Those player can get away with more mistakes because their natural ability covers them up, but Oher was basically forced to become a near-perfect technician because even the smallest mistake in pass protection could lead to a pressure or sack on the quarterback.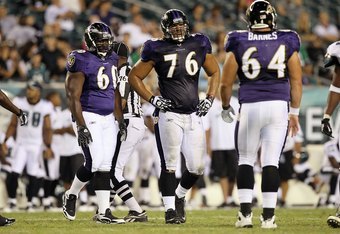 Jim McIsaac/Getty Images
There's no question in the minds of the Ravens' coaches to whether of not Oher has the ability to play left tackle. Not many question Oher's upside either because his natural athleticism is apparent. Unfortunately, his early development has been rough for the Ravens' offense to bear, and if his performance in the first preseason game is any indication, he still has a long way to go.
Another concern for the offensive line regards the other tackle position. Since the team was forced to use Yanda at right tackle after the season-ending injury to Gaither, most people believed that the Ravens would make a serious move for a tackle in the offseason.
The team wound up drafting Jah Reid in the third round, but that wasn't exactly the move that many people were expecting. Reid was viewed by most teams as a project that would need time to develop, but the Ravens believe that Reid is good enough to compete at right tackle right away.
"He'll be competing for the right tackle spot right out of the gate and we'll see where it goes," coach John Harbaugh told The Baltimore Sun. "He's young, he's a little bit developmental, but I think he's going to develop fast."
The Ravens obviously have confidence in Reid's ability, but starting a third-round rookie is always risky. It would be one thing if the Ravens had a good backup that could take over for Reid if he gets overwhelmed, but unfortunately, their only option behind Reid is Oniel Cousins, who has performed terribly at tackle and even Harbaugh admitted, is probably better suited to play guard.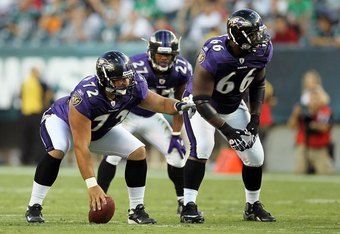 Jim McIsaac/Getty Images
Finally, the biggest concern of all for the offensive line may be depth. The Ravens don't have any quality backups behind their starters. Mattison played well in the preseason but is completely untested after spending last season on the practice squad.
Chris Chester, the team's best backup last season, was given a big contract to start from the Washington Redskins, and it was the right move to let him go. The biggest problem now is that the team doesn't have a single veteran player outside Mattison to back up their interior line positions, and it appears like they will be forced to keep a few undrafted free agents on the roster as backups.
The depth at tackle is also a big concern. Outside undrafted free agents and practice squad player from last season, the Ravens only have three tackles, Oher, Reid and Cousins, on the roster, and if Cousins makes a permanent shift to guard, they will be left with two tackles, one that struggled last season and an unproven rookie.
This is a scary situation right now, but it's very unlikely that the Ravens will actually go into next season with the lack of depth on the roster. More than likely, they will attempt to sign several players before the season. There are always good players cut before the end of training camps, and the Ravens will be happy to take any offensive linemen that the can get.
Right now, the offensive line situation looks bad. Even if they manage to sign a few good players as backups, the Ravens will go into the season with their offensive line being the weakest link on the team.
It's unusual for the Ravens front office, particularly general manager Ozzie Newsome, to neglect one area of the team so drastically. It would be easy for fans to begin panicking, but just remember that Ravens still have talent on the offensive line.
When healthy, Grubbs, Birk and Yanda are one of the best interior linemen combinations in the league, and with the addition of Vonta Leach, the big fullback formerly of the Texans, the running game should be able to take some pressure off the passing game.
It's very possible that the offensive line as a unit will play better and rise above their individual shortcomings. With all the concerns, that's all Ravens fans can really hope for.