Arsenal FC: The Delay in Replacing Cesc Fabregas Shows Poor Management
June 1, 2016
David Ramos/Getty Images
Cesc Fabregas is officially a Barcelona player.
The addition of Premier League's best midfielder has made an already strong Barcelona squad stronger.
How is this loss going to affect Arsenal?
While I concede that no player is bigger than the club, shouldn't a club like Arsenal line up a replacement before letting one of the most renowned and skillful players leave the club?
We're talking about a club that has yet to replace the likes of Thierry Henry and Patrick Vieira; so it's not really surprising, is it?
One has to understand that preseason is over and the 2011-12 season has already started.
And what that means is you can't take your own time to find replacements. You had a full summer to do that. There's no excuse for the incompetence and sluggishness.
If you read Fabregas' emotional address to the media after the switch to Barcelona, it's clear that Arsenal knew this a long time ago. Only the finer details were left to be agreed upon and they had conceded defeat in their attempts to keep Fabregas.
However, Arsenal gagged Fabregas from speaking out to the fans in an attempt to maintain secrecy, though it must be said they failed miserably.
It got to an even more ridiculous level when Arsene Wenger was quizzed last week whether he expected anybody to leave Arsenal. He replied that he didn't expect anybody to leave, not even Fabregas.
If you thought it was Wenger's brilliant strategy to calm things down, think again. It's one thing accepting the failure but entirely another to turn a blind eye towards it.
The Arsenal manager is deliberately deceiving the fans. If this summer is not the evidence of that I don't know what is.
The manager and his puppet Ivan Gazidis have done enough work this summer to publish a statement on September 1 about how the club worked hard in the transfer market to bring players in, but narrowly missed out because the Arsenal value players much lower than their market value.
Someone needs to knock on Wenger's door to remind him that paying a bit over the odd for a player or two is not as big a disaster as finishing outside the top four.
You should really give yourself more chance of winning titles and competing with the best. Optimistic mentality and extraterrestrial training routines are well and good, but at the end of the day you need the right players. Hard work can only give you so much. It can't be a substitute for quality and innate abilities.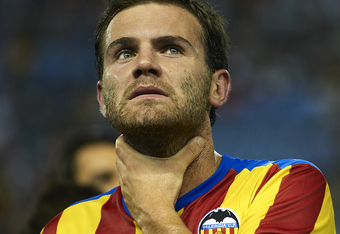 Manuel Queimadelos Alonso/Getty Images
The financial loss if Arsenal finishes outside the Champions League spots next season is huge; certainly huge enough to pay £5m-£10m more for a player or two if that guarantees Champions League spot for Arsenal.
How guaranteed a spot is up for debate. But the point is Arsenal can't afford to keep the cash in bank or use it on a wide range of basement bargains and then claim they didn't find the "quality they needed to make the current team better."
Relax. It's time for a Wenger joke.
"I don't think just spending money is a target that is defendable. We are not frightened to spend money, but we have to be convinced the player is better than what we have," said Wenger.
How many times have you heard that in the past?
If he's not frightened to spend money, then why is he not spending money? It's in his DNA not to spend money and hunt for bargain basement players—simple as that.
If he was not frightened to spend money he would have already unveiled a replacement for Fabregas.
By that I don't mean a bargain basement player but a top-class signing.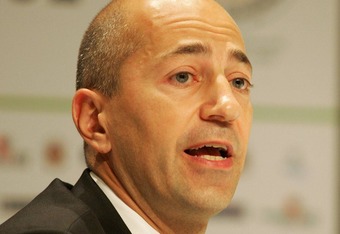 Gallo Images/Getty Images
Coming to the last part of his "honest" statement, Wenger is still not convinced that there are a plethora of players out there who're better than some of his first 11.
If he reckons the likes of Tomas Rosicky, Aaron Ramsey and Co. are good enough replacements for Fabregas then there's something seriously wrong in there. 
Remember we're talking about replacing a player who was statistically the best midfielder in Europe over the last five seasons.
If the loss of such a player is not enough to frighten Wenger into spending, then one really needs to ask the question: how sane is Wenger?
This is where I would like to highlight the ridiculous management of Arsenal.
They allowed the buy-out clause on Mata's contract to expire when they apparently knew Fabregas was going to sign for Barcelona this summer.
Who is going to tell the Arsenal manager and chief executive that you don't really need money in the bank to negotiate deal in the background to replace an outgoing player?
It was a golden opportunity to steal a player of the stature of Mata. However, not so surprisingly, Arsenal's incompetent management and the ludicrous manager allowed the big fish to slip through the net.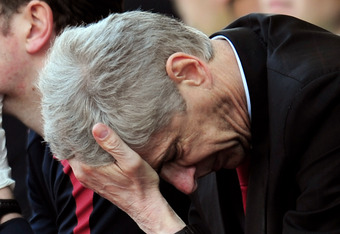 Shaun Botterill/Getty Images
And now the deceptive man at the helm urges the disgruntled fans to get behind the team ahead of the tough European night against Udinese.
Wenger hardly pays heed to what the fans of Arsenal have to say, so how can he expect the real Arsenal fans to listen to a manager who just can't seem to inspire any confidence and repeatedly deceives the fans with his rephrased and dishonest statements.
Everybody thought Arsenal were going to bolster their defence this summer. Even the chief executive and manager echoed the sentiments at one point.  Here we are, two weeks before the transfer window shuts, without a major defensive reinforcement.
I didn't know he was going to bolster his defence with a Carl Jenkinson when he said the defence was his priority this summer.
Remember the "tall and experienced" lies that Wenger dished out not so long ago. Excuse the pun but who is to say he hasn't been dishonest to himself so far?
Everyone from the board to the manager is inept. Now is the time for the real fans of Arsenal to stand up against the poor management, rapacious board and plain cheapness of the manager, who hides behind the veneer of frugality.
With the loss of Fabregas and the potential departure of Samir Nasri, the AKB faction really need to ask themselves: does Arsene know best?