Arsenal Transfer Rumors: Why Joey Barton Might Be Arsene Wenger's Next Signing
August 17, 2011
Shaun Botterill/Getty Images
If Neil Simon was to re-release his 1960s Broadway hit 'The Odd Couple' today, I couldn't think of two more likely co-stars than Arsene Wenger and Joey Barton. One is a visionary, soft-spoken, erudite, sixty-something French sophisticate. The other, a product of the Liverpool docklands, ever-likely to kick a teammate in the head or stub out a cigar in his eye. 
However, as we gaze out at the vast expanse of the soon-to-unfold 2011-12 football season, it appears ever-so-likely that these two polar opposites might soon be strange bedfellows.
At the very outset, I must admit that this does sound repulsive to me on a number of levels. And after last Saturday's shenanigans at St James's Park, even more so. Why would Arsenal, the best exponents of attractive, attacking, youth-inspired football, want to have anything to do with an almost 29-year-old veteran with serious anger management issues and a checkered history that includes a prison term?
I spent a long time thinking about 'Barton-to-Arsenal' after last Saturday's fixture against the Magpies. I watched a replay of the game and then some highlights. I listened to Wenger's interview, where he speaks specifically about Barton. I thought about Barton's personality. About his playing style. About the state of Arsenal's team: its strengths and its weaknesses.
And the more I churned these thoughts in my head, the more it made sense. Yes, it did. I can't believe I'm saying this, but 'Barton to Arsenal' made sense.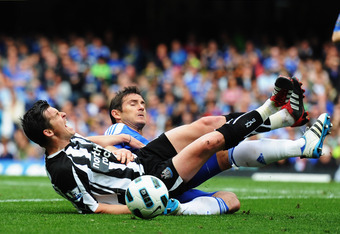 Michael Regan/Getty Images
Let's look at this from a few different angles.
The Player
Casting emotion (mostly anger) aside, one would assess Joey Barton as a combative defensive midfielder who reads the game well and is courageous and strong in the tackle. He is useful at the attacking end too, occasionally scoring and mostly setting up a number of goals. His set piece delivery is well above average, and last season in particular, he dovetailed extremely well with Andy Carroll and Kevin Nolan, both beneficiaries of his precise passing and crossing. As a leader, he appears to be a strong character, and even the most biased Arsenal fan will agree that he was the driving force behind Newcastle's resurgence in that 4-4 draw.
In 10 years at the top level, he has played only 210 games, but that is down to his injury record as well as the fact that it is difficult to play a football match if (a) you've been banned; or (b) you're in prison. He has only one England cap, but I am definite that this is down to various managers' focusing more on his off-field record than what he can bring to the team on the field. As recently as last week, Fabio Capello ruled out selecting Barton for England, calling him a "dangerous player" due to the perceived likelihood of him being sent off in games. Well, if my sources are accurate, Barton has received three red cards in 210 games.  Doesn't sound too "dangerous," does it?
The Rationale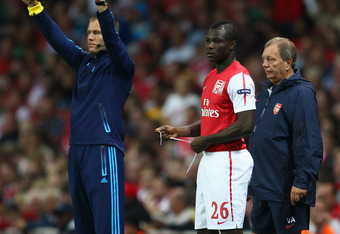 Julian Finney/Getty Images
Do Arsenal need Joey Barton?
Well that depends on what you think Arsenal need. If I was answering that question, I would say that among other things, Arsenal need an experienced, canny, aggressive, tough-as-nails defensive midfield leader who can also fit into Arsenal's style of attacking play. And like it or not, that's exactly what Joey Barton (the football player) is.
I thought about last night's game against Udinese. Wouldn't it have felt better to have brought on Barton for Rosicky rather than Frimpong for the Czech? And what of Liverpool this weekend, or Manchester United next? Do you fancy Frimpong starting both those games?
My mind also dwelt on two other Arsenal players, partially of the Wenger era.  Both legends.  And please, fellow Gooners, I am not comparing Barton to either, at an overall level.
Tony Adams, my all time sporting (not just football) hero - did he not have significant off-field issues? Did he not do time in prison?
Martin Keown. How I loved watching him play. But every non-Gooner I speak to hates him and likens him to a hooligan. That makes me love him more!!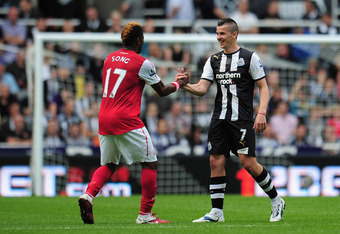 Shaun Botterill/Getty Images
And that's what clinched it for me. We hate Joey Barton because he doesn't play for us. Picture this, Gooners: Gareth Bale, gliding down the left for Spurs, has just nutmegged and breezed past two Arsenal players. WHAM!! Crunching tackle from Arsenal's Barton brings the move to an immediate end and leaves Bale feeling his ankle.
Or this: John Terry, that whingeing low-life is giving young Gunner Ryo Miyaichi a rough ride at Stamford Bridge, and faced by a partisan crowd, Howard Webb is saying nothing. Five minutes later, Joey Barton thunders into Terry, upending him, and then is in his face, telling him to pick on people his own size.
I'm lovin' it.
That's what Martin Keown did. He did it for us, so we loved him. When Barton does it for us, we'll love him too.
The Evidence
When did you last see an Arsenal team greeting and hugging an opposition player after the final whistle when that player was responsible for getting one of their teammates sent off? And another banned.
When did you last hear Arsene Wenger praise an opponent after such incidents? Wenger said that Barton had "courage" and called him a "great player." I don't know about you, but I was stunned. I am his biggest fan, but If there's one thing that Arsene Wenger isn't good at, it's losing graciously. I am almost tempted to believe that a deal has been done! Except that with Arsenal, especially in this transfer window, I will not believe anything till a week after it has happened!!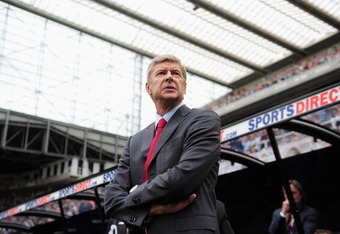 Shaun Botterill/Getty Images
The Conclusion
I haven't dwelt on one important point yet.  All said and done, Joey Barton is a problem child. He has major off-field issues. He is a trouble-maker. His behavior often borders on hooliganism. He has obviously had a troubled childhood, and as a result, some personality disorders.
On one hand, that is a concern. But on the other hand, Paul Merson didn't win any good conduct awards during his career.  And we loved the Merse!!
We can focus on his weaknesses and say 'no thanks, no room in here,' or we can look at the number of gaping holes he can fill in our team, ignore the very obvious negatives, and say, 'hop aboard, Joey.' You know which way I'm going.
And while there aren't too many managers around who have been able to get the best out of football's problem children, Arsene Wenger is one who has.
Oh, and did someone mention that he was available for free???