NFL Free Agents: 5 Reasons New Philadelphia Eagles Roster Will Gel in Preseason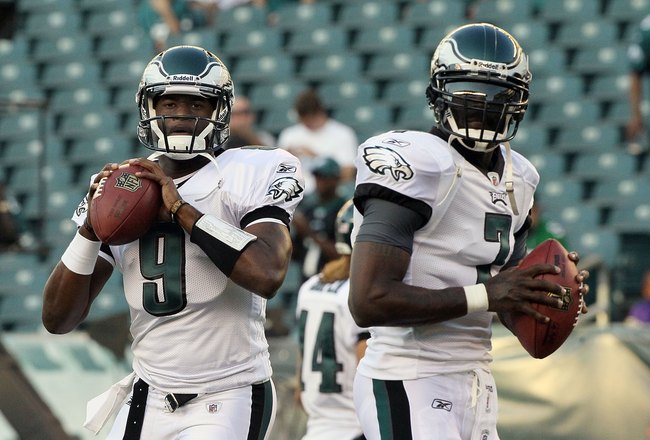 Jim McIsaac/Getty Images
The Philadelphia Eagles have truly amassed a dream team, with as much talent as any team in the National Football League. On paper, it truly is a "dream team," just as Vince Young suggests. However, the second half of that title is most important: "Team."
No matter how much talent a team has, it needs to cooperate and work together if it wants to make plays and succeed. Talent alone does not win, as shown by projects such as the Dallas Cowboys.
Unfortunately, the Eagles will be at a disadvantage here. They have less time to gel than they ever would with the lockout cutting into the normal training camp schedule. Afternoon practices have been reduced to walkthroughs to ensure that one is familiar with the play overall, rather than the details. And the Eagles have been without their star wideouts for much of the training camp—DeSean Jackson just reported on Saturday and Jeremy Maclin has yet to practice at all.
Things may look a bit disheartening, but Eagles fans should not despair and certainly not panic. Fortunately a great deal of training camp, as well as four preseason games, still exist and will be plenty for the Eagles roster to develop chemistry. And here are five reasons why…
Jason Babin Is an Ex-Eagle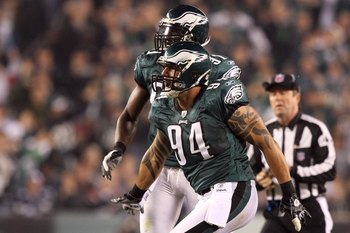 Al Bello/Getty Images
One of the most overlooked signings of the Eagles' incredible offseason has been the acquisition of Pro Bowler Jason Babin. While acquiring Cullen Jenkins was certainly important, Babin is the more crucial signing and can be argued to be the most important signing of the offseason.
For too long, Trent Cole was the lone pass rushing threat along the defensive line. While Mike Patterson and Brodrick Bunkley were reliable players, all who were plugged in opposite Cole at defensive end failed to live up to expectations. The Eagles defense is a defense that relies upon pressure to be effective, and with offense double- and triple-teaming Cole, another pass rushing threat was a must.
Babin was the man for the job. With 12.5 sacks Babin comes off a breakout season. Even if he fails to produce like he did in 2010, he will demand double coverage, and will at the very least free up space for Cole to operate and wreak havoc.
Defenses of course rely upon teamwork as much as any other position in football. The line must learn the system of how to attack and generate pressure and sacks as a team. Luckily, Jason Babin was an Eagle in 2009 before he signed with the Tennessee Titans.
While new defensive coordinator Juan Castillo is sure to change things, overall the system should remain largely the same, at least in areas such as terminology. The learning curve will therefore be reduced drastically for Jason Babin, and as he is a crucial part of this Eagles team, he will not require much time to gel with the rest of the team.
Jim Washburn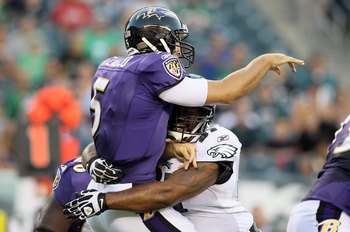 Jim McIsaac/Getty Images
Continuing with the defensive line, Babin, Cole, and Jenkins will have the help of one of the best d-line coaches in the game in Jim Washburn. If anyone can get the Eagles' line up to speed in time for the regular season, it's Washburn.
In Tennessee, Washburn helped mold the Titans into a team with a stout defense and a respectable pass rush every season. He should be able to do the same in Philadelphia, especially as he has such a plethora of talent to work with. They already possess innate pass rushing talent and may require less coaching than normal.
Even more so when one of his linemen is his former star defensive end, Jason Babin.
With Washburn running the show along the d-line, chemistry will not be a problem for the Eagles. Any preseason games will allow the Eagles to develop chemistry and gain even further experience.
Eagles Starters on Offense Are Little Changed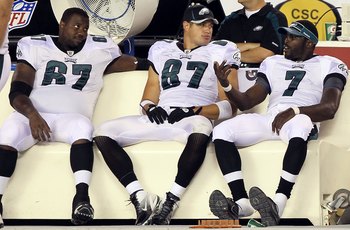 Jim McIsaac/Getty Images
While the offensive line has seen the addition of new talent, the rest of this Eagles roster has remained largely the same in terms of its offensive weapons. DeSean Jackson, Jeremy Maclin, Brent Celek, and LeSean McCoy are still Michael Vick's primary weapons in this explosive offense.
True, Jackson has missed a great deal of training camp and has only practiced a few times since ending his holdout, and Maclin has vanished due to his mysterious illness. But Vick had clearly developed a significant amount of rapport with the two speedy wideouts in 2010. How else would each have caught approximately 1,000 yards each? Practice is essential, but he will likely be able to get up to speed with them quickly.

The real trick will be if any were to miss significant time due to injury and the depth players—Jason Avant, Riley Cooper, Ronnie Brown—will be called into action. However, with a great deal of training camp remaining, combined with in-game experience from the preseason opener against the Ravens with only the backup wideouts to throw to, Vick has had and will continue to have plenty of time to get to know his other receivers.
He clearly is very much on the same page as Cooper already, as evidenced by his 40-yard pass over Ed Reed to him against Baltimore.

This Eagles offense is among the best in the league, and has already gained a great deal of chemistry from playing together in 2010. Little is likely to change in 2011, so long as the starters remain healthy and Vick gets his reps with the backups.
Howard Mudd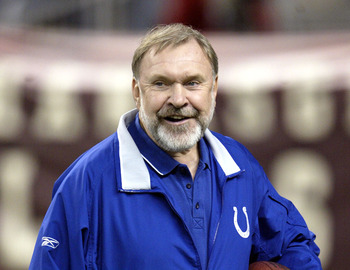 Tom Pidgeon/Getty Images
One concern on the Eagles offense is the acquisition of new talent along the offensive line in Danny Watkins and Ryan Harris. The o-line is a very important area for team chemistry. Teamwork is everything when it comes to protecting the quarterback, so the reduced training camp time can be worrisome for the Eagles.
However, the Eagles will be fine. Both Ryan Harris and Danny Watkins are smart young players with a ton of potential, and they have a legendary line coach in Howard Mudd—the man once responsible for protecting Peyton Manning.
With Mudd in the picture, the offensive line will get up to speed quickly and be able to protect Vick from the start of the 2011 season. And with three more preseason games left, the in-game experience will supply game tape, especially from the league's best defenses, such as the New York Jets, that can be used to further improve technique. Enough time remains for this area of the team to be where it needs by the start of the season.
Presence of Michael Vick
Jim McIsaac/Getty Images
Despite a coaching staff full of talent, leadership among players is just as important. There is no question that the leader of this football team is quarterback Michael Vick.
As long as Vick is running the show, this Eagles team will come together and cooperate to make plays.
Not only is Michael Vick a leader by example, but he holds players accountable for their mistakes. His competitive nature, combined with his playing style of sacrificing his body and trying to win at all costs, makes players want to win for him.
He alone cannot force team chemistry, but he can inspire those around him to perform at a higher level and to work harder to succeed. Progress can be made quickly with the presence of a clear leader on the team, and the most can be made out of the preseason from an evaluative perspective as a result.
Keep Reading

Philadelphia Eagles: Like this team?