2011 PGA Championship: Winner Keegan Bradley
August 16, 2011
Andrew Redington/Getty Images
Kathy Bissell
Sometimes a champion behaves in an endearing manner.  Keegan Bradley, like Rory McIlroy at the US Open, opened up his cell phone to take a picture of the assembled media at his post-victory press conference. He was happy and excited about the victory. Maybe it's a new trend. 
"It feels unbelievable," Bradley said, with a non-stop smile on his face. "It seems like a dream, and I'm afraid I'm going to wake up here in the next five minutes, and it's not going to be real."
You've probably heard some of Bradley's highlights already, that it was his first major championship, that his father is a PGA professional, like Davis Love III's, that his aunt is the famous LPGA golfer Pat Bradley, that he used to be a downhill skier, and that his caddie's nickname is Pepsi. 
If you paid attention, you saw that Bradley used a long putter and with the victory, he became the person to give that length club validity.
Before Bradley won, it looked for certain like he was going to lose.  This shot he hit into the water at the par-three 15th, bogeyed, and they followed that with two more.  He seemed to seal his fate and nearly handed the trophy to Bradley.  But as the crystal ball readers had been predicting all week, it's never over until the last four holes are played.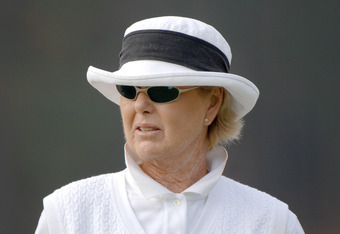 A. Messerschmidt/Getty Images
Jason Dufner managed to squeeze a par out of the 18th, and tied with Bradley, forcing a playoff.  Bradley had lost a five-shot lead. 
"I kept thinking about the playoff that I won at the Byron Nelson, and the same thing happened to me,." Bradley said.  "As soon as I realized I was going into a playoff, I completely calmed down. And I got to the tee on 16, it was the most calm I've been probably all week. And I don't know the reason why or what it was, but I was completely calm, and I absolutely striped it down that hole, which was fun."
He credited advice and encouragement from Phil Mickelson and Camilo Villegas as well as input from Dr. Bob Rotella as being important in his success.
Certainly, it makes his decision to give up skiing, a conclusion he reached when he was 12, seem like the right decision.  He actually made up his mind during an event in Vermont.
"It was a slalom at Killington," Bradley explained. "It was raining, cold, sleeting, and I'm at the top of this mountain going, 'This is not as much fun as golf. I love golf so much more.' "
However, Bradley believes his growing years, skiing in the winter and playing golf in the summer, are an advantage. 
"I think as a player and as a person, I didn't grow up like the kids in the south did. I mean, I had...I ski-raced in the wintertime," he explained. "I think it paid off now, because I actually...I haven't been playing as long as a 25-year-old from Florida has been playing. I've got a little more, I guess, not burned out."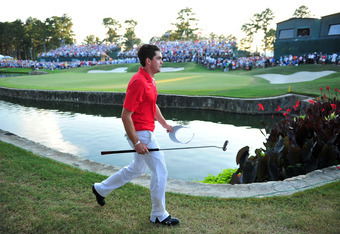 Stuart Franklin/Getty Images
He thinks it has kept him fresher, that his body is perhaps not as abused as someone who has beat balls 12 months a year for 12 to 15 years by the time they are 25.
Keegan Bradley's major victory, like that of Rory McIlroy, was his second victory on the US Tour. But that did not make it any easier. 
"I was just trying to stay upright, honestly," he admitted about his nervousness and shaking hands due to adrenaline. "I was just trying to enjoy it, and look into the crowd and see everybody that's there. Pepsi ( his caddie) told me in the playoff when we were walking up 18, 'Just enjoy this moment. Walk up 18 and enjoy it.'  I tried, but I was so nervous that I didn't really. Honestly, I was just trying not to fall on my face." 
As any golfer who wins their first major championship will say, life seems to change in a minute, no matter how long it took for that minute to arrive.
Two and a half years ago, Bradley was on the Hooters Tour, just trying to survive. 
"It's amazing what comes with winning a PGA Tour event," he said. "I have no idea with what comes with winning a major right now."
About the putter, he said, "I'm very, very proud to be the first belly putter to win a major."  That drew a laugh from the press corps.  
When he first made the change, people told him no one had ever won a major with one.  
"I remember looking at them and going, 'I'm going to be the first one to win a major,' just joking pretty much. It's a surreal thing that it's true," he concluded sitting beside the trophy.
Kathy Bissell is a Golf Writer for Bleacher Report. Unless otherwise noted, all quotes were obtained first-hand or from official interview materials from the USGA, PGA Tour or PGA of America.