Winnipeg Jets 2011-12 Predictions: Jets Goaltending
August 16, 2011
Richard Wolowicz/Getty Images
Every good hockey critic, fan, GM, and coach knows that for an NHL team to be successful long term, goaltending is a must have item on their list.

Starting Goalie: Ondrej Pavelec
Jets GM Kevin Chevldayoff is no stranger to this notion nor is he a stranger to current Jets goalie Ondrej Pavelec.
During the 2007-08 Calder Cup Playoffs, Pavelec was the goalie that lead the Chicago Wolves, then managed by Cheveldayoff, to a Calder Cup championship, the second for Cheveldayoff in his AHL career.
Pavelec was stellar that season with a 33-16-3 record to go with a 2.77 goals against average and a .911 save percentage. He led the Wolves to the Calder Cup only losing eight games along the way.
Two seasons after, Pavelec, who was taken 41st overall in the 2005 NHL Entry Draft, was thrust into the starting position after the departure of former starter Kari Lehtonen to Dallas.
Pavelec went 14-18-7 with a 3.29 goals against average and a .906 save percentage in 2009-10. He followed that up last season with a 21-23-9 record, in addition to a 2.73 goals against average and a .914 save percentage, despite missing games due to a freak concussion incident at the beginning of the season in which he passed out on the ice.

Backup Goalie: Chris Mason
Looking at both Pavelec and other Jet goalie Chris Mason, it seems as though Pavelec is the young starter and Mason the older statesman and mentor.
Mason, a former Nashville Predator and starter for the St. Louis Blues, went 13-13-3 with a less than stellar 3.39 goals against average and a .892 save percentage as the backup. That compared to his numbers a year ago in St. Louis where he was 30-22-8 with a 2.53 goals against average and a .913 save percentage.
Third String: Peter Mannino
At the third spot is journeyman Peter Mannino, who allowed five goals in 73 minutes of relief time last season. Mannino spent much of last season and the season before with the Chicago Wolves, posting 42 wins in 80 games.
The sub-par numbers for both Pavelec and Mason may be the result of a bad situation in Atlanta, be it due to coaching or organizational issues. The fact of the matter remains that both have to be much better moving forward.
Pavelec has shown steady improvement over the last two seasons, with his wins total creeping over 20 and his goals against average and save percentage numbers dropping. If Mason can regain his play from his last few years in St. Louis, he could push Pavelec to be better and have a duel in net.
Next In Line:
Edward Pasquale, 20, was the 117th overall pick in the 2009 NHL Entry Draft selected by the Thrashers and split his first professional season between the ECHL's Gwinnett Gladiators and the AHL's Chicago Wolves. Pasquale had a successful junior career in the OHL with the Saginaw Spirit, posting 32 and 27 win seasons in his final two seasons. He went 11-11-4 with a 2.93 goals against average and a .900 save percentage with the Wolves last season.

Jason Kasdorf, 19, spent the last two seasons with the Portage Terriers of the Manitoba Junior Hockey League, going 19-10-5 with a 2.58 goals against average and a .911 save percentage in 2009-10. He posted a 24-9-1 record with a 2.53 goals against average and a .912 save percentage last year en route to the MJHL title. Kasdorf was taken in the sixth routh, 157th overall by his hometown team in 2011 NHL Entry Draft and is now on his way to the USHL. If all goes well in the USHL this season, Kasdorf may be on his way to play for RPI.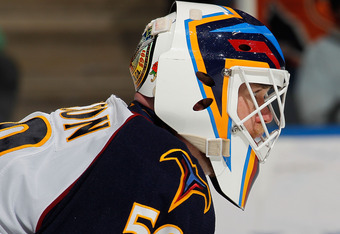 Paul Bereswill/Getty Images