Chris Paul Will Leave the New Orleans Hornets in 2012
August 16, 2011
Kevork Djansezian/Getty Images
Chris Paul is an elite player in the NBA, and I have been stated on the record that he is the best point guard in the league.
We all saw him put the Hornets on his back against the Lakers in the playoffs while averaging 22 points, 12 assists, 7 rebounds and 2 steals per game. Paul gave his team a fighting shot against Kobe Bryant's team without their second best player, David West.
So who else was there to help out Paul with West injured? Emeka Okafor, Carl Landry, Trevor Ariza, Marco Belinelli. Oh yeah, and Jarrett Jack.
You get my point, right?
Without Paul, this is a terrible team.
With Paul, they at least have a chance to compete with the league's best, even if they don't have their second best player. CP3 is just that special of a player and competitor.
I am not a Hornets fan, but I'm sure that New Orleans fans have loved watching Paul over the years and can't thank him enough for his contributions to the team and the city.
And we all know his contract situation. He will be a free agent in 2012, along with fellow superstars Dwight Howard and Deron Williams.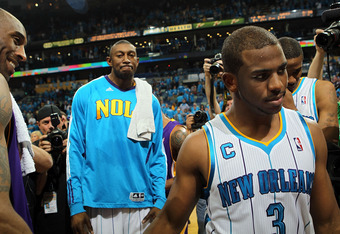 Ronald Martinez/Getty Images
So what's in store for the game's best point guard?
Sorry, Hornets fans, but it looks like CP3 will be leaving for greener pastures.
What does New Orleans have to offer Paul in the long term?
Well, certainly they have the home town advantage. Paul could have the opportunity to play his entire career with the same team, if that interests him. Maybe he could recruit other players to join him the way Dwayne Wade did.
Similarly to the Cleveland Cavaliers, the Hornets have struggled to put a championship caliber team around their star player. David West is a nice piece, but after that, there is not much.
And when there are many of teams that have plenty to offer CP3 for his services, it's hard to believe that the Hornets can keep Paul.
The Knicks could have quite the roster with Amar'e Stoudemire, Carmelo Anthony and Chris Paul.
He could be the main man with the Los Angeles Lakers and have a great shot at multiple championships.
Or he could just team up with Dwight Howard somewhere else and be a part of the best point guard/center combination in the league.
But it seems as if Chris Paul's time left in New Orleans is limited. Lots of teams will be fighting to sign CP3, and New Orleans just doesn't seem to have much of an advantage.
All that being said, I don't know what Chris Paul will do. The only person that knows that is CP3 himself.
Follow me on Twitter @JrMarkyMark