Jets vs. Texans Monday Night Preseason: Live Reaction to Game's Biggest Stories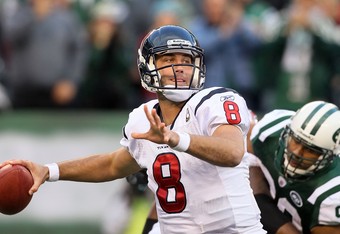 Jim McIsaac/Getty Images
Tonight is the 2011 debut of Monday Night Football featuring the New York Jets against the Houston Texans.
This week one preseason contest is a rematch of the thrilling, come-from-behind 2010 regular season game that was won by the Jets on a touchdown pass from Mark Sanchez to Santonio Holmes.
Both teams enter the 2011 season with notable questions. For the Jets, Rex Ryan has yet again promised a Super Bowl victory, which would require a third straight AFC championship game appearance.
The defense has been championship caliber, but Sanchez must show he can command the offense at a world champion caliber.
As for the Texans, the previously mentioned contest against New York was very indicative of the entire season. A very good offense put the team in position to win but the defense allowed a scoring drive with less than two minutes in the game.
Newly hired defensive coordinator Wade Phillips must show that he can turn around his squad quickly in order for the Texans to make their first ever postseason appearance.
The game, which will be televised on ESPN, has the makings of a terrific battle between different philosophies. Rex Ryan brings his swagger and dominant defense to Houston to face Gary Kubiak's understated personality and prolific offense.
Coverage starts at 8 p.m. EST. Check back here regularly for analysis on all developments as they happen.
Thank you all for joining us tonight. Week 1 is now in the books as the Texans prevented a late-game comeback by the Jets to win 20-16. Next week the Texans will face the New Orleans Saints at home, while the Jets will host the Cincinnati Bengals at the New Meadowlands Stadium.
This article is
What is the duplicate article?
Why is this article offensive?
Where is this article plagiarized from?
Why is this article poorly edited?
On a 1st and 10 in the third quarter, Matt Leinart dropped back with the hopes of getting the ball downfield, but on the other side of his offensive line was Jets rookie Kenrick Ellis who had another idea in mind. While being occupied by an offensive lineman, Ellis threw his hands up in hopes of getting a piece of the ball, which is exactly what he accomplished.
Luckily for the Jets and Josh Mauga, Ellis' tip went high enough that Mauga had enough time to cut back and intercept his pass. The two have stood out all game, whether it is getting into the backfield and sacking Matt Schaub or interrupting running plays.
These two have been playing relentlessly throughout the game, proving that they belong in New York. Not only have they proven that they belong in New York, they are making quality cases that they could start for this Jets defense. Unless David Harris or Bart Scott suffer injuries, Mauga will not start as the Jets have made it clear that those two will start all season, but Mauga may have a big third down role when Rex Ryan chooses to blitz.
As for Ellis, if he continues this level of production, he could see a good amount of playing time on the defensive line. The Jets named Sione Pouha as their captain and starting nose tackle, but Ellis who was considered to be a first round pick at one point (until his off the field issues caught up with him, making him a third round pick), continues to shine in his preseason debut.
This article is
What is the duplicate article?
Why is this article offensive?
Where is this article plagiarized from?
Why is this article poorly edited?
For the Jets, the first half of tonight's game has done nothing but bring up more questions about their team. Aside from the fact that their starting defense did a good job of holding the Texans offense, there has not been much to cheer about. Even though it has been a dreary first half for the Jets, there are two players that stands out from the rest.
Those players are this year's training camp superstar for the Jets Ropati Pitoitua and Josh Mauga. Pitoitua, the 6-foot-8 315 pound defensive end has not been a disappointment during tonight's game against the Texans as his presence has definitely been felt when the Texans run the ball up the middle. He gets off blocks well and while he does not always make the tackle, running backs have been trying to avoid him, running right into other defenders. Pitoitua is a giant defensive end that plays best when he is healthy and plays low. Last year, he suffered an Achilles injury during the preseason that ended his rookie season, but if he stays healthy and continues to stay low when rushing, he could steal the starting job from rookie Muhammad Wilkerson.
Meanwhile, Josh Mauga impressed on his first play by sacking Matt Schaub for a loss of 13 yards, setting up a punt to Jeremy Kerley and putting the ball in the Jets hands for the first time tonight. Mauga also had another tackle in the backfield early in the second quarter. Mauga is entering his third year as a backup; the explosiveness he displayed early in the game and his ability to find the ball carrier is definitely something that Rex Ryan and defensive coordinator Mike Pettine will take a look at when they need someone for their exotic blitzes.
The Jets will be looking to both of these players down the line, they may be seeing the field as starters as soon as September 11th or in the coming years. Stay tuned for more analysis and developments during the second half.
This article is
What is the duplicate article?
Why is this article offensive?
Where is this article plagiarized from?
Why is this article poorly edited?
The end of the first quarter was also the end Matt Schaub's night for the Houston Texans. It was a lackluster night for Schaub who went 2/5 for 20 yards passing. The story thus far though, has been the defensive squad.
The Texans fans know what they have in the offense. The only starter from the prolific offense that did not return to the team is All Pro fullback Vonta Leach, who went to the Baltimore Ravens. Despite that loss, I don't think many people are extremely worried about the offensive prowess this season.
The questions revolved around the defense, and so far Wade Phillips' boys have answered the call. The starters are in the process of filtering out of the game to make way for the second string players and their performance was noteworthy, especially considering the anticipation of fans to see them.
The first question was whether the Texans defense could apply pressure to the opposing quarterback. While outside linebacker Mario Williams was largely ineffective, the defense tallied three sacks; one by Xavier Adibi, one by Jesse Nading and another split sack between Earl Mitchell and first rounder JJ Watt.
Adibi is having a great night in substitution for the injured Brian Cushing. Besides the previously mentioned sack, Adibi also shot the gap for a tackle for a loss that was negated by a Jets penalty. Nading's sack also forced a fumble that the Texans recovered.
It is a preseason game, so this isn't reason to go buy tickets for the playoffs just yet. For a fan base that is used to seeing a vanilla defense that was akin to death by 1000 paper cuts, seeing the creativity and pressure produced by scheme is beautiful.
This article is
What is the duplicate article?
Why is this article offensive?
Where is this article plagiarized from?
Why is this article poorly edited?
On defense, the Jets have had no problem stopping the Texans run game. In the first two drives, the Jets held the Texans to 13 yards rushing and 11 receiving yards. During these two drives, the Jets have been able to pressure the Texans a lot more with their linebackers and defensive lineman. What has been allowing the Jets to do so is the Texans offensive scheme tonight, which has been loading up the line with tight ends.
Because the Jets have two great cornerbacks in Darrelle Revis and Antonio Cromartie, they did not have much to worry about when it came to the passing game. Towards the end of the first quarter, Matt Schaub began to expose the Jets second year cornerback Kyle Wilson who did not play too well but got lucky when the receivers he was covering dropped passes.
Meanwhile, Mark Sanchez and the offense did a good job of moving the ball with quick drop passes and quality runs. One of the key plays in the Jets playbook last year was having their wide outs run slants, the Jets brought the play back and Sanchez dumped the ball off to Santonio Holmes for a first down.
In the few plays Derrick Mason was involved in, he looked like he was a good acquisition by the Jets after all. He and Sanchez linked up for a screen pass that went for a medium gain and a few comeback routes. His speed does not seem to be an issue and as long as he stays healthy, Mason will turn out to be a good replacement for Jericho Cotchery.
For a preseason game after a 136 day lockout, the Jets starters looked pretty good. Their offensive line is facing some struggles but other than that the offense is on the up and up. It comes as no surprise that the defense was in lock-down mode from the first snap as they have been ranked third or better in the NFL since 2009. They were able to keep the Texans out of the red zone as their only points came from a 49 yard field goal early in the second quarter. Stay tuned for more analysis and developments as the game goes on.
This article is
What is the duplicate article?
Why is this article offensive?
Where is this article plagiarized from?
Why is this article poorly edited?
On their second offensive drive, the Jets' backup center Robert Turner suffered a leg injury after having a Houston Texan land on him after Mark Sanchez was sacked.
For the last few years, Robert Turner has been the Jets offensive line utility man as he has played everywhere on the line, whether it is tackle, guard or center. This loss makes an even larger impact since Turner is the Jets second string running back and started the game because starting center Nick Mangold is at home with an injury from a stinger that he suffered during training camp last week.
Third string center Robby Felix did not look like a second year player when he entered for his first play, as he pushed forward to help make a lane for Jets running back Shonn Greene as he broke for the outside for a short gain.
There has been no news regarding Turner's injury, but if it is serious enough that he cannot return, Felix will be expected to play the rest of the game, unless he suffers a serious injury.
This article is
What is the duplicate article?
Why is this article offensive?
Where is this article plagiarized from?
Why is this article poorly edited?
The most dangerous job in America might be running back for the Houston Texans. 2010 Pro Bowler Arian Foster, Ben Tate and Steve Slaton were already held out of Monday's game against the New York Jets, and now Derrick Ward has been taken to the locker room for an undisclosed injury.
Ward was the third down back last year in lieu of Ben Tate who spent his entire rookie season on injured reserve after breaking his ankle in his first preseason game last season. Ward performed surprisingly well with a 6.3 yards per carry given his release from Tampa Bay just prior to signing with the Texans.
Ward performed so well that general manager Rick Smith gave him a new deal just prior to the lockout in March. Ward looked to be the incumbent third down back, unless Tate could supplant him with a very good performance in camp. Between the two of them and Steve Slaton, running back seemed to be a position of strength.
Now running back is a serious concern. The injury to Ward did not look serious as he walked under his own power to the locker room with no noticeable limp or grimace on his face, but the fact remains that the Texans now have two healthy running backs remaining for this game; Chris Ogbonnaya and Javarris Williams.
Ogbonnaya has received raved reviews in training camp so far, and he will now have plenty of reps to prove himself in the game. Williams was signed specifically in response to the previously mentioned injuries, and he also now as a great opportunity himself to showcase himself for the Texans or another team.
This article is
What is the duplicate article?
Why is this article offensive?
Where is this article plagiarized from?
Why is this article poorly edited?
After a breath taking moment on defense when Bart Scott limped off the field with a leg injury, backup Josh Mauga entered the game and made sure the Jets defense did not miss a beat. He followed Scott's injury with a 13-yard sack on Texans quarterback Matt Schaub.
Following the blitz, the Texans punted to Jets rookie Jeremy Kerley who could not find a line and was brought down shortly.
On offense, the Jets continued their red-zone woes as Sanchez and company drove down the field with passes to Santonio Holmes and Derrick Mason, and a couple of strong runs by third year veteran Shonn Greene. Their drive ended with the Texans getting a sack of their own and Jets kicker Nick Folk knocking in a 33 yard field goal.
Bart Scott's injury does not look too serious as he re-entered the game when the Jets defense took the field for the second time tonight. Although Mauga will not see the field for another quarter, it is great for the Jets that he is explosive and if he continues this kind of play, should be a quality linebacker down the line.
The sack on Sanchez was a result of holding the ball too long; with the loss of Nick Mangold (center) and Brandon Moore (right guard) the offensive line is looking shaky; it will be interesting to see how they hold up without these two key players.
This article is
What is the duplicate article?
Why is this article offensive?
Where is this article plagiarized from?
Why is this article poorly edited?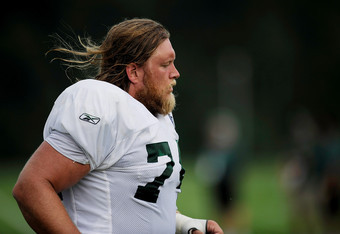 Entering their first preseason game, the Jets have some key injuries to their offense that will change up how they go about tonight's game.
From the offensive line, center Nick Mangold and since he suffered a stinger during the Jets first goal line drill this season. His shoulder/neck injury is of concern to the Jets and they do not want to risk any further injury. While Mangold has gotten some practice in, right guard Brandon Moore just came off the physically-unable-to-perform list on Tuesday after getting hip surgery at the end of the 2010 season and has not practiced yet.
The next player is Mark Sanchez's backup, Mark Brunell. During Saturday's practice, Brunell injured his pinky finger on his throwing hand, keeping him from playing tonight.
The last player that will sit out tonight has had the most attention geared toward him this offseason and preseason, and that is wide receiver Plaxico Burress. In his first few days of practice, Burress tweaked his ankle, which an MRI has revealed to be a sprain.
With Mangold and Moore out, five year veteran Robert Turner will play center and second year up and comer Vladimir Ducasse will play right guard. At quarterback, rookie Greg McElroy will see the majority of snaps tonight once Sanchez exits the game (most likely after the first quarter) now that he is the number two quarterback on the team. The Jets most recent acquisition Derrick Mason will likely replace Plaxico tonight as the number two receiver.
While Mark Sanchez plays tonight, expect a lot more running than passing, with the two key losses on the offensive line, protection will be a question mark and the Jets are not looking to lose their franchise quarterback during the first week of preseason. When they do run, the majority will be towards the left as that will be the strong during tonight's game.
These injuries will definitely make an impact on the Jets offensive play calling and how they flow as a unit, it will be interesting to see how Rex Ryan and company adjust to these changes. Continue to check back here regularly for analysis on all developments as they happen.
This article is
What is the duplicate article?
Why is this article offensive?
Where is this article plagiarized from?
Why is this article poorly edited?

Houston Texans: Like this team?