EPL Preview: Will Lack of Summer Spending Doom Tottenham?
August 18, 2011
Michael Steele/Getty Images
Tottenham Hotspur had a quiet transfer window when it came to acquisitions, but when it came to rumors, they were in abundance.
Whether it was the debate to let go of Luka Modric and Rafael Van der Vaart or the recent rumors of acquiring Emmanuel Adebayor from Manchester City on loan, Tottenham's moves have been followed closely in the news.
Tottenham had a disappointing season last year, finishing fifth in the English Premier League and failing to qualify for the Champions League for the second straight season. Instead, they qualified for the Europa League. This will require Tottenham to show their depth—or lack of—again this season.
Tottenham competing in the Europa League is a waste of the club's time. The only benefit is the small monetary compensation the club receives for qualifying and participating in the tournament—small compared to the Champions League.
In a competition where England is represented by Birmingham City (who were relegated), Stoke City, Fulham and Tottenham, I don't see the benefit of wasting players' energy competing in this tournament.
Last season, Tottenham struggled with the amount of games they played. In the Champions League, Tottenham were a surprise team to beat Inter Milan, win the group and defeat AC Milan in Round 16 before losing to Real Madrid in the quarterfinals. They played a lot of games against Europe's finest, but were unable to put on the same show in the EPL.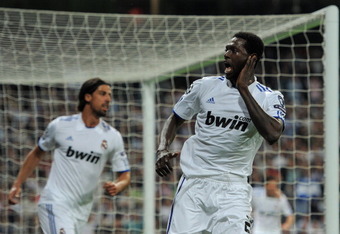 Jasper Juinen/Getty Images
The extra games exposed Tottenham's lack of depth, particularly on the back-line, where injuries plagued them as well. They gave up 46 goals in 38 games in the EPL last season, which was more than any other team to finish in the top five and more than Liverpool who finished in sixth.
William Gallas turned out to be a good signing by Harry Redknapp. He was the best defender for the Spurs at times last season.
Michael Dawson was hurt last season. Getting him back for this season may help Tottenham along the back line, but it is definitely still an area that needs improvement.
Tottenham are also missing a player who can consistently put the ball in the net. The midfield is very creative with Bale and Modric playing, but with no one up top, Tottenham will struggle.
Speaking of the midfield, Luka Modric will not be on top form this year. Modric does not want to be at Tottenham and Spurs are refusing to sell him, even though Chelsea has continuously bid for him. Modric will have little motivation to play, it's just human nature. Yes, even soccer players are human.
Obtaining Adebayor from Manchester City would be helpful to Tottenham, giving them a threat up top. Even Craig Bellamy would help.
Harry Redknapp has been known to do well at re-investing money into his team by selling other players. For example, after taking over Spurs he sold Darren Bent and Didier Zokora for 17.75 million euro. He then went out and bought Peter Crouch, Niko Kranjcer and Sebastian Bassong for 19 million euro. These moves made Tottenham deeper, even though Kranjcer rarely plays.
If the chairman of Spurs, Daniel Levy, allowed Modric to be sold to Chelsea, Redknapp could have re-invested that money to make the Spurs a deeper team. This would allow them to be more competitive in the EPL, Europa League and domestic cups.
Tottenham needed to make a splash this summer in order to improve upon last year's squad. Tottenham needs to prove that qualifying for the Champions League in 2009-10 was not a fluke and that they should now be considered a major player in the EPL.
That splash has not come yet. However, Harry Redknapp has a reputation of buying players as the transfer window is about to close, like he did last year with Rafael Van der Vaart. Fans can still have hope that Redknapp may make the splash, just a late one.
Most experts, including those on ESPN and the SKY Sports Show Sunday Supplement, have Tottenham finishing in sixth place, which would not qualify them for the Champions League.
When Tottenham is put up against the likes of Chelsea, Manchester City and Manchester United (as we will see this Monday), they are clearly out-classed. If Tottenham are to be known as a top four team in the EPL then they have to make moves in the transfer market, something they have failed to do thus far.
Tottenham's starters do not scare anyone. Last season, Spurs took 11 of a possible 30 points from the bottom five EPL teams. Dominant teams beat up on the bottom feeders and Tottenham will continue to struggle without depth.
Tottenham need to have a starting XI that are rested and can be relied upon for EPL matches. Without depth and the Europa League to play in, their depth will fail them.
Does Tottenham need a superstar in order to compete? No, they do not, rather they should focus on bringing in two or three players to help bolster the depth of the team. These players will make Tottenham more competitive by covering more holes in their back-line and forward positions if Tottenham choose the players correctly.
When push comes to shove, Tottenham didn't change the squad dramatically. They did not buy or sell any major pieces besides from Brad Friedel. No fan should be happy with this considering they did not finish in the top four last season.
Do Tottenham have a chance to finish in the top four? Yes, but with their squad as it is now they are going to need some luck.
If they don't get this luck, Spurs fans can look back at the lack of spending in this transfer window and point it out as the reason the Spurs' chances at Champions League are doomed.
Thanks for the read and feel free to comment. I want to know what you think about the Spurs' chances of Champions League play.
Follow me on the twitter- http://twitter.com/#!/RobertDemmett