Chris Johnson Should Still Be a Top Fantasy Football Pick Regardless of Holdout
August 15, 2011
Andy Lyons/Getty Images
Tennessee Titans' running back Chris Johnson is holding out of training camp until he gets a new contract.
It looks like he'll miss this week's preseason game too, after already missing the first week of the preseason.
He clearly means business, and the Titans should be listening to him. He's been vastly outperforming his rookie contract ever since he stepped foot on an NFL field.
And while he's not on the field, he'll be losing his reps to guys like Javon Ringer and Jamie Harper, neither of whom are threats to take his starting job.
The fact of the matter is that the Titans need to sign Johnson and get him ready for the regular season.
His backups aren't going to run for 2,000 yards and score more than 10 touchdowns.
Therefore, the Titans absolutely need Johnson. If they don't have him for the 2011 season, they won't win very many games.
So I'm betting the Titans don't take the field in Week 1 without Johnson.
In terms of fantasy, Johnson should be fine.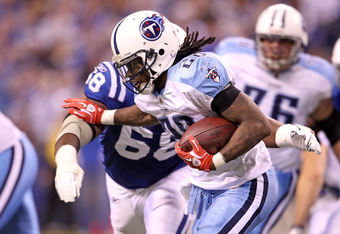 Andy Lyons/Getty Images
He should get everything sorted out before the season and be on the field for all 16 games, barring injury.
So, if you don't pick CJ2K in the top three of your fantasy football draft, you are going to regret it.
Let me summarize what kind of running back Johnson has been since entering the NFL in 2008:
2008: 251 carries, 1,228 yards, nine touchdowns
2009: 358 carries, 2,006 yards, 14 touchdowns
2010: 316 carries, 1,364 yards, 11 touchdowns
Even if he misses two or three weeks of the regular season, he's still a lock to eclipse the 1,000-yard mark in 2011.
Here's how the top five running backs should shape up in your fantasy football draft:
Arian Foster
Jamaal Charles
Chris Johnson
Steven Jackson
Johnson takes only a slight hit in the rankings because he might not be in peak condition by Week 1, but he'll round into form shortly thereafter.
Plus, Matt Hasselbeck is the starting QB in Tennessee this season, not Vince Young, Kerry Collins or Rusty Smith.
The extra consistency at that position will make it harder for defenses to stack the box against CJ2K.
Draft him and it will be 100-yard games aplenty and a lot of touchdowns. He's the kind of fantasy running back that can carry your team by himself.
So don't be scared away because of a holdout that should get solved sometime in the near future.