Montreal Canadiens: Adding Blueline Depth, What Are Team's Plans on Defense?
August 15, 2011
Jamie Sabau/Getty Images
As most of you know, the Montreal Canadiens announced the signing of defenseman Jeff Woywitka to a one-year, two-way contract earlier today. When I first heard the news, I wasn't quite sure what to make of it.
I've been hoping that Pierre Gauthier would address the issue of a bottom-line forward for quite some time now. Lars Eller will be shelved for the beginning of the season as he recovers from shoulder surgery.
I thought, as I've mentioned many times now, that with all the money that the general manager has shrewdly saved, he could spare a few coins on either a centreman (ideal) or winger (acceptable) to solidify the fourth line.
Instead, Gauthier opted to sign a depth defenseman who is nearly 28 years old. Last year with the Dallas Stars, Woywitka played 63 games and was a healthy scratch for the other 19.
I asked Brandon Worley (@brandonworley) of DefendingBigD.com, a blog that covers the Stars, to describe Woywitka on Twitter:
"He's a big guy, who isn't physical. Plays his best in limited minutes. He's easily knocked off puck, makes mistakes if pressured."
In other words: the more he plays, the worse he gets.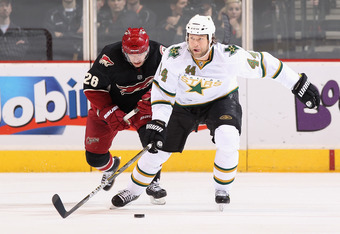 Christian Petersen/Getty Images
You'd think that management would want to keep a guy like that in Hamilton, as far away from the Bell Centre as possible.
In all likelihood, he will play in the AHL.
But you have to wonder if the reason he was signed to the deal is so a more promising defenseman can make his way up to the big club.
Brendon Nash put up an impressive rookie campaign with the Bulldogs last season, registering 30 points in 75 games. At 6'3", the Canadiens hope he can play physically and chip in offensively.
The 24-year-old was called up to the Habs for two games last season—just enough to get a taste.
Rafael Diaz was signed earlier this offseason as well. The Swiss rear guard has tremendous offensive upside. He scored 12 goals and a total of 39 points in 45 games for Zug in the Swiss A League. Granted he wasn't playing in the NHL, but he's still a promising player.
With little room on the defensive corps as it is, where would this leave Yannick Weber?
As bad as Jaroslav Spacek looked last season, as a veteran (being payed quite a lot of money, I might add), in all likelihood, he won't be benched.
Alexei Emelin worked out a clause in his contract that prohibits the team from sending him down to Hamilton. He is being relied on heavily to perform in the NHL and I suspect that with a mentor like Andrei Markov, he shall succeed.
We've already seen Weber play as a forward, but I'd rather the team abandoned the hybrid strategy and properly develop the young man in his natural position. I'm sure he wants the same, as did a former Canadien and countryman of Weber's who shall remain nameless.
It looks as if Weber may have no choice but to be relegated to fourth-line forward duties and quarterbacking the second wave of the Habs power play, unless there is a trade in the works.
That is something that I continue to doubt, though.
Follow Jason on Twitter: @jhytel