Aaron Maybin Joins the List of First-Round NFL Draft Busts
August 15, 2011
Rick Stewart/Getty Images
The Aaron Maybin era has ended in Buffalo.
Sure, he got the job done in college.  He was an All-American and All-Big Ten selection in 2008—his redshirt sophomore season—after registering 30 tackles (20 for a loss) and 12 sacks.  Believing that his two full seasons of play was enough to get him to the next level, the former Penn State Nittany Lion declared for draft eligibility in January 2009.  
For a Buffalo Bills organization looking for a legitimate pass rush, since Bruce Smith terrorized opposing quarterbacks, Maybin was a can't-miss prospect.  CBSSports.com called him "the best pure speed pass rusher available" in the 2009 NFL draft.
So the Bills took him with the 11th overall pick.  Good decision, right?
Not quite.
In his rookie season, he registered 18 tackles (11 solo), one forced fumble and no sacks.  Not the numbers you'd expect from a player who just signed a five-year, $17.6 million contract—a contract he held out for, leading him to miss all of training camp.  Not a good way to start your rookie campaign.
Fast forward to 2010.  Things didn't start too well for Maybin. Granted, he was in training camp, but he didn't do much more than his hard hit on RB Fred Jackson during a practice, setting off a brawl among some of the players.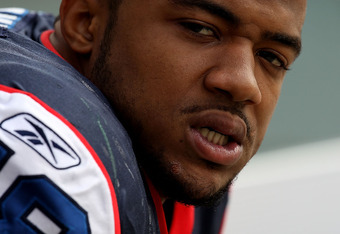 Jonathan Daniel/Getty Images
After starting the season with just five tackles (and zero-tackle games in Week 2, Week 4 and Week 5), Maybin was benched.  He called it "definitely the most frustrating thing I've experienced" since coming to Buffalo.
No doubt the front office was feeling frustrated—the fans certainly were.  
The word "bust" started to be thrown around a little more after Maybin's benching. It certainly got a lot louder when Maybin, activated before Week 12's game against the Steelers, failed to even record a single tackle the rest of the year.
The end of the road began to become visible in March, when coach Chan Gailey called Maybin out and basically said that he wasn't playing up to his potential.  Then came April, when the Bills selected Alabama's Marcell Dareus with their third pick—and one preseason game was all it took to show Maybin's time was up.
The Bills released Maybin on Monday, putting an end to an inconspicuous two years with the team.  What remains to be seen is if a change of scenery will help him get back on the right track.  But, if he is to resurrect his career, he'll have to work even harder at it.  
After two years in the league, his time may already be running out.