NHL Blockbuster Deals That Are Turning Teams into Contenders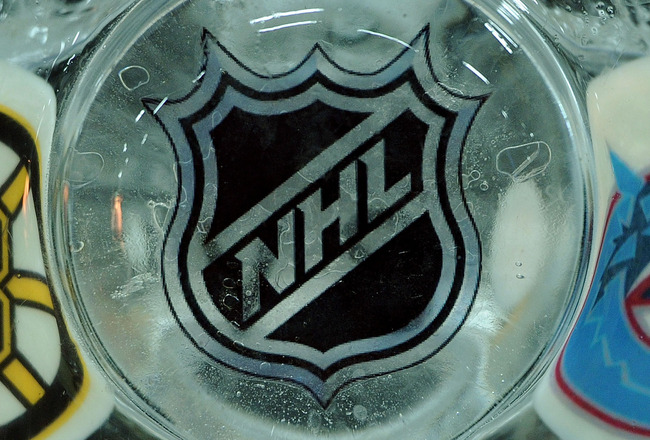 Harry How/Getty Images
With the 2011 NHL season approaching fast, teams are looking to boost their roster for a chance at making it to the Stanley Cup Finals.
This article is going to look at five teams that have undergone major changes to their rosters, which will hopefully lead them to success and make for a very interesting season.
The Minnesota Wild have added new players to both their defense and offense and look to make a run for Lord Stanley this season after many disappointing failures to make the playoffs.
Looking to boost their defense, the San Jose Sharks have made some roster changes that should allow them to make the final push they need to get to the Cup.
The Los Angeles Kings look to boost their second line, giving Anze Kopitar more relief as well as a possible MVP season.
The Philadelphia Flyers have a whole new offense that should put them in a good position to repeat as Atlantic Division champions once again.
Lastly, the Washington Capitals have finally filled all the holes on the team by assembling a very strong group that should be able to make the push that they have been yearning for into the Stanley Cup Finals.
Minnesota Wild
Dany Heatley
Ezra Shaw/Getty Images
The Minnesota Wild have undergone a massive restructuring of their organization. For starters, they released Head Coach Todd Richards after failing to make the playoffs after being in contention for two years.
The Wild brought up Head Coach Mike Yeo from the team's AHL-affiliate Houston Aero's to take over for Richards. Yeo has had success at every level he has coached at and is going to need success at this level if he wants to keep his job in the State of Hockey.
Coming in last in the NHL for shots per game with a dismal 26.2, it is clear that the Wild need to score more goals if they want to win. The Wild think that they have the answer for this problem.
The Wild traded defenseman Brent Burns and a second-round pick to the San Jose Sharks for forward Devin Setoguchi, prospect Charlie Coyle and a first-round pick.
Last season, Setoguchi had 22 goals, 19 assists and 41 points for the Sharks. The Wild also swapped Martin Havlat for San Jose sniper Dany Heatley. Heatley had 26 goals, 38 assists and 64 points for the Sharks last season.
The Wild need scorers. By swapping Havlat for Heatley, they hope to find one. Heatley's 26 goals were more than any other Wild player last season, which should reassure Wild fans. Havlat was putting up numbers similar to an aging Heatley last season, which caused some confusion among analysts. The Wild organization sees no reason why Heatley should not be able to put up numbers like he did in Ottawa.
The Wild should see positive production from Heatley and Setoguchi, which will hopefully boost them into a much-needed playoff spot.
San Jose Sharks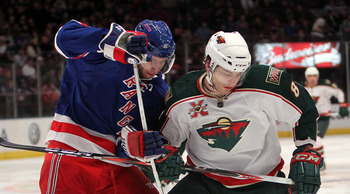 Brent Burns
Nick Laham/Getty Images
From the previous slide, you saw part of the deal that went down between San Jose and Minnesota. This is going to look at that deal from the other side.
San Jose had no problem scoring last season, leading the NHL in shots per game and ranking in the top 10 for goals. San Jose's problems came in the form of defense. Ranked 21st in the NHL in goals against, the Sharks need players who can keep scorers from finding the net.
The Sharks hope that Brent Burns can be their man. Burns is a proven penalty killer and physical defenseman who is in the top third-tier for penalty killers. He also had a great season offensively, scoring 46 points.
The Sharks also signed veteran defender Jim Vandermeer of the Edmonton Oilers. Vandermeer is another physical defender who should add depth to the Sharks' defensive line. Vandermeer finished fourth on the Oilers with 122 hits and 78 blocked shots.
One of the problems that the Sharks may face is scoring. With the loss of Heatley and Setoguchi, the Sharks have a lot more playmakers than actual scorers. Guys like Patrick Marleau and Logan Couture are going to have to repeat last season's performance of a goal almost every other game if the Sharks want to find themselves in the playoffs.
Los Angeles Kings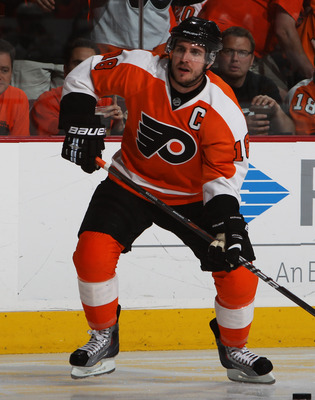 Mike Richards
Bruce Bennett/Getty Images
The Los Angeles Kings have started from scratch and taken a good hard look at what they want from their team offensively. After deciding where they were weak, they went out and got the players that they thought would fit the holes.
The Kings replaced Ryan Smyth, Wayne Simmonds and star prospect Brayden Schenn with Philadelphia Flyer Mike Richards and Simon Gagne of the Tampa Bay Lightning.
Kings general manager Dean Lombardi brought in Mike Richards in order to have a strong center to back up Kings star Anze Kopitar. Richards is a tough player who is gifted offensively, putting away 23 goals and 43 assists last season while also being a go-to guy for the penalty kill. Richards' presence should allow for Kopitar to have some more freedom.
These new additions make the Kings strong contenders for the Cup and may allow for Kopitar to contend for the Art Ross Trophy, given to the player with the most points in the NHL.
Philadelphia Flyers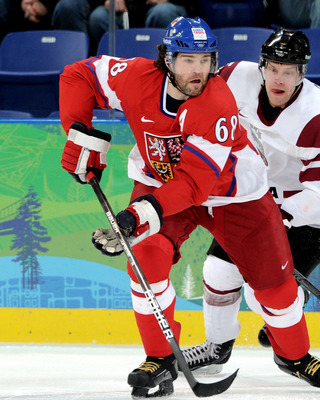 Jaromir Jagr
Harry How/Getty Images
The Philadelphia Flyers offenses has gone through a massive amount of changes during the offseason.
The Flyers lost Jeff Carter, Mike Richards, Ville Leino, Kris Versteeg, Daniel Carcillo, Darrol Powe and Sean O'Donnell.
In the Carter trade, the Flyers received Jakub Voracek and two draft picks. In the Mike Richards trade, the Flyers received Wayne Simmonds and star prospect Brayden Schenn. The Flyers also were able to pick up Jaromir Jagr from Avangard Omsk of the KHL and Maxime Talbot from the cross-state rival Pittsburgh Penguins.
With the loss of Carter, Richards and Leino, who contributed a combined 207 points to the Flyers last season, Philadelphia needed to find a way to replace those points. If new arrivals Voracek, Simmonds and Talbot repeat their performances from last year, they only bring a combined 97 points— less then half of what the Flyers traded away. The Flyers need to find a way to replace these lost points if they want a shot in the postseason.
With the Flyers best line (Leino, Briere and Hartnell) no longer intact, Claude Groux is going to have to step up and take over Leino's spot. The Flyers are relying on Jagr a significant point threat. Jagr, who has not played in the NHL since 2008, put up 50 points in 49 games in the KHL.
Look for the Flyers' players to step up and make a run at the Cup.
Washington Capitals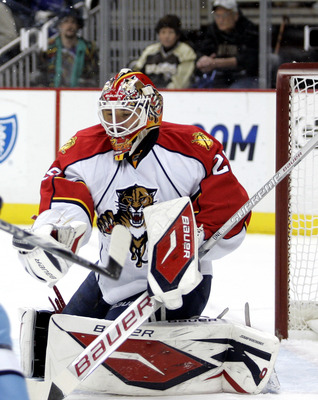 Thomas Vokoun
Justin K. Aller/Getty Images
Expect to see a lot of new faces on the Capitals' roster this season.
The Caps released/traded Scott Hannan, Marco Sturm, Jason Arnott, Semyon Varlamov, Eric Fehr, Boyd Gordan and Matt Bradley.
The Caps have added forwards Troy Brouwer, Joel Ward and Jeff Halpern. On defense, Washington added Roman Hamrlik and, in a huge surprise, goalie Thomas Vokoun from the Florida Panthers.
In an interview with the Washington Times, Capitals General Manager George McPhee said, "All the holes are filled, I think we will have a good, strong team."
The Caps' defense will be solid this year with the addition of Hamrlik, who is an offensive-minded defender and Thomas Vokoun, who ranked 9th in the NHL in save percentage last season.
On the offensive end, Ward will bring the needed physical play and Brouwer will bring much-needed playoff experience that he gained during the Blackhawks' 2010 Cup run. Halpern will bring depth centering the fourth line.
With the return of many of the great young players such as Alexander Ovechkin, Nicklas Backstrom, Mike Green and Alexander Semin, the Capitals look to make a run at Lord Stanley's Cup this season and they will be a force to be reckoned with.
Keep Reading