San Francisco Giants: Why Brandon Belt Is Even Better Than You Think
August 15, 2011
Marc Serota/Getty Images
Before the 2011 season began, Brandon Belt was being compared to Buster Posey, anointed as the next phenomenal young talent to burst onto the major league scene and help carry the San Francisco Giants to another World Series title.
Belt was seen as big-league-ready right away, winning an Opening Day roster spot as famously captured on Showtime's The Franchise.
Belt was on his way.
Looking back now as we enter the dog days of summer baseball, it's clear that things didn't turn out the way Belt, or the Giants, expected.
By April 19, Belt was hitting just .184 and was demoted to Triple A Fresno to work out the kink in his swing.
Belt proceeded to destroy minor league pitching and was recalled to San Francisco on May 26.
On May 31 in St. Louis, Belt was hit on the wrist by a pitch and suffered a fracture, going on the disabled list and eventually back down to Fresno.
After another impressive performance in Fresno following the healing of his wrist, Belt was again promoted to the big league club on July 19.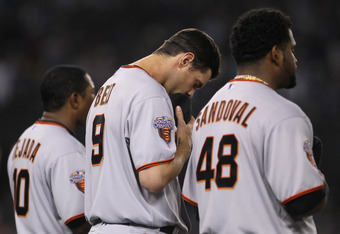 Jeff Gross/Getty Images
In his first at-bat after rejoining the Giants, Belt hit a solo home run into the right field arcade at AT&T Park against the Dodgers, his first homer in San Francisco.
Later in the same game, Belt hit a two-run double down the left field line, helping the Giants secure a 5-3 victory.
Belt's performance following his second stint in Fresno on the heels of yet another setback in his quest to be an everyday major league player was a testament to his confidence and his conviction that he belongs in The Show.
If all of that weren't enough, Belt would find himself in a Grizzlies uniform yet again when he was sent down to Fresno for a third time August 5.
At this point, nobody would have blamed the 23-year-old rookie for feeling frustrated at not being rewarded with at least a seat on the bench with the Giants following his offensive contributions to a team that ranks at the bottom of the league in hitting.
And if not frustration, surely no one would fault Belt for questioning whether he's been kidding himself in thinking he's ready for the big leagues after doing what he thought he needed to in order to avoid the minor leagues again and being optioned to Triple A anyway.
This Belt fits just fine
Then came August 14 in Miami, Florida.
Brandon Belt, now a human yo-yo vacillating between Triple A and the majors, was called up again, getting the start at first base against the Marlins.
Frustration? Shattered confidence? Disillusion with it all?
No.
Actually, an even more intense motivation to prove he's the perfect fit for an offense gasping for life.
At a time in the long season when the Giants were falling behind in the standings because of their faltering bats, Belt hit two home runs, including a mammoth shot to one of the deepest parts of Sun Life Stadium just to the left of dead-center field over the 434-foot marker.
What all of this shows is that there is even more to Brandon Belt than his sheer talent and the amazing numbers he put up in the minor leagues.
There is more than his 6'5'', 220-pound frame conditioned to hit baseballs squarely.
There is an amazing heart and drive that leads a player who, after three separate stints in the minors that many would characterize as unwarranted save for the rehab following the wrist injury, still had what it took to keep giving his club what it needed exactly when it needed it.
Brandon Belt belongs and he still knows it despite everything he's been through this year.
With uncertainty shrouding Carlos Beltran and his sore hand and the Giants in desperate need of a consistent force behind Pablo Sandoval, Belt could very well be what everyone thought he would be before the 2011 season began: this year's Buster Posey.
That's because the Giants need a spark of youthful energy and life in their lineup, which is exactly what Belt brings.
This Belt has proven he's not too tight, but not too loose either. He's just the right fit.