Michael Vick's 5 Greatest Moments as a Philadelphia Eagle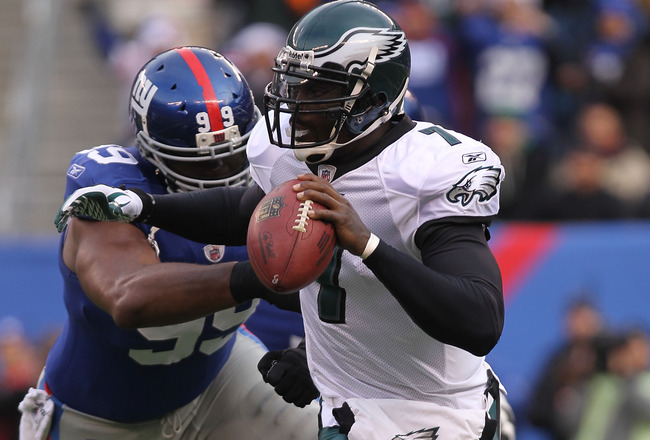 Nick Laham/Getty Images
Michael Vick played in 13 games and started 12, threw 21 touchdowns and ran for nine more and gave Eagles fans one hell of a season last year.
It was incredible to see what Vick could do in one season and how much hope he instilled in the fans for the future.
Instead of bashing Vince Young, worrying about the young linebackers or wondering if Juan Castillo can be an effective defensive coordinator, sit back and take in the greatness that was Michael Vick in 2010.
It will make you realize he can overcome some of those deficiencies, and it will also remind you how terrified New York, Dallas and Washington should be when the season starts.
No. 5: We've Got Controversy

This is not a video game. Or maybe it is.

In the second game of the year, Andy Reid turned to Michael Vick and asked him to fill in as a starter while Kevin Kolb recovered from a concussion.
Vick's job was simple: step in, win the game and then go back to holding the clipboard.
When the game was over, fans were salivating for more, as Vick completed 21 passes on 34 attempts for 284 yards, two touchdowns, no picks and several plays that only he could pull off.
Reid did not waste time and said Kolb would remain the starter during the postgame news conference.
Two days later, Reid announced Vick was the starting quarterback.
After you watch the highlights, I'm sure you will think of ways to talk about Vick's performance. But in a story run by Philly.com, Reid summed up Vick's play perfectly:
"Michael Vick is playing out of his mind right now."
No. 4: The Controversy Dies

Oh, you want him to air it out? Fine.

Reid had Kolb's back heading into the Detroit game and he still supported the Houston University product after Vick played well, only to change his mind and go with Vick.
I know we just went over this, but Reid's indecisiveness needs to be pointed out here because it shows how much pressure Vick was under heading into a road game against the Jacksonville Jaguars.
What would happen if Vick faltered, the offense was inconsistent and the Eagles lost?
None of that happened. Vick validated his performance from the previous week by going 17-of-31 for 291 yards. Oh, and he just so happened to throw three TDs and rush for another.
If there was a controversy, Vick put it to rest.
And if there was any concern about how good Vick was, the next game on this list took care of the doubters.
No. 3: Not 1, Not 2, Not 3, Not 4, Not 5...6 Touchdowns Against the 'Skins

Hello? Defense? You there?

Vick threw an 88-yard touchdown to DeSean Jackson on the first play from scrimmage against the Washington Redskins on Monday Night Football.
He wasn't done.
He went on to score five touchdowns in the first half, three through the air and two on the ground, before he finally finished with six touchdowns, 333 yards passing and 80 yards rushing.
It was only Vick's fifth start and the Eagles' sixth win, but he immediately became an MVP candidate and the reason the Eagles went from a possible rebuilding year to thinking about winning the division and possibly making a run at the Super Bowl.
The division title came later in the year, while the Super Bowl may have to wait until the end of this year.
No. 2: A Glimmer of Hope in a Loss

A glimpse of what was to come.

I've been to a few Opening Day clunkers.
The Eagles offense was lethargic, the defense was passive and the stadium was silent.
When Clay Matthews spiked Kolb's head off the turf like a coconut, the game was on par with the 2003 home opener when the Eagles lost 17-0 to the defending Super Bowl Champion Tampa Bay Buccaneers.
At the start of the second half Eldra Buckley turned the ball over and the Green Bay Packers went up 20-3. It was officially the worst way to open the season. They were going to go through a 6-10 season at best.
And then something weird happened.
Vick ran all over the place.
He racked up 111 yards on the ground, 175 yards through the air and brought the Eagles within seven points of pulling off a miraculous comeback.
Despite the loss, Eagles fans began to wonder if this Vick character could play and if he could engineer a comeback or if he was another we-almost-got-there guy.
Little did we know...
No. 1: Michael Vick Engineers the Greatest Comeback in Eagles History

Vick believes in miracles.

Trailing the New York Giants 31-10 on the road with less than eight minutes left in the game, Michael Vick found a way to come up with one big play after another as the Eagles scored 21 points before Jackson capped off the greatest comeback in the franchise's history.
Vick hit Brent Celek for a 65-yard touchdown, ripped off a 38-yard run and then scored on a four-yard run, all in less than three minutes.
The pressure fell on the Giants, but there was some pressure riding on Vick's shoulders as well.
We didn't know if this was going to be another tease or if he was going to come up clutch.
On 3rd-and-10, from their own 12-yard line with 2:50 remaining in the game, we got our answer. Vick ran to the left for 33 yards to pick up a clutch first down before finishing off the drive with a 12-yard touchdown pass to Jeremy Maclin.
The crazy part about the drive is that he left enough time on the clock for Eli Manning to screw it up.
And with :14 left in the game, Jackson gave Eagles fans one of those moments when you remember where you watched the game and every imaginable detail from what you were wearing to the first person you texted when the game was over.
Unfortunately, it was the last win of the season, but it let fans know the Eagles had a franchise quarterback ready to win now.
Keep Reading

Philadelphia Eagles: Like this team?