Cesc Fabregas to Barcelona: How Wenger and Arsenal Can Still Win This Year
August 15, 2011
Shaun Botterill/Getty Images
It's been coming for a while, and now it is official. Cesc Fabregas is a Barcelona player.
So now what?
It appears that Samir Nasri is on his way out, even though Wenger continually says he wants to keep the French international.
There really is no way Nasri stays. With his most recent tweets about "still" being an Arsenal player and the way that the fans perceive him, there isn't a way that Nasri is with Arsenal beyond August 31st.
After the season has already started, Arsene Wenger and Arsenal will have already lost arguably two of their three best players and only added a young defender not ready to play every week (Jenkinson), and a player who will (Gervinho).
Wenger is now faced with the challenge of strengthening his team before the transfer window closes, along with making sure that his club can get passed Udinese and get into the Champions League, a challenge which begins tomorrow.
If Arsenal are going to have any chance of even coming close to competing for the Premier League title, they are going to have to buy at least two players before the window closes, a defender being one of them.
Gary Cahill, Phil Jagielka, Christopher Samba and Per Mertesacker are constantly rumored to be joining the club. Any one of them would be nice for Arsenal.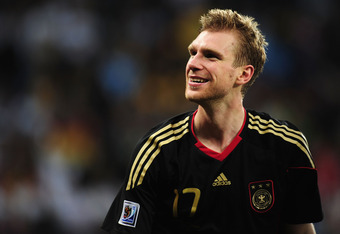 Clive Mason/Getty Images
Jagielka and Mertesacker are the top two choices for me.
Jagielka has played European and international football and has been around for many years now. Quite frankly, I trust him more playing for Arsenal than Cahill or Samba (though Cahill is very, very close).
Samba would be the cheapest, but Mertesacker would be the best value for the money he would cost.
An absolutely towering figure, the German international has been a staple in the Bundesliga and national team for about five or six years now.
He would not cost as much as Jagielka or Cahill because of their English premium price tags, and he might still be the better player.
It appears doubtful that Mertesacker will sign, but Wenger is out looking for another defender, as well as another player.
Fans will talk about Laurent Koscielny's performance against Newcastle and say he might be able to fill the gap next to the Verminator this season.
Koscielny can read the game very well and is quite good in the air. His ability to make the odd decisive error and be caught flat-footed proved to be the problem last year.
Johan Djourou is not the answer right now, as he is still a bit raw and prone to the odd big mistake more so than Koscielny. I trust Koscielny more than Djourou, but I would trust Per Mertesacker or Phil Jagielka more than either or them.
Also, it is still worth noting that Sebastien Squillaci is still actually an Arsenal player...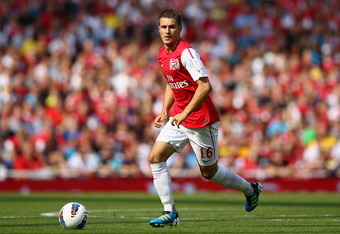 Richard Heathcote/Getty Images
Who that other player will be and what position he will play is going to be very, very interesting.
Will he buy another midfielder? Does he think that Song, Wilshere, Ramsey and that man Diaby are enough?
Will he go for another attacking player? What does he think the bigger need is?
The biggest need will be a player in the midfield.
He will either need to buy a player to replace Fabregas or, if Ramsey or Wilshere take over the Fabregas role, he will need to buy another midfielder to play next to Song or whoever else is part of the midfield two in Arsenal's 4-2-3-1 formation (it's not a 4-3-3, it's a 4-2-3-1).
Gooners should have a lot of faith in Ramsey and Wilshere, as they will be the future of the club.
Aaron Ramsey might be just as good as Jack Wilshere, if not a little better. Those two are going to be fantastic players for a long time to come for Arsenal, and this year is going to be their chance to show it.
If Wenger has any ambition for this year, it is obvious what he needs to do: get a defender and a midfield maestro.
The current Arsenal are competing for third place and an automatic Champions League qualifying place, but if Wenger buys the right players in the next 16 days, there is a little chance that Arsenal could be competing for the title they haven't had since 2004: the Premier League.